News
This Osteria Wedding Celebrated the Couple's Divergent Cultures Through a Unique Menu
The day blended Jamaican, Kashmiri, Jewish and Muslim traditions.
---
Multicultural weddings are true testaments to the power of love. They blend different traditions and beliefs, and speak to how much the couple values each other. But they are often not without hardships — particularly when family or friends disapprove of their union — and the couple must navigate these challenges to do what's right for them. The Osteria wedding you see here is a beautiful example of how one couple combined their Jamaican and Jewish, and Kashmiri and Muslim backgrounds for the Big Day, and beyond.
For Lisa Black — who was born in Jamaica, grew up in the United Kingdom and Florida, and eventually relocated to Philly — the marvel of living in such a walkable city has never really worn off. So Black walked to her first date at The Dandelion with Salman Salaria, who was born in Jubail, Saudi Arabia, and grew up in Kashmir, among other locations. But he insisted on driving Black home.
"There's a chivalrous side of him that's really endearing," says Black. "I'm a get-it-done-yourself kinda gal, and I was taken aback by this, well, sweetness."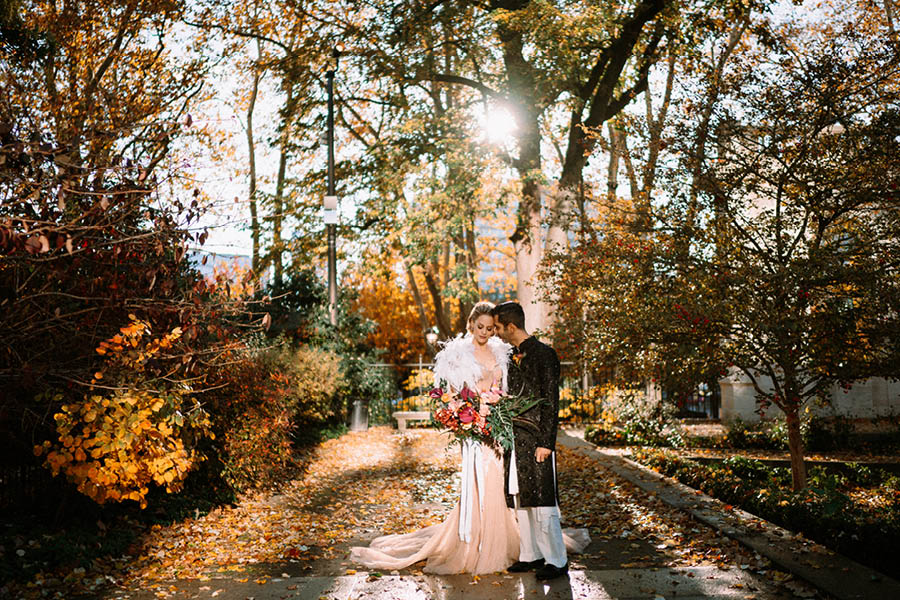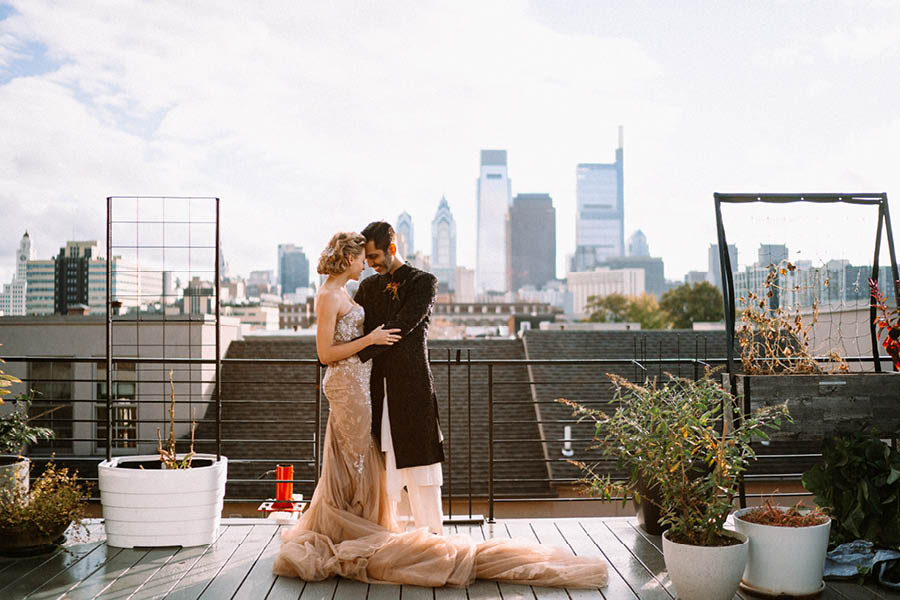 The pair dated for five years before getting engaged — during what Black describes as a "heated argument" over what to eat for dinner. "I actually didn't quite hear him at first because I was passionately making my case at the time," she says. "It was sweet and a perfectly Salman thing to do, odd timing included." She found out later that he'd also called her parents and spoken with her son, Cavan.
For their ensuing wedding, they wanted to incorporate elements of both of their heritages and religions (Jamaican and Jewish for the bride, and Kashmiri and Muslim for the groom) and their life together.
"It's truthfully an unlikely pairing even by today's standards," says the bride. "We have both fought hard for this relationship, and the odds were not in our favor." Because of their religious and cultural differences, the couple faced challenges within their communities and families — Salman's parents do not approve of the marriage and did not attend the wedding. "We have absolutely had the kitchen sink thrown at us — I mean, we're a walking, talking Lifetime movie special at this point."
The couple chose Osteria, just down the street from where they live in Fairmount, for their ceremony and reception.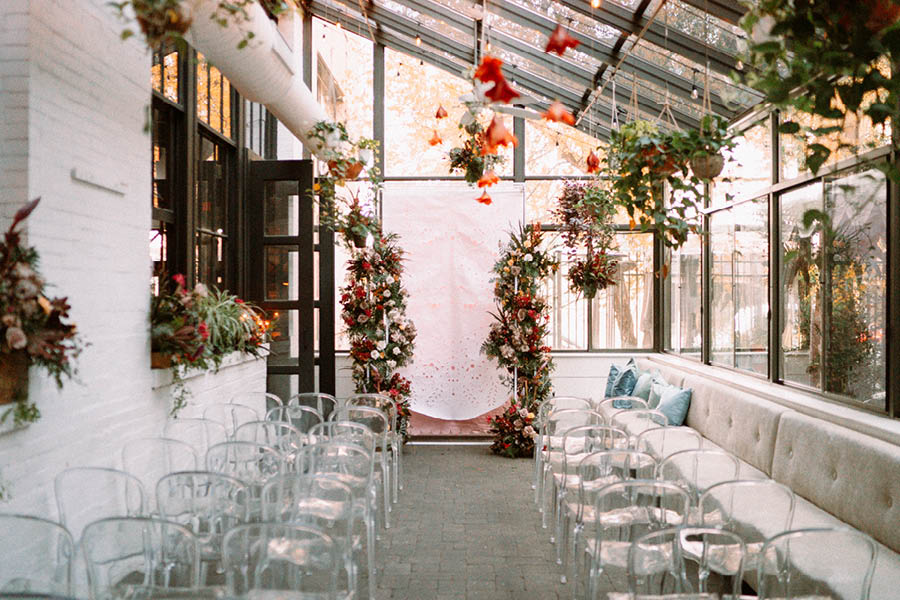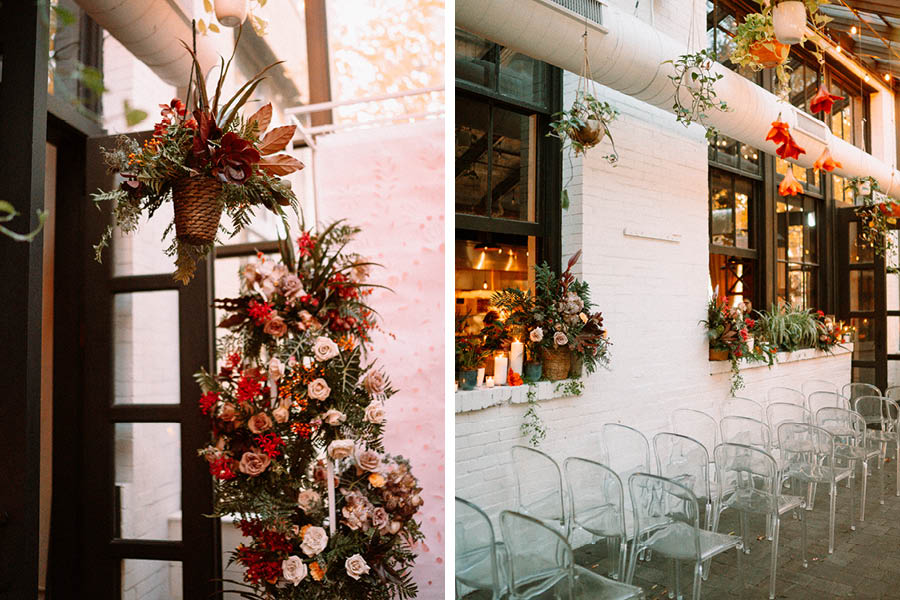 "We had spent many dinners there by ourselves and with friends," says Salman. They'd gotten to know the staff during their visits and were able to collaborate on the wedding menu, creating a seven-course dinner inspired by the traditional 10-course Kashmiri wazwan — a celebratory meal served at festivities such as weddings — that also incorporated Jamaican fare.
Among the dishes: roasted tuna-collar escovitch, grilled jerk goat, ackee masala and more. (It's no wonder the couple describe their wedding as "one big cultural soup.")
Other personal elements included a color palette inspired by the Rorschach test, with black-and-white inkblot imagery in the invitation and signage. (Salman is a psychiatrist.) Lotus-patterned napkins were used on dinner tables, a white guitar served as the guest book, and plants were used throughout the floral designs by RAM Floral — as a nod to Lisa's green thumb.
The bride even took a year to grow specific plants for each of their wedding vendors according to their personalities. "It was a small way to connect to them and a lasting 'thank you' for the hard work and many hours they spent making our day special."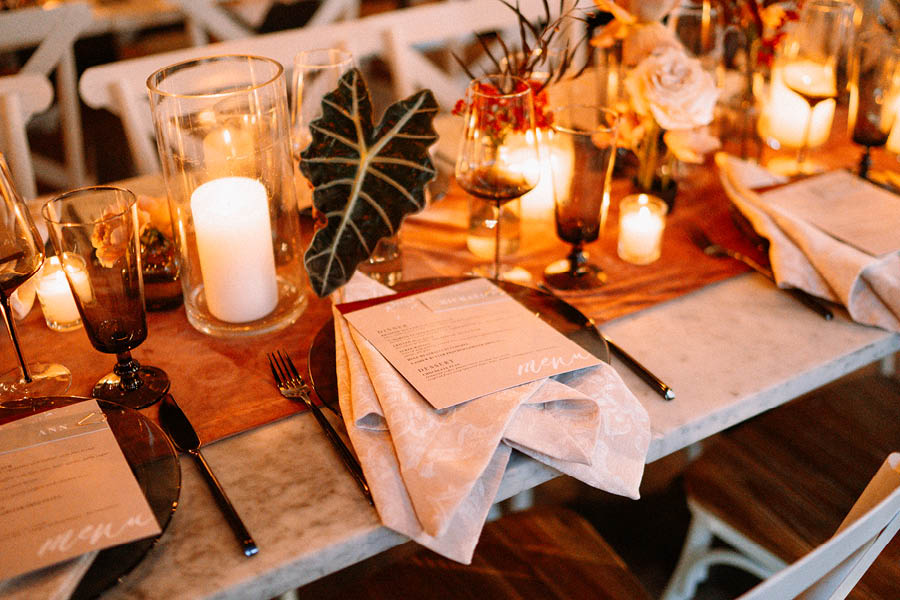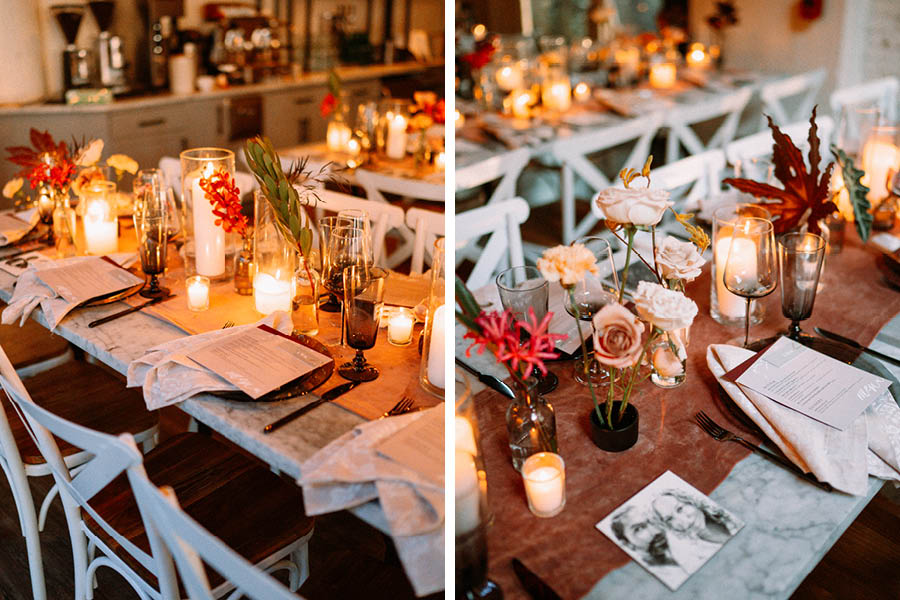 The sentimental touches truly underscore the depth of this couple's dedication to one another. During the ceremony, Lisa and Salman made vows to Cavan. And Lisa's parents stood in for Salman's by reading him vows of their love.
"Having my parents' support has meant the world to us both," says Lisa.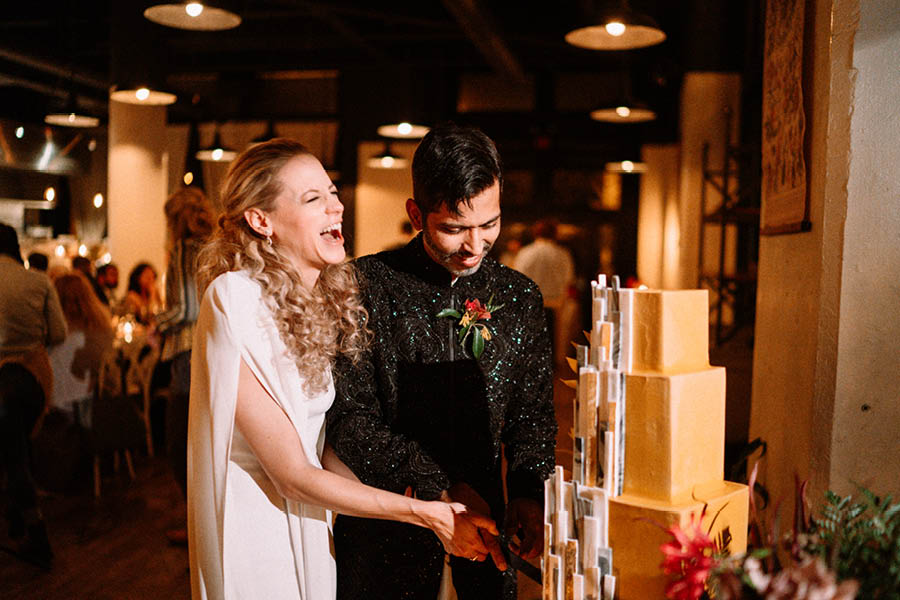 And yet the celebration was the continuation of a love for the ages — one beautifully symbolized in Chick Invitations' wedding logo, which blended the Jewish Star of David and the Muslim Crescent Moon.
THE DETAILS
Photographer: With Love & Embers (now closed) | Venue & Catering: Osteria | Planning/Design: Fulton Events | Florals: RAM Floral | Bride's Gowns: Inbal Dror from Chic Parisien; custom-made by Anju Modi; Alex Perry | Bridesmaid's Attire: Custom-made by Hemant Trevedi | Hair & Makeup: Christopher Scott Walker and David Baez of Studio3 A Salon (bride); Missy Ambrosini and Shimmer and Spice (guests) | Groom's Attire: Sherwani by Siddartha Tytler | Entertainment: Bonita Sound (wedding); Trinidelphia (baraat) | Cake: Frosted Fox Cake Shop | Invitations: Chick Invitations | Transportation: Ace Limousine | Videography: Birdhouse | Officiant: Alisa Tongg | Ceremony Backdrop & Custom Charcoal Drawings: Karina Puente | Photo Booth: A Little Scene Flip Books | Rentals: Party Rental Ltd. | Linens: Nüage Designs | Bride's Rings: Family heirloom (engagement ring); Melanie Casey (wedding band) | Groom's Watch: Cartier (family heirloom gifted by bride) | Rehearsal Dinner: Zahav
Get more great content from Philadelphia Wedding:
FACEBOOK | INSTAGRAM | NEWSLETTER
Getting married? Start and end your wedding planning journey with Philadelphia Weddings' guide to the best wedding vendors in the city.
---
---