These Philly Foodies Used a Cicala Cooking Class as Their Wedding Reception
And we love their romantic and understated ceremony at Vaux Studio.
---
What happens when two people fall in love in Philly, and want their celebration to feel both true to their love of the city and its food scene? A perfectly pared-down October wedding of Herbie Hickmott and Chris DiPasquale, with ceremony at Vaux Studio wedding chapel and cooking class at the Cicala's house in South Philly afterward. See all of the culinary magic unfold in the shots below by Alexa Nahas Photography.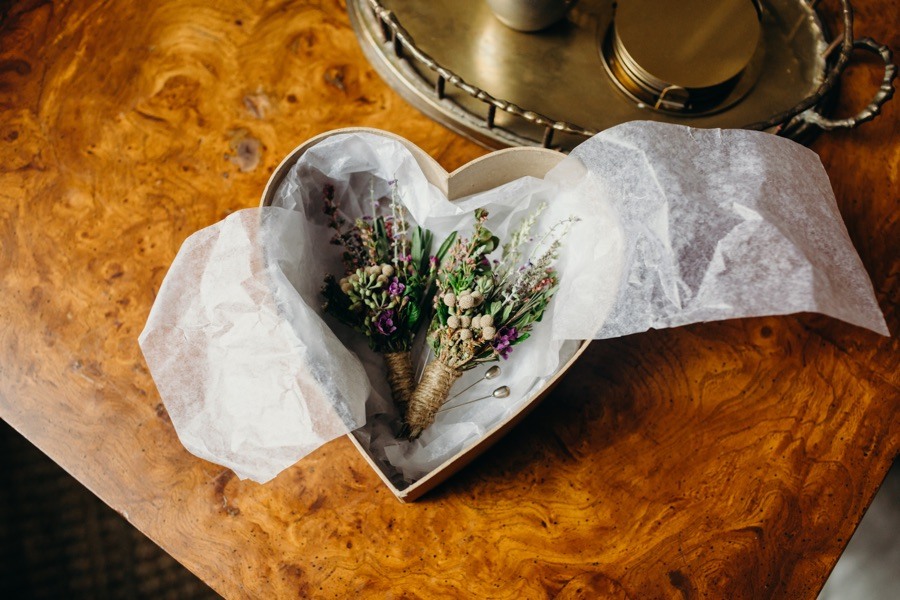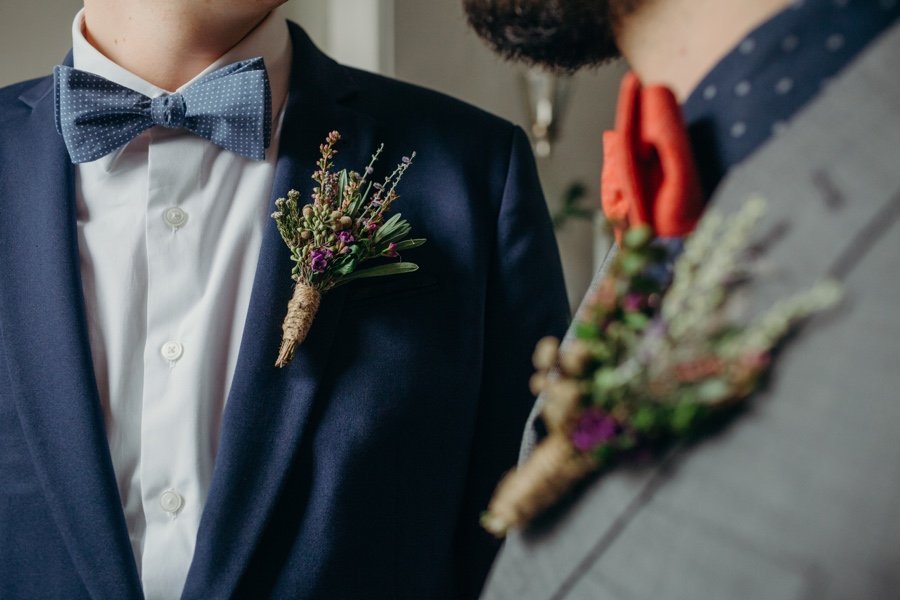 After meeting at Drexel University in 2012 through a shared class (and at the school's LGBTQ+ club, where Herbie was co-president) the pair hit it off and decided to meet for coffee. Herbie remembers, "Chris was cute and quiet, and appeared to take the class very seriously. Throughout the first few classes, I noticed Chris' knee edging closer to mine, subtly invading my leg room. I thought he was flirting. My friend on the other side of me thought I was crazy. Chris later confirmed that it was flirting!" Chris fondly remembers this time, too. "Herbie seemed like someone I should get to know from the moment I met him in class," Chris says, "He was funny, smart, and easy to talk to. And easy on the eyes!" Soon after that first coffee, they started dating.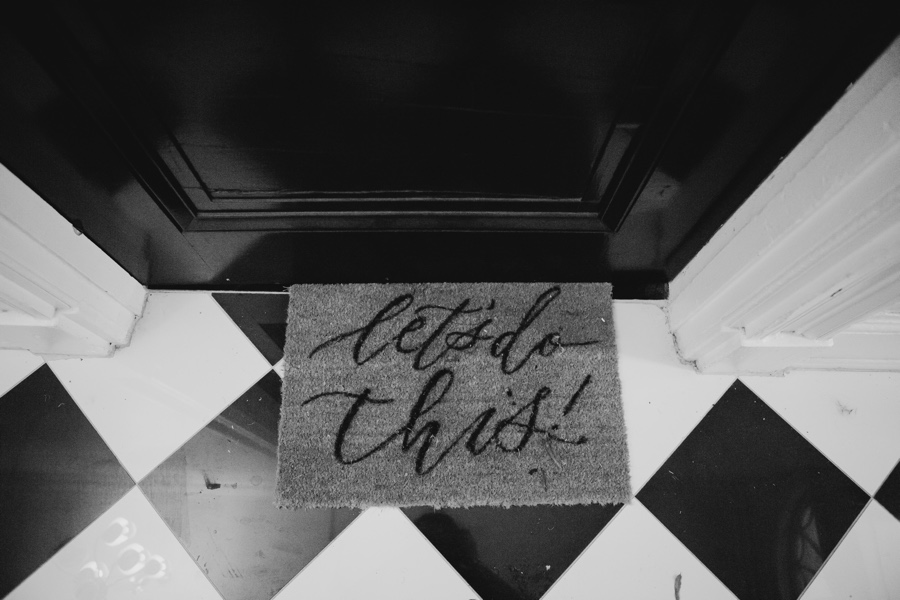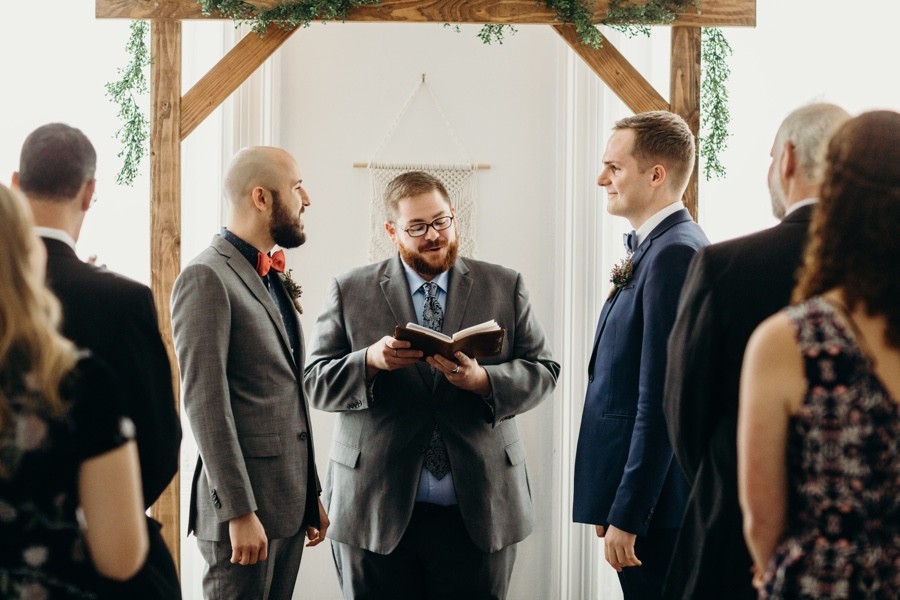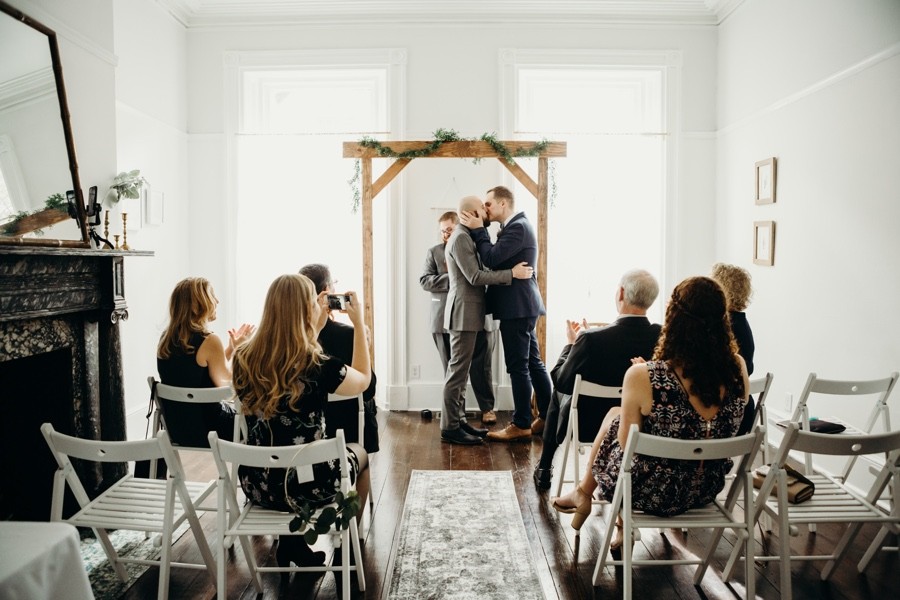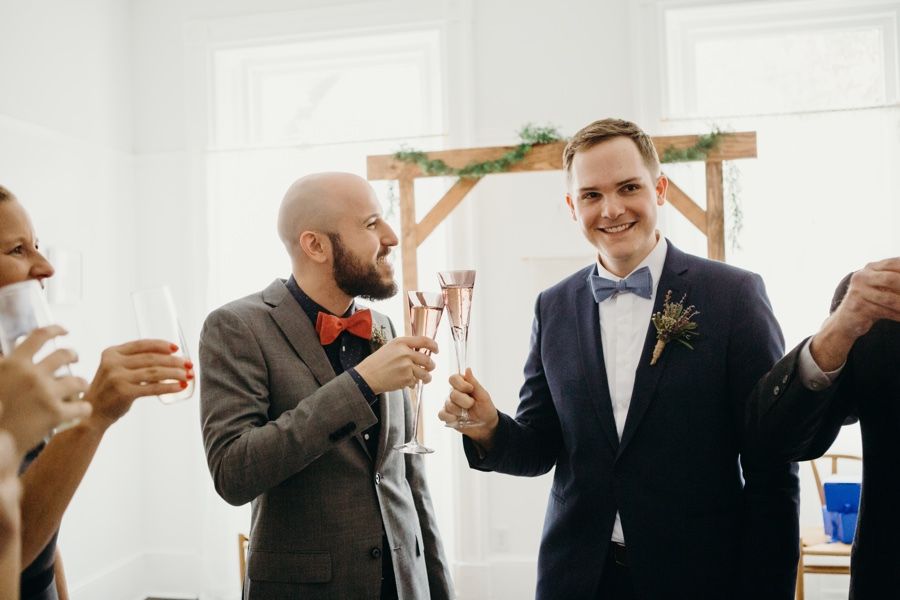 Over the next six years, the pair's bond grew stronger and stronger, even through Herbie facing serious medical issues in the form of a brain tumor. They stuck together through chemotherapy, surgery, and recovery. Through it all, they grew closer and closer in the city they love, and they often celebrated all of the good times, like birthdays and milestones, with food. (An idea we can definitely get behind!)
To commemorate their six-year anniversary back in July, Herbie surprised Chris with a private cooking class experience in South Philadelphia with Chefs Joe and Angela Cicala. When they were walking home after dinner, the surprises continued. "We stopped in the middle of the sidewalk and Chris blurted out some lovely, meaningful, and heartfelt things, culminating in 'So, yeah – I want to marry you,'" Herbie says, "It was intimate, personal, and we both ended up crying on a random residential street in South Philly."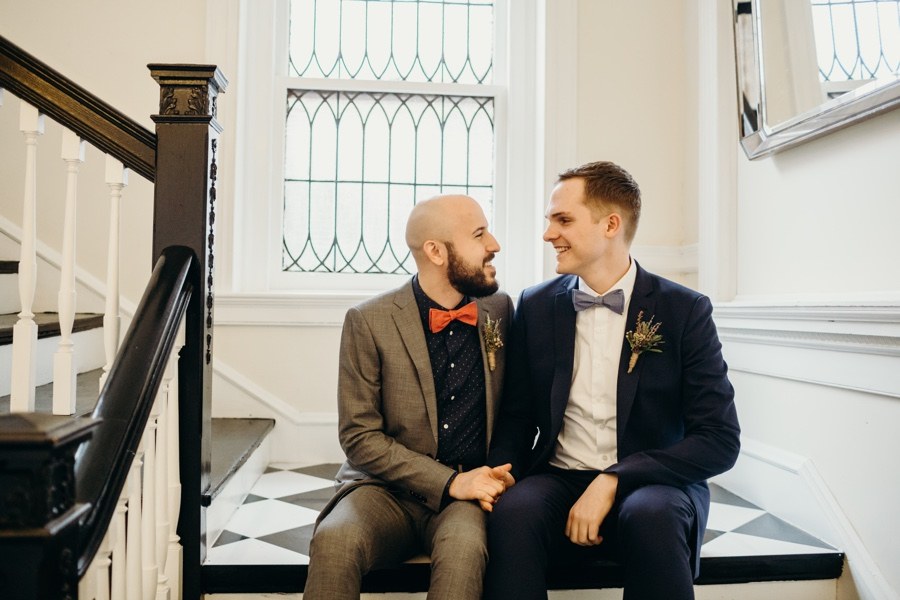 "From the moment we were engaged, we knew we wanted a wedding that felt like us and incorporated our love of food and the city where we met and live," Chris and Herbie explained. So, they planned it accordingly: an intimate and understated ceremony at the newly-opened Vaux Studio attended by their parents and sisters, and officiated by their dear friend Joshua Demaree. They walked down the aisle to an acoustic version of Betty Who's "Somebody Loves You," culminating with Herbie and Chris' families joining hands, creating one large circle. After the ceremony, the couple traveled around Philly stopping to take fun photos in front of our famous murals, not at all bothered by the forecast of rain.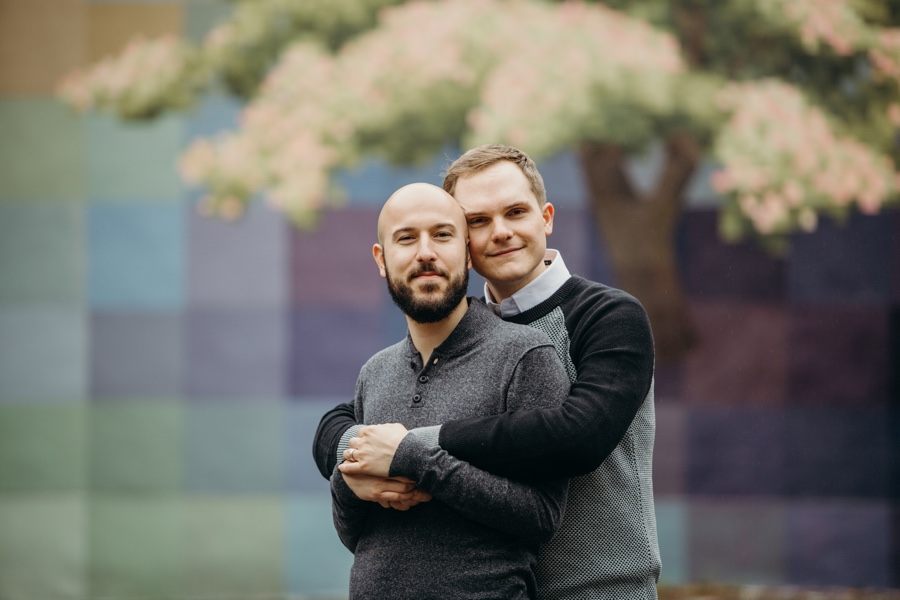 For their charmingly unique foodie reception, the couple invited their families to a private multi-hour cooking and eating class (and party!) in Chef Joe and Chef Angela Cicala's home in South Philadelphia, which they booked through Airbnb. The pair made eggplant involtini, meatballs, meatless meatballs, gnocchi, Sunday ragu, classic marinara, cauliflower piccata, and mini cannolis. (Umm… yum. The rest of us are eagerly awaiting the Cicala's opening of the Cicala restaurant at the Divine Lorraine in 2019.)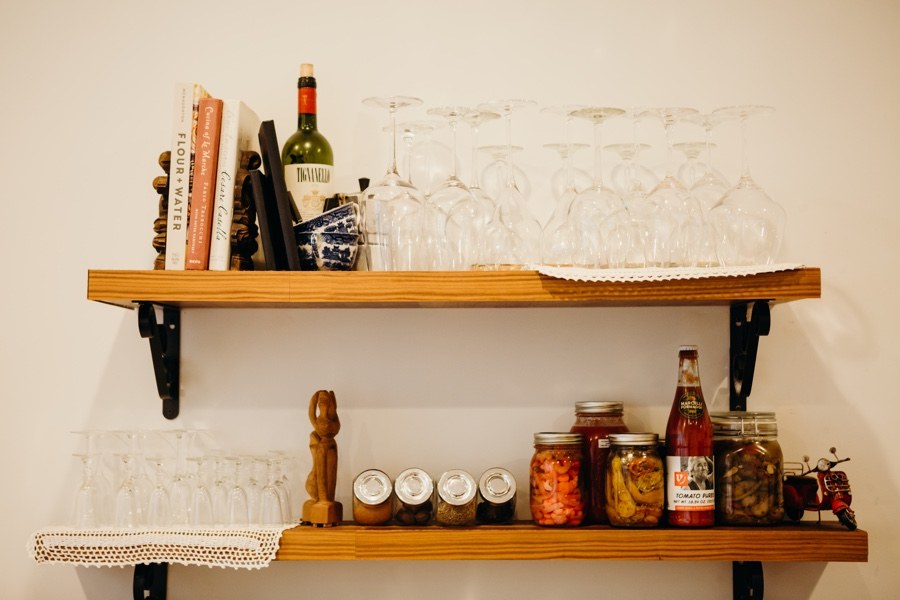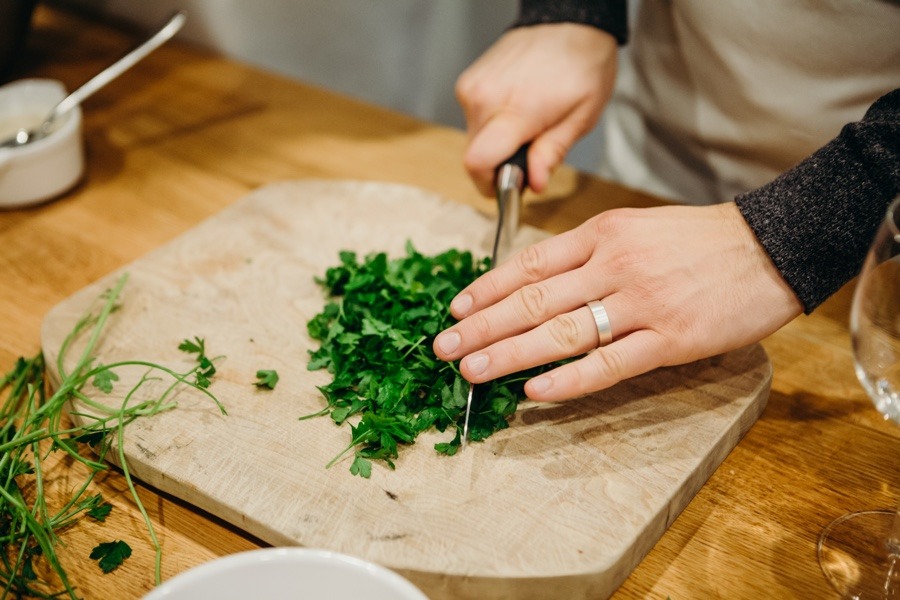 They cooked and dined in style, and for dessert, shared a delicious caramel carrot cake from Cake Life Bake Shop. After the celebrating was done, they traveled to Paris, Barcelona, and London to celebrate their honeymoon. Then, they returned to their home in West Philadelphia, where Herbie is a graphic designer for the Philadelphia Water Department and Chris is a marketing coordinator at Nelson Worldwide. The happy couple continues to enjoy the very best Philly's food scene has to offer.
The Details

Get more great content from Philadelphia Wedding:
FACEBOOK | INSTAGRAM | NEWSLETTER | PINTEREST
Getting married? Start and end your wedding planning journey with Philadelphia Weddings' guide to the best wedding vendors in the city.
---
---