12 Cool Philly Public Art Works to Go Out and See Right Now
We love it when out-of-towners ask us to point them to the LOVE statue, the Magic Gardens … Rocky. But what about when visitors aren't around? It's time to emerge from COVID hibernation and visit the murals and street art that put us on the artistic map — including new works the tourists haven't even heard of yet.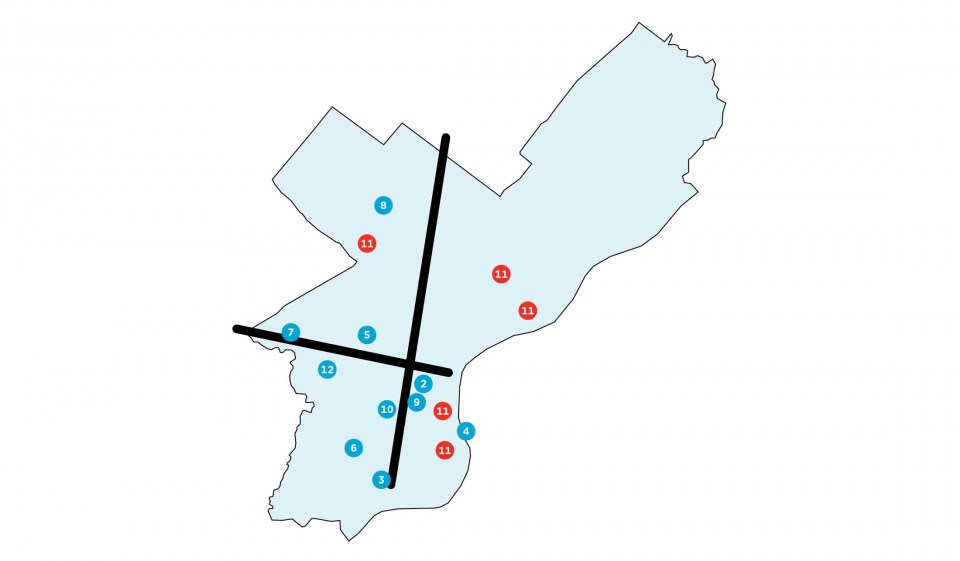 New Stuff
1. ConsenSIS
Be among the first to see this nationwide participatory public art project that runs from May through September 1st; the Philly version is led by former poets laureate Yolanda Wisher and Trapeta Mayson. ­Visit Monument Labs for more information.
2. ContraFuerte
This Miguel Antonio Horn sculpture, completed in 2021, is striking both for its location (in a Center City alleyway) and its construction (­aluminum-plated figures attached to a walkway leading to a parking garage). A diamond in the rough. Cuthbert Street between 12th and 13th streets, Midtown Village.
3. Magical Fantasy
The latest Group X/Navy Yard collaboration brings the whimsical work of London-based Morag ­Myerscough to the old military base. The bright geometric structures will be on view through October. Marine Parade Grounds, Broad Street and Constitution Avenue, South Philly.
New Classics
4. Land Buoy
Installed in 2014, Jody Pinto's tribute to the immigration story in Philly — complete with a climbable spiral staircase facing the Delaware River — is worth a revisit. Pinto, whose family emigrated from Italy, has called it a "platform for viewing, for dreaming and remembering." Washington Avenue Pier, Pennsport.
5. Maja
Thanks to the Association for Public Art, Gerhard Marcks's sculpture returned to the Parkway in 2021 after 25 years tucked away in storage. The German artist and Bauhaus teacher, whose work was labeled "degenerate" by the Nazis, spoke out against anti-Semitism throughout his life. His female figure miraculously survived a bomb that destroyed the artist's home and studio in Bremen in 1943. Ben Franklin Parkway at 22nd Street, Spring Garden.
6. MVP
Brian McCutcheon's bronze is Philly's first commissioned statue of an African American girl. The basketball player, modeled after a 12-year-old athlete and meant to inspire local young people, is perfectly placed by the basketball courts at Smith Playground. 2100 South 24th Street, South Philly.
7. A Love Letter for You
On the rooftops of West Philly, 50 murals by former graffiti writer Steve Powers spell out love notes to passengers riding by on the El. Between 45th and 63rd streets, visible from the ­­Market-Frankford El, West Philly.
Neighborhood Gems
8. We Still Here!
This work by Chip Thomas, a.k.a. Jetsonorama, is a collaboration with Mural Arts. It features the words of spoken-word artist/activist Ursula Rucker as well as poetry by community members and young writing students. 22 Maplewood Mall, Germantown.
9. Lil Nas X
Ash Ryan's three-story-tall mural of this LGBTQ icon, covering an entire wall of the Writer's Block Rehab lounge in the Gayborhood, was painted last year after his debut album Montero was released. Visit to see the mural, then enjoy a craft cocktail and a charcuterie board. 1338 Cypress Street, Midtown Village.
10. Bhinneka Tunggal Ika
Get a serving of art along with some of the city's best Indonesian food next time you visit South Philly's Hardena. The title of this joyful Winnie Sidharta-led mural (with painting by Kien Nguyen, Sammy Kovnat and Emily White) is Javanese for "Unity in Diversity"; the work tells the story of Indonesian immigration to Philly. 1754 South Hicks Street, Point Breeze.
11. "Local Critters"
Mural Arts may be the largest, but it isn't the only mural game in town. Check out the work of up-and-coming organizations like V.U.R.T. Creative and Paradigm Gallery. V.U.R.T.'s "Local Critters" project features animals commissioned to "beautify communities in need"; Evan Lovett's Philadelphia Trash Panda (actually a pretzel-gnawing raccoon) in Port Richmond is a standout. Locations across Philly including Kensington, Port Richmond, Pennsport, East Falls and Queen Village.
12. Legacy
Fashion designer Walé ­Oyéjidé, whose art-inspired clothing has appeared in films including Black Panther, lent his talents to this fabric-inspired mural on the side of the Blackwell Library. The intricate piece honors the culture of the African diaspora. 125 South 52nd Street, West Philly.
Published as "Art on Foot" in the May 2022 issue of Philadelphia magazine.