6 Philadelphians With Promising Approaches to Gun Violence Prevention
Every day, we hear about Philadelphians shooting, maiming, killing other Philadelphians — men, women, bystanders, kids. When it comes to gun violence, the trauma is so pervasive and horrifyingly vast that many people simply look away. Below, we offer portraits of fellow citizens who haven't — who refuse to give up, who keep plugging at what seems like an insurmountable quandary, for reasons that are personal or political or just because they're angry. Our city needs more stubborn souls like them. — Edited by Brian Howard and Sandy Hingston
Tyrique Glasgow is providing young people in his neighborhood with the resources that could have made a difference for him.
Tyrique Glasgow has been shot 11 times. When you spend your 20s selling drugs — a profession that landed him in prison for five years — it comes with the territory. He was shot twice on two separate occasions and seven times on a third.
Enduring — and surviving — so much trauma could make anyone wary of confronting the underlying issues. Get shot 11 times and live to tell about it? You might be inclined to count your blessings and keep your head down. Instead, Glasgow has tackled the issue head-on. Keep reading …
---
For Dorothy Johnson-Speight and Mothers In Charge, the political is personal.
In December of 2001, Khaaliq ­Jabbar Johnson — a 24-year-old middle-school therapeutic staff support worker slated to start a master's program in human services at the university where his mother had earned hers — was shot and killed in a parking dispute steps away from his front door.
In the wake of her son's death, Dorothy Johnson-Speight founded the violence prevention organization Mothers In Charge, which turns 20 this year. Johnson-Speight knows all too well the agony that follows such a loss: the all-encompassing pain of grieving a child, the self-medication and disillusionment with life that come with it — and then the burning call to action. It's why she's so good at what she does. "At some point in one of my deepest, darkest moments, I realized that I couldn't continue to live like I was living," she says of her decision to create the nonprofit. "I had to come out of that, and for nothing else but because Khaaliq was who he was — a real special man, and a young man. I had to do something to let his life not be in vain." Keep reading …
---
Trauma surgeon Jessica Beard is challenging journalists to rethink how they cover gun violence.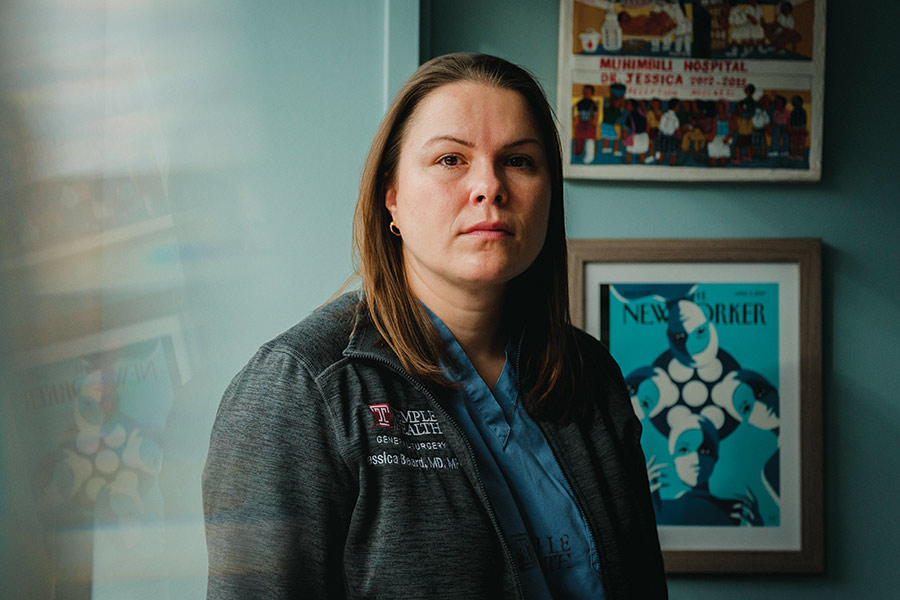 At any given moment, Jessica Beard knows she could get "the call."
As a trauma surgeon at Temple University Hospital — one of the busiest trauma centers for gunshot wounds in Pennsylvania — she cares daily for people injured by firearms. It was during these sadly routine interventions that she began to grasp how the media influences the way her patients — and the community — think and talk about gun violence.
"Because I witness the excruciating heartbreak of this epidemic on a daily basis, I am passionate about firearm-violence prevention," Beard says. "I believe that if the news media helped the public to understand the root causes and solutions for firearm violence and emphasized the humanity of firearm-injured people and their loved ones, this could result in more support for effective solutions for firearm-violence prevention." Keep reading …
---
Penn physician Eugenia South on the violence-quelling benefits of investing in and beautifying our streets and neighborhoods
It was the repeat customers who really got to Eugenia South. The kids who'd come into her emergency room at HUP after having been shot not once, but for a second and third time. "We take such good care of physical injuries," she says wryly. "We bring people back from the brink of death — but we do little to address the upstream factors that cause the violence." And seeing children return to her for patching-up again and again — "I couldn't not try to do something. To try to come up with a solution."
President Biden's latest plan to curb gun violence focuses on the people most likely to commit it and be affected by it. South's work — decades, so far, of research and advocacy — doesn't. Instead of people, she says, we should be looking at places. And she has evidence to back that up. In study after study, South has shown that simple investments in the environment — ­renovating dilapidated houses, clearing trash-strewn lots, planting shrubs and trees — lower gun violence in the surrounding blocks by as much as 29 percent. Keep reading …
---
Natasha Danielá de Lima McGlynn, the director of one of the city's major victim-services orgs, on supporting those left behind
Natasha Danielá de Lima ­McGlynn knows too well that those who lose a loved one to violence rarely get the help and support they need. She's been there. In September 2018, when she was living in Washington, D.C., and working at the Federal Reserve, her best friend, Wendy Martinez, was murdered while on an evening jog — stabbed to death by a random stranger.
She brings this experience to her role as the first Latina executive director of the victim-service agency Anti-Violence Partnership of Philadelphia. Keep reading …
---
Jamal Johnson, a Marine veteran, shows up on the scene of every Philly murder.
Johnson didn't pick this corner at ­random.
The day before, 62-year-old Larry Scott was gunned down here, steps from his home. As part of his grassroots anti-­violence initiative, Johnson is committed to bringing his sign, his chair and his megaphone to the location of every single homicide in the city within 24 hours. Earlier on Sunday morning, he had shown up on a corner in Overbrook where 19-year-old Emilio Alvarado of Strawberry Mansion had lost his life to gun violence a day earlier. And after wrapping up his "community engagement," as he calls it, at Godfrey and Front, he would move on to the 5600 block of Rising Sun Avenue, where 23-year-old Maison Hernandez of Feltonville was gunned down in a parking lot not 24 hours before.
"There are lots of people talking a lot of talk and spending a lot of taxpayer dollars," Johnson told me as we stood on Front Street. "But what we really need are boots on the ground. We need to have a presence in these communities. And we need to keep this epidemic in people's view and in their consciousness." Keep reading …
Published as "True Believers" in the March 2023 issue of Philadelphia magazine.