Somebody Built a Giant Garbage Gritty and Put Your Holiday Card to Shame
We were tired of Gritty gimmicks, but then a Philly artist came up with this 25-foot-tall version of the most famous mascot in the universe.
---
There was a time where we'd write about pretty much anything Gritty-related. But now that everyone and their Aunt Bertha are trying to capitalize on the astronomical success of Gritty, we are frankly so deluged by Gritty press releases and Gritty pitches that we've come to just ignore them. Hate them, really. But a 25-foot-tall Gritty made out of garbage all so a Philly company could photograph it and stick it on the holiday cards they send out to clients? Yeah, OK. We'll bite at that.
Garbage Gritty comes to us from the mind of Pennsylvania Academy of Fine Arts alum Billy Blaise Dufala, who is best known for building tricycles out of toilets and constructing a big tank out of cardboard and then driving it around Philly at rush hour.
You see, Dufala is the co-founder of Philly nonprofit Recycled Artist in Residency (RAIR), whose mission is to "challenge the perception of waste culture by providing a unique platform for artists at the intersection of art and industry." In other words, they make really cool stuff out of trash.
RAIR's operation is based on the property of Northeast Philadelphia recycling company Revolution Recovery, which processes as much as 450 tons of construction and demolition waste each day. And so each December, when Revolution Recovery wants to send holiday cards to its 2,500 business contacts, Dufala makes something big out of trash, the giant trash object is photographed, and, voilà, a one-of-a-kind holiday card.
He's made giant Garbage Santa Claus. He's made a huge Garbage Frosty the Snowman. There was Garbage Rudolph. The list goes on.
"I was worried that I was running out of characters," Dufala tells Philly Mag. "And then Gritty comes along. The Gritty thing is crazy."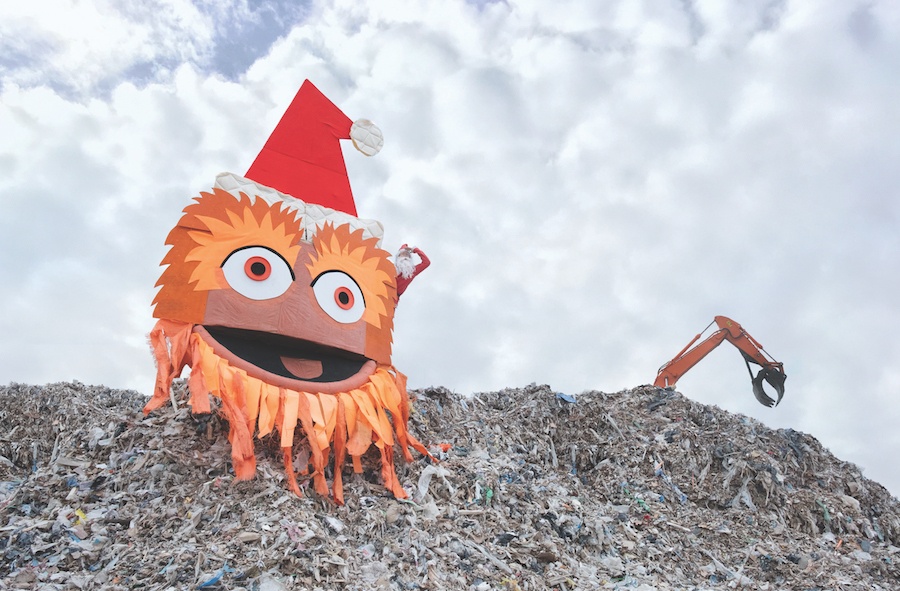 Dufala says that his Garbage Gritty includes the following materials, all of which he sourced from the construction and demolition waste stream: orange construction tarps, lids from five-gallon buckets, a mattress and mattress foam, plastic tubing, a variety of lumber, red fabric, and corrugated plastic sheeting.
Here's the Gritty holiday card that Revolution Recovery sent out, using a Garbage Gritty photo shot by RAIR artist Lucia Thomé: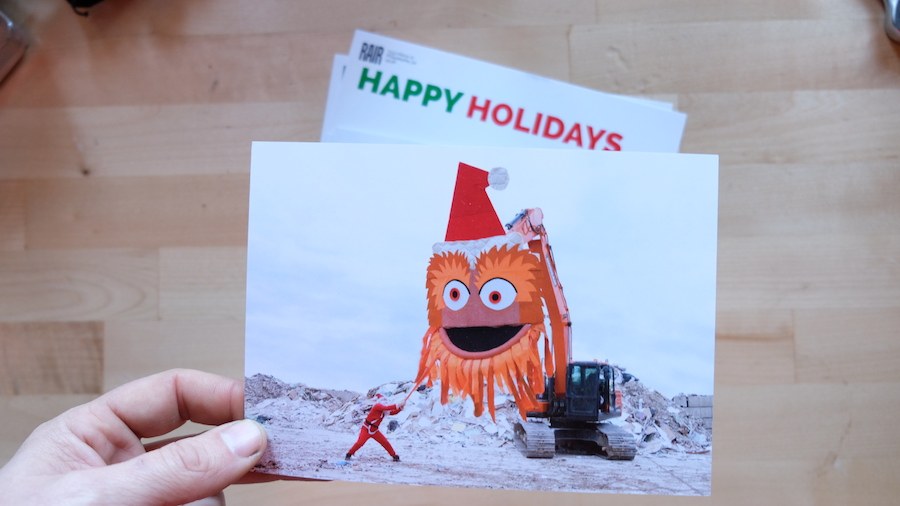 So what's next for Garbage Gritty? Normally, Dufala's holiday creations wind up back in the waste stream, since there's not much use for a huge Frosty the Snowman made out of trash. And six months ago, if you'd asked us what to do with a 25-foot-tall Flyers mascot constructed from a bunch of junk, we would have assumed you were stoned. But Gritty has changed the world.
"Gritty was just on the cover of fucking Artforum," notes Dufala. "Are you kidding me? The Gritty craze is just such a totally bizarre and amazing phenomenon, and it's so Philly!"
Dufala hopes that his creation will warrant a visit from Gritty to RAIR. And, since RAIR is a nonprofit, we have no doubt that Dufala would be willing to exchange his Gritty for a decent tax-deductible donation to the cause from some Gritty-crazed fan with deep pockets.
"It would be hilarious to see Gritty in a hard hat and safety vest walking among the piles of trash here," Dufala says. "That would make me so happy."
---
---