Rittenhouse Bar Fires Cook Targeted on Yelp, Facebook for Pro-Hitler Posts
We talked to the man who calls himself "so much more" than a Nazi — and the man who led the charge to get him tossed from his job.
---
Oh! Shea's Pub is a casual, laid-back bar and restaurant on Sansom Street in Rittenhouse Square. You might go there to watch a game, throw back some pints with your colleagues. But that's about it. Oh! Shea's is just not, you know, the kind of bar that people talk about. But that all changed this week.
Over the past weekend, Oh! Shea's became the subject of countless angry posts and comments on Facebook. There were threads on Reddit. Threats to boycott. Bad reviews left on Yelp.
Why? Because a cook at Oh! Shea's had repeatedly published pro-Nazi and pro-Hitler comments and memes on Facebook. And on Wednesday, Oh! Shea's fired the employee.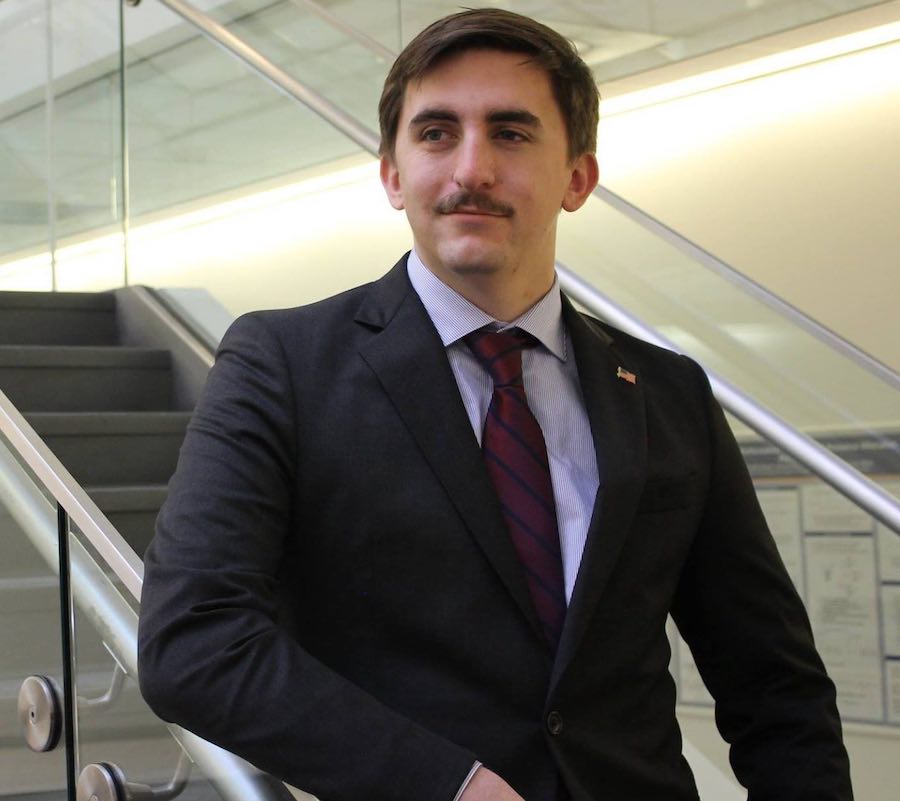 It all started with Old City resident Victor Shugart, seen here. The 25-year-old Drexel engineering student, a former U.S. Marine, loathes Nazis. According to Shugart, eight of his nine great-great-uncles on his mother's side fought against the Nazis in World War II, and his Great-Great-Uncle Red was killed at the Battle of the Bulge after he stepped on a Nazi landmine. So when he saw that a man who seemed like a real-life Nazi was working at a restaurant in Rittenhouse Square, he decided to take action.
"It's really a dumb story, how I found out," Shugart tells Philly Mag. "I was up late one night on Facebook, and I saw Jim Kenney talking about how the city declared a state of emergency for Kensington because of the heroin problem. I'm reading through these comments, and I saw this one that really stood out. The guy said that we should just let all opioid users die."
The guy was Steve Fullerton. Curious, Shugart clicked on the account, and he was shocked by what he found. On Fullerton's page, there were photos of people giving the Nazi salute. Words and phrases like "Jewess" and "Jew-trickery" were being thrown around. There was a post blaming Africans for slavery. There was pro-Hitler rhetoric. And late in September, the cover photo for that Facebook profile was changed to a Nazi officer's hat.
A few screenshots from Fullerton, used with his permission: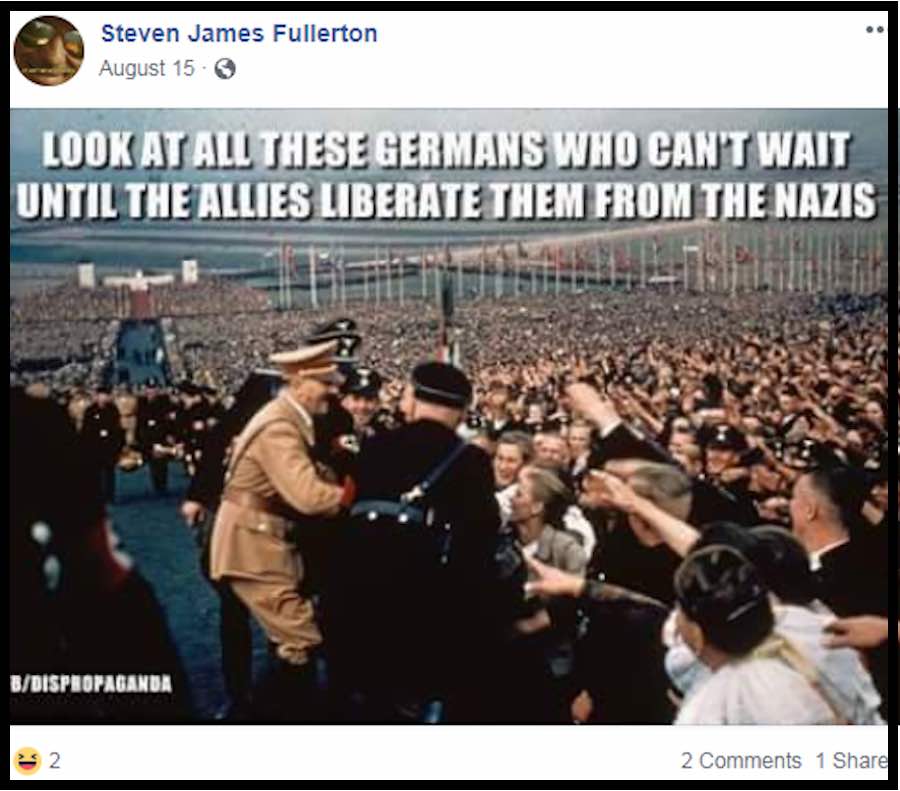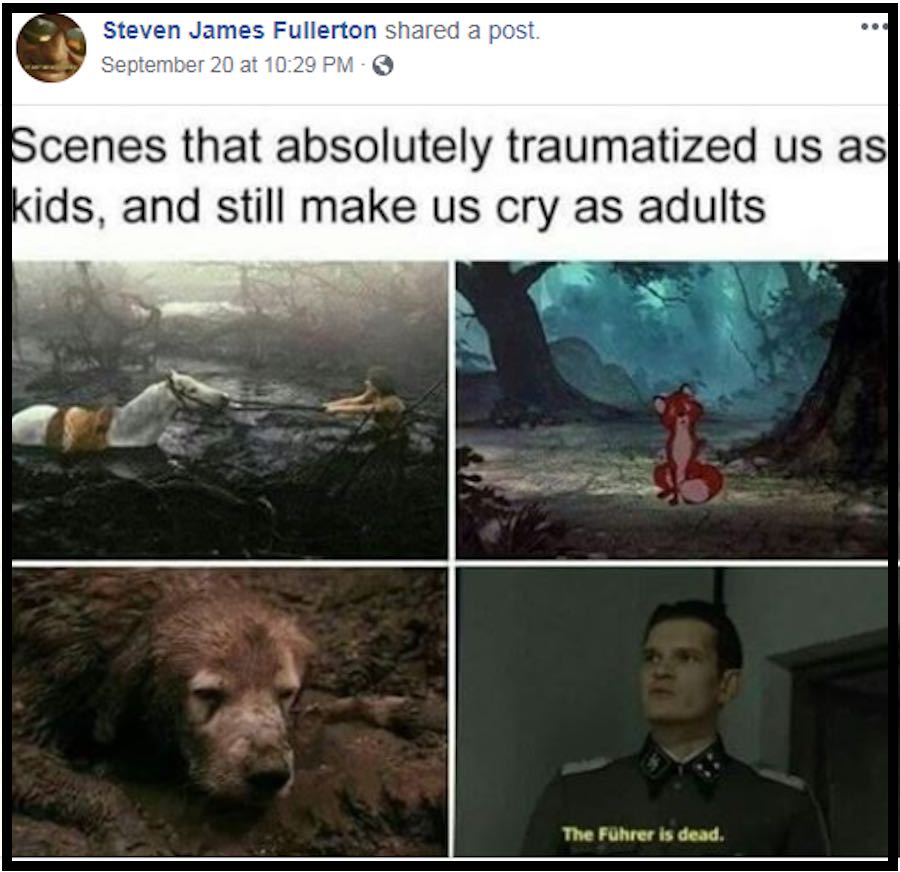 What Shugart also spotted on Facebook was that Fullerton listed Oh! Shea's as his employer. So Shugart decided to pay Oh! Shea's a visit on Sunday. He says that he went inside, ordered a beer, and asked the bartender why Oh! Shea's was employing a "Nazi." Shugart claims that the bartender told him that he'd have to leave if he said another word about it. Shugart finished his beer and left soon thereafter without further confrontation.
After Shugart visited the bar, Fullerton posted the following on Facebook: "Just had some stranger come to the bar and ask if I was here BY NAME. And told my co-worker that I was a Nazi and that he had proof. When I walked out, the stranger recognized me, but I didn't know who he was. My co-worker told him to leave as soon as he saw me. #politicalassassination … But my co-workers have known that I write and read Nazi posts for the last ten years." (An Oh! Shea's manager tells Philly Mag that he doesn't believe that anybody at Oh! Shea's knew of Fullerton's online life; Fullerton continues to maintain that they did.)
After that, Shugart and his friends started spreading word about Fullerton and Oh! Shea's using Facebook, Reddit and other online platforms. He says he left reviews on Yelp to warn Oh! Shea's customers.
And once word got out, others starting leaving negative Yelp reviews as well. When we checked the Oh! Shea's Yelp page on Wednesday afternoon, there were three one-star Yelp reviews left there on Tuesday and Wednesday that refer to the "Nazi" in the kitchen. "The owner employees a NAZI that brags about his white supremacists views," wrote one Yelper. "Disgusting!!!"
Philly Mag spoke with several people who live or work in the area of Oh! Shea's who said that they were disturbed by the information that Shugart was circulating. One said that Oh! Shea's was the watering hole of choice for his office. But not anymore. Not after this. Another said that they'd never go in Oh! Shea's again, even if Fullerton got fired. (None of these other people were willing to use their names, due to fear for their safety.)
And getting Fullerton fired was exactly Shugart's endgame.
"400,000 Americans died in a war so that we could all agree that Nazism can be thrown into the trash can of history," Shugart tells Philly Mag. "This guy does not deserve to work in Philadelphia. What does this guy do to the food of people he thinks should be exterminated? What does he do in that kitchen when an order comes in for the Untermensch?"
"So people who you say are Nazis shouldn't be allowed to work?" I ask Shugart.
"Listen, if you want to hire a Nazi, I get to tell the world that you hire Nazis," he retorts. "You wanna keep him employed? I get to tell every person I know not to eat or drink at your pub."
Shugart says that he is pro-free speech. And he insists that he's not going to target anybody who comes along that he simply disagrees with or whose views he finds offensive.
"I understand that there are conservatives out there and that we disagree," says Shugart. "But I'm not going to get somebody fired over that. But can we just agree that there is zero room for Nazism in a country that my relatives fought the Nazis for? And a country that I've fought for? He may be legally protected by the Constitution. But this isn't a legal problem. It's a social one. He's not welcome in our society with these beliefs."
On Wednesday afternoon, an Oh! Shea's manager confirmed for us that Fullerton had been fired due to his online posts. "You just can't put crazy shit on the Internet and not expect it to come back to you," another Oh! Shea's employee said.
Reached on Wednesday evening, Fullerton was not exactly apologetic or remorseful about his posts. And he didn't seem to care that he was out of a job. He said that it wasn't a "serious job" and that he was looking forward to collecting unemployment. He called me "gay" and a "commie" and added that "it's a bad time to be a commie in Trump's America."
I asked him flat out if Shugart was correct in calling him a Nazi.
"I am far more than that," he replied.
I prompted him to explain his offensive Facebook posts.
"I'm looking for my Blutfahne," was his response.
After I spoke with Fullerton, Shugart took to Facebook to alert his friends and followers that Oh! Shea's "did the right thing."
"Whoever says direct action doesn't work hasn't tried it," he wrote. "I appealed to their sense of morality, and they listened. So here's one for doing the right thing in the world, and a thank you to the management at Oh! Shea's for standing up and fixing what needed fixing."
---
---