Pat's King of Steaks Now Delivers … Across the Country
Orders are already coming in "like wildfire," says owner Frank Olivieri Jr.
---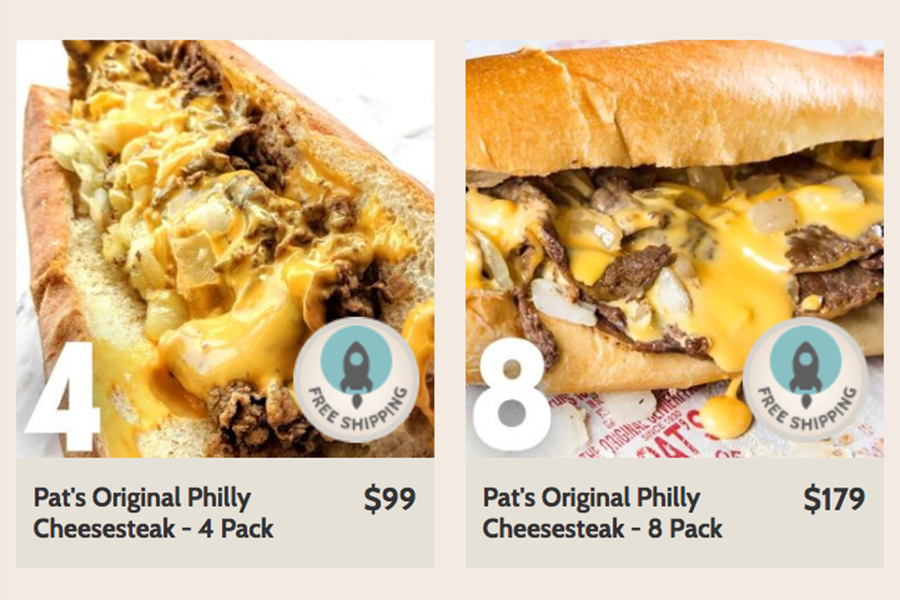 If you live in, say, California and you want a cheesesteak but can't stand nacho cheese and bell peppers, Pat's King of Steaks now has you covered:
Starting tomorrow (Monday) we will be delivering all over the USA!!! #shipping @goldbely pic.twitter.com/B8tJyjGGDO

— Pat's King of Steaks (@PatsSteaks) August 13, 2018
Cheesesteaks from the legendary spot became available on Monday through Goldbely, a San Francisco–based company that brings iconic local foods to people in far-flung places.
By Tuesday morning, says Pat's owner Frank Olivieri Jr., the orders were coming in from all over the country. And fast.
"Now we're in the process of packing hundreds of sandwiches and sending them out already. [Orders are] coming in like wildfire," Olivieri tells Philly Mag. "We're shipping to Connecticut, we're shipping to Arizona, we're shipping to Minnesota, Colorado. Not a corner of the country's untouched at this point."
Be warned: It will cost you. A four-pack of cheesesteaks runs $99, and it only goes up from there.
Orders are packed in a "wet pack" with heating instructions and shipped overnight. Olivieri says they recommend putting the sandwich open-faced on a foil-lined tray in a 300-degree oven for 12 to 14 minutes. For whiz orders (which is most of them), they're packing the liquid gold on the side. Microwave for ten seconds and there you are: transported to the corner of 9th and Passyunk.
The main customers, Olivieri thinks, are Philadelphia expats.
"I think the benefit of it is, if you can't be here standing outside eating a cheesesteak, I guess it's the next best thing to being there," he says. "Of course, you're not going to get the full effect of what it is, however, it's a lot cheaper than taking a flight to Philadelphia from, I guess, Arizona."
Today alone, they're sending out 17 four-packs, one eight-pack, and one twelve-pack. ("[We're] kind of in the weeds.") And football season is right around the corner.
"I imagine a lot of people are going to be ordering these for Eagles games or Phillies games or whatever throughout the country," Olivieri Jr. said. "There's a lot of people who are no longer living in Philadelphia and they want to share Philly goodness with everybody."
---