Philly Judge Orders Penthouse Club to Pay Dancers $4.6 Million in Wage Suit
A jury returned a verdict against the Castor Avenue strip club late last week.
---
In 2013, a Philadelphia woman named Priya Verma filed a class-action lawsuit against the Penthouse Club, alleging that the Castor Avenue strip club owed her and the other dancers who worked there unpaid wages and tips that had been inappropriately withheld. Well, a Philadelphia jury agreed with Verma, and a judge has now ordered the Penthouse Club to cough up.
After a three-day trial, a jury returned a verdict against the Penthouse Club last Thursday. And on Friday, United States District Court Judge Anita Brody entered the judgment and damages: $4,594,722.73. It is unclear how big the class is, but it would potentially include any woman who danced there.
The Penthouse Club, which is open for business, considered the dancers independent contractors — a standard practice in the industry — but Verma's attorneys argued that they were, in fact, employees and entitled to certain rights and protections.
In her complaint, Verma contended that she and the other dancers were not paid minimum wage, that Penthouse Club management routinely took part of the tips they received from patrons, and that they were not paid overtime when they were required to work additional hours, which she said happened frequently.
When a dancer provided a "lap dance" for a customer, the patron paid $30, of which the Penthouse Club got $10, says the suit. A 30-minute $300 private dance? Verma claimed that the Penthouse Club took half.
The dancers were also required to pay a wide range of fines, according to the suit: $25 every time they were more than 30 seconds late to the stage; $50 if they used a cell phone while on the floor; $35 for wearing their hair "up" while on the job; and $100 for leaving work early without management approval.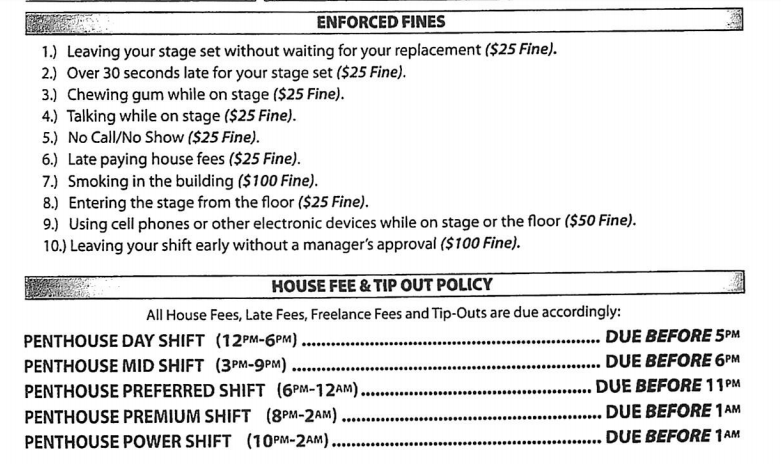 And then there were the "tip outs" and "house fees." Verma says that for one Friday shift, she had to pay a $25 house fee to management, $15 to the DJ, $5 to security, $10 to the "house mom," $5 to the "podium host" and $6 to the valet. The suit claims that dancers had to pay the valet $6 even if they didn't use the valet for their cars.
"Dancers in Philadelphia … work in an 'unorganized' industry where many workers are 'disenfranchised' by the wide disparities in bargaining power between workers and club owners," read the suit. "Accordingly, adult entertainment clubs such as [the Penthouse Club] are well-positioned to take advantage of dancers and routinely deny them basic workplace rights."
Attorneys representing Verma and the Penthouse Club were not immediately available for comment.
---
---