Eagles Trade Fan Favorite Jon Dorenbos to the Saints
What possible reason could the Birds have to trade the "Magic Man," the team's longest-tenured player?
---
The Eagles announced the surprising trade of long snapper and Wing Bowl commissioner Jon Dorenbos to the New Orleans Saints late on Monday night – a puzzling move that has left the fan base questioning why the Birds would move on from one of their most beloved players for just a measly seventh-round pick in 2019.
Sure, Dorenbos – who famously parlayed his off-the-field passion for magic into successful television appearances on America's Got Talent and Ellen – is an old pro by this point at age 37. He's no longer making Pro Bowls, but this is a special teamer we're talking about, remember. In the same vein as kickers, long snappers are more fickle than other positions on offense or defense. Sometimes just having a ton of experience like Dorenbos is exactly what you need to do the job correctly.
Here's what Eagles owner Jeffrey Lurie had to say about letting go the team's longest-tenured player, who first came to Philadelphia in 2006:
"Jon is one of the most inspiring people I have ever known. He gave everything that he had to this organization for more than a decade, but his legacy in Philadelphia goes far beyond his performance on the field, his Pro Bowl selections or the consecutive games streak. His true impact is measured by the number of people in this city that he connected with, the lives he has been able to change and the courage he displays every day after battling such tremendous adversity as a child.

Jon's enthusiasm and positive outlook are contagious; he's one of the most genuine, caring people you could ever meet. I speak on behalf of the entire organization when I say we are incredibly proud to have called him an Eagle and our doors are always open to him in the future."
If you're unaware of Lurie's reference, here's a quick video from HBO Sports on Dorenbos's unbelievable life story. Teammates reacted to the news with well wishes on social media for the "Magic Man:"
Incredible person and one heck of a teammate. @JonDorenbos you will be missed my brother. Wishing you the best!

— Carson Wentz (@cj_wentz) August 29, 2017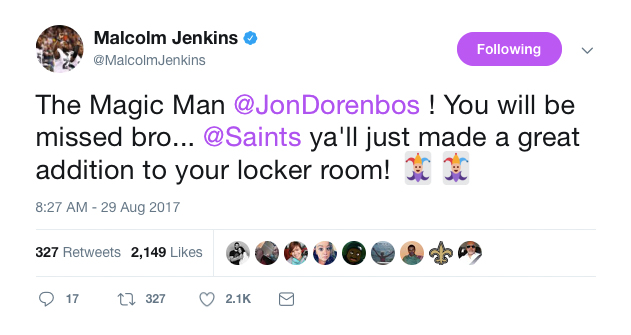 The epitome of an Eagle and a true pro! Thanks @JonDorenbos for all the great memories and being such a great teammate #FlyEaglesFly

— Chris Maragos (@ChrisMaragos) August 29, 2017
Eagles general manager Howie Roseman offered a no-answer response to why the trade was made in a statement, saying: "During this time of the year there are many difficult decisions to be made. We are pleased that an opportunity presented itself to allow Jon to continue his career with the Saints, and we wish him all the best. Even though he won't be on the field with us this year, we hope that he will one day return to retire as an Eagle, and rejoin our organization in some capacity."
Sounds to me like the Eagles just decided to move on from Dorenbos, likely due to his age. His replacement is 24-year-old Rick (Don't call me Demi) Lovato, a former pizza spinner from New Jersey who played his college ball at Old Dominion University.
Follow @jtrinacria on Twitter.
---
---