VIDEO: Jim Gardner Tracks Down Cecily Tynan's Lost Earring on Air
Wardrobe malfunction? No problem. "Gentleman Jim" to the rescue!
---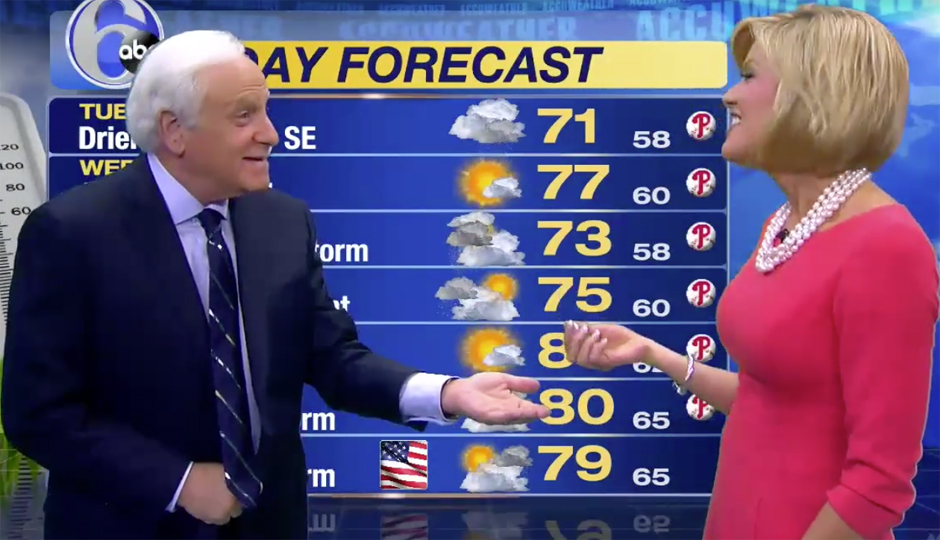 6ABC meteorologist Cecily Tynan was the victim of a minor wardrobe malfunction on Monday night's telecast of Action News, but thankfully legendary anchorman Jim Gardner was there to pick up the pieces.
Tynan was reporting the weather forecast for this upcoming week during the station's 6 p.m. broadcast when her earring fell out live on air. Hilarity ensues.
"I hope I didn't lose that, I really like that earring," Tynan said, trying to keep it together to finish her report. That's when Gardner, the consummate team player, swoops in to help out his friend – cracking her up in the process.
Gardner's still got it! Eyes like a hawk on "Gentleman Jim." He's not mistaking onions for apples anytime soon.
Tynan called the moment her "favorite ever on Action News." The duo has shared plenty of laughs over the years on the network, and this isn't the first time Gardner has crashed Cecily's weather report either. Maybe Jim missed his true calling?
Follow @jtrinacria on Twitter.
---
---