Racing Star Claims Sexual Assault at Philly Hotel Made Her Leave Sport
After motorcycle champ Elena Myers reported the incident to the Loews Hotel, management responded by giving her a free lunch. She's one of three women who say they were victims of the same massage therapist at the Loews.
---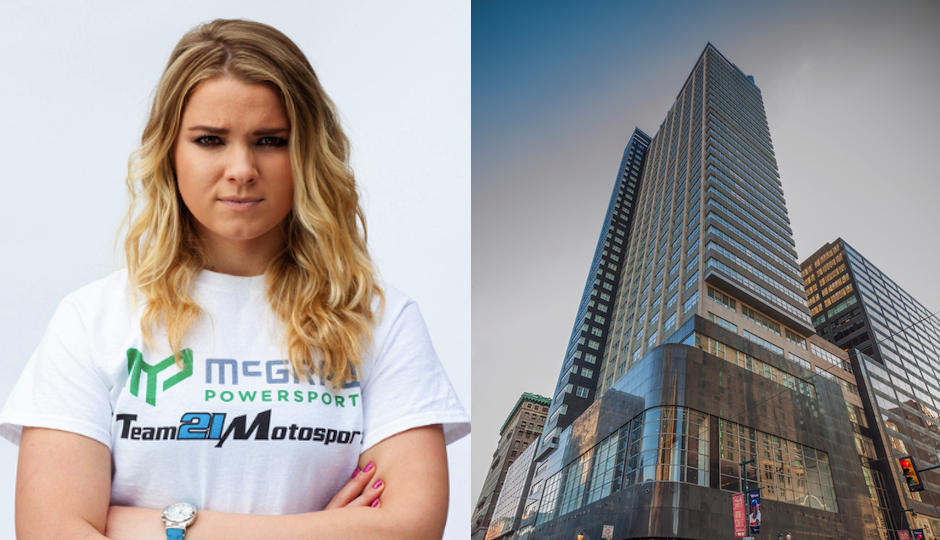 Elena Myers is a professional motorcycle racer from California. The first woman to win a professional race at Daytona International Speedway, she is widely considered the Danica Patrick of the sport. But the 23-year-old recently vanished from the racing scene, confounding her hundreds of thousands of Facebook followers, who have been wondering why a young woman with such a promising future would quit the sport she loves. Today, she's ready to break her silence and tell her story. And it begins on a massage table at a four-star hotel in Philadelphia.
Myers came to the area in September 2014 to compete at New Jersey Motorsports Park in Millville, just outside of Vineland. At the time, she was 20 and living in Atlanta, and her mom flew in from California to see her.
At the race, which took place on a Saturday afternoon, Myers crashed her Triumph motorcycle and sustained minor injuries. The petite blonde had a swollen knee and a sore back, so she booked a sports massage at Philadelphia's Loews Hotel, where she and her mother were staying until their flights home on Tuesday.
On Monday afternoon at the Loews spa, on the fifth floor of the hotel, Myers was greeted by Jerome McNeill, who had received his State of Pennsylvania massage license just five months earlier.
The well-built Port Richmond man was five years older and considerably larger than Myers, but she had had male massage therapists many times in her career — aches and pains were just part of the job. Man or woman, it didn't really matter much to her.
While McNeill waited outside the massage room, Myers removed all but her panties and lay down on the table.
WHAT MYERS DIDN'T KNOW as she lay there, nearly naked and alone with McNeill, was that just two months earlier, a client at Hand & Stone Massage in Haverford had accused McNeill of indecent assault. (A jury acquitted him of that charge late last year.)
She also didn't know that McNeill had been charged with raping a 12-year-old girl in 2007. According to the affidavit of probable cause in that arrest, McNeill raped her three times. Those charges were later withdrawn after a key witness repeatedly failed to appear in court.
Seven months before Myers would cross paths with McNeill, he had asked a judge to expunge that 2007 rape arrest because it "damaged [his] reputation and ability to gain promotions at work." The judge refused.
But she didn't know that either.
What Myers says happened next is a story that resembles one told by another woman, who recently settled a case against the Loews and its spa. It also resembles the story told by a third woman who had been at the Loews spa, an incident in which no criminal or civil charges were ever brought. And it resembles the story of yet another woman, who says she was a client of McNeill's at a spa on the Main Line.
According to allegations contained in an ongoing civil lawsuit filed in federal court by Myers against McNeill, the hotel, and the spa — details she reiterated in an interview with Philly Mag — McNeill sexually assaulted Myers during the massage. (McNeill denied the allegations, according to Myers's suit.)
Myers alleges that McNeill began touching her genitals through her panties. She claims that he groped her buttocks. All without her consent.
Myers says she just froze.
"I've had maybe hundreds of massages," Myers told us. "Nothing even remotely like this had ever happened before. I was in shock. He's way bigger than me, and I didn't want it to escalate. It was terrifying."
She's not sure how long it all went on. But eventually, the "massage" was over, and McNeill left the room.
After dressing, Myers says she immediately reported McNeill to a spa employee, whose response, she says, was "indifferent and callous." Myers says the employee offered to "leave a note for the spa manager."
She went to her hotel room to shower and tell her mother what had happened. The spa manager called the room to speak with Myers; he allegedly "shrugged off" her complaints.
"It was more like, 'I'm sorry you weren't happy with your service,'" says Myers.
THE INDIFFERENCE SEEMS EVIDENT in an internal email thread obtained by Philly Mag, in which two male managers discussed how the hotel and spa would deal with Myers.
Frank Baer, the spa manager who called Myers in her room, emailed Loews managing director Sean Clancy, acknowledging that Myers had "hinted" that she had been "personally violated." He told Clancy that he "apologized [that] she did not like her service" and that the spa was going to "comp her treatment."
After that, management threw free food at the problem.
"OK, we are buying them lunch in Bank & Bourbon, which hopefully they'll appreciate," wrote Clancy in an email to Baer. (Bank & Bourbon is the hotel restaurant.)
Later, Clancy comped the room as well, as he explained in a followup email. And, as far as Clancy was concerned, that was that: The hotel was going to wash its hands of the situation. "We'll consider this matter closed," he added.
Baer, the spa manager, was apologetic, but not in the way that you might think.
"Thanks Sean, I apologize this cost you," he told Clancy. "We owe you. So you assume this is 'the end'?"
"Yes, at least the end of my patience 😀," Clancy declared, deploying a smiley-face emoticon in a thread about a young woman's claim that she had been sexually assaulted in his hotel.
By that time, Myers and her mom had already returned to their respective homes. Myers didn't call the police. In fact, she says, she has never spoken with any member of law enforcement.
"I thought about going to police," Myers says. "But I just didn't want to deal with it. I wanted to move on and forget it."
In a statement she submitted as part of her civil case, Myers explained her decision not to call the police in greater detail:
Even though I reported this incident multiple times to the management at the hotel, spa and gym, each time reporting what had happened to me, it is deeply disturbing to me that nobody responded to my reports of this assault in a way that was not belittling and minimizing what had happened. This caused me not to go to the police in a strange city, where I would be questioned further and I would have to return to face my attacker and testify again. At the time, this became something I felt I could not do.

I know now that reporting this assault to the authorities at the hotel, gym and spa was not enough to prevent the assault of other women. Prior to filing this lawsuit, I instructed my attorneys to report this assault to the Philadelphia District Attorney's Office and they did so. But this was too late to stop the assaults on other women at The Loews Philadelphia Hotel. I wish I had done more sooner, and I carry this guilt with me every day, but at least I know I have done more than the gym and spa have ever done to protect their customers from sexual assault.
Myers told us that her own toughness also got in the way of her dealing with the events of that day.
"I've had five surgeries in my life," she explains, "and every time, I've gotten a bottle of pain pills. And only once have I taken a pill. One pill. I'm the kind of person who deals with the pain. I suck it up. And I get over things."
But she didn't get over this. She says she lost her edge. The daring young racer became fearful and anxious. Rocketing around race tracks at speeds of more than 150mph was something she says she just couldn't do anymore; she has not entered a race since September 2015.
"I used to be a very happy person," says Myers. "Very outgoing. I never had any issues. But I became a very scared person that I couldn't recognize. I had anxiety attacks. This was not in my character at all."
But then something happened that turned her fear and anxiety into anger: "I heard about the other case."
THREE WEEKS AFTER Elena Myers left Philadelphia, three weeks after she raised serious, documented concerns about McNeill to hotel management, another woman — to protect her privacy, we'll call her Rachel — wound up on McNeill's massage table at the Loews.
Rachel was visiting Philadelphia on business. She checked into the Loews on October 14, 2014, and scheduled a massage for two days later.
During the massage, Rachel says that McNeill sexually assaulted her. In allegations contained in a federal lawsuit she later filed, Rachel said that McNeill held her face-down on the massage table while he inserted fingers into her vagina and anus.
Unlike Myers, Rachel says she tried to fight him off but that he "forced her legs up and held them down, and continued to sexually assault her," according to the allegations in the lawsuit.
Rachel says she pleaded with McNeill to stop and that, eventually, he did stop and offered to help her get dressed. The lawsuit contends that he also tried to place his hands around her neck at that time.
She says she left the room "shaking and upset" and went to the spa's front desk, where she told an employee that she had just been sexually assaulted. She says the employee reacted with "callous disregard."
Also unlike Myers, Rachel went to the police. The hospital performed a rape kit. Photos were taken of her injuries. And one day after the incident, McNeill was arrested and charged with aggravated indecent assault, sexual assault, and recklessly endangering another person. He is out on bail awaiting a criminal trial, currently scheduled for July.
Rachel sued the hotel, spa, and McNeill. The case was settled out of court in December 2016. According to a court action taken by the spa's insurance company, that settlement allegedly exhausted the limit of its insurance coverage, which was $1 million.
"IT'S NOT ABOUT THE MONEY," says Elena Myers, referring to the civil case she filed in September 2016. "This is about getting the message out there. Getting other women who have been victimized to come forward."
Philly Mag has spoken with another woman, a South Philadelphia resident, who claims that she was inappropriately touched by McNeill at the Loews around the same time of the Myers and Rachel allegation. She is referenced in Rachel's court documents, but she has never spoken with police, and she asked that we not use her name.
And a Lower Merion woman, who also asked to remain nameless, alleged to us that McNeill violated her during a massage at the Haverford Hand & Stone in 2013. This is separate from McNeill's 2014 indecent assault charge stemming from an incident at Hand & Stone, the case in which he was acquitted last year. The only criminal charges McNeill faces at this time are the ones surrounding Rachel's allegations.
McNeill's court-appointed criminal defense attorney, Jason Kadish, told us he could not advise McNeill to speak with Philly Mag before his trial. "But after that, it might be a much different story," says Kadish, who had no comment himself.
Attorneys for the hotel and the spa did not comment for this story.
In court documents, the Loews argued that Myers's accusations had nothing to do with them, because the spa wasn't theirs — it was leased to another entity, the company behind Center City's popular 12th Street Gym — and McNeill wasn't their employee. And the spa has said that McNeill was an independent contractor and that they're not responsible for anything he may have done there.
Myers's lawsuit, of course, goes through the details of what she says McNeill did to her. But she also takes the Loews and the spa to task for allegedly failing to check on his background.
"I got a criminal background check for my new job in sales," she says. "I'm not saying that you have to check out people who are pumping gas, but when you're dealing with naked people, that's a different thing."
In November, lawyers for the spa tried to have the case dismissed, arguing that Myers's claim that the spa had some obligation to check McNeill out was moot due to a Pennsylvania law they said prohibited them from discriminating against McNeill for any criminal past he may have had. The judge made mincemeat of that motion, and the case continues.
But what does not continue, at least for now, is Myers's career.
"I've had zero desire to get on a motorcycle at all," says Myers. "But that might be changing."
Follow @VictorFiorillo on Twitter
---
---