As Philly's Ex-Mayors Stump for Clinton, Some Ask: "Who?"
Wilson Goode, Ed Rendell, and John Street were out on Monday to shake hands under the Clothespin. It was weird.
---
"Look at this white cat down there dressed like a gangsta?! Whatever, I'm going to go get my photo taken with Mayor Street."
I'm standing on the steps under the Clothespin, where three former Philadelphia mayors are holding court. The man behind me is talking about Ed Rendell, who's dressed in a blue power suit and shaking hands with people as they come down the steps. "Don't forget to vote tomorrow!" he says to a man who brushes by him. Wilson Goode is there, too, dressed to the nines. Then there's John Street, who is wearing a leather jacket with the Super Bowl XXIX logo on it.
This is a Murderer's Row of Philadelphia politicians, three men who were mayor for a combined 24 years. And a lot of people didn't know who they were. And why not? Only Rendell ran for elected office after leaving the mayoral office, and it's been nearly six years since he left the governor's office. So there are good reasons why commuters — who just wanted to get back on the El for the first time in a week — didn't stop to recognize three former Philadelphia mayors standing together.
Still, it was pretty funny.
See? There's no way those last two people knew these were former mayors of Philadelphia they were passing. Or maybe they did, and were just late for their trains.
"I think you're going to have a solid turnout tomorrow," Street said. "I don't think it's going to be 65 percent, but I think it's going to be solid. Part of that is the Clinton commercials have been unbelievable. I've never seen a set of commercials as well-crafted as hers."
I asked Street about his Super Bowl 39 jacket, and how he could wear such a symbol of Eagles disappointment. He misunderstood me — or, more likely, I mumbled my question incoherently — and thought I was asking about the team's two-game losing streak. Still, since this is a town where we care what our former mayors think about the Eagles, I present his comments here: "I just … two weeks in a row, too. Lose to the Dallas Cowboys and the New York Giants two weeks in a row, that tests my patience. Especially them Cowgirls!"
---
Ex-Philly Mayors GOTV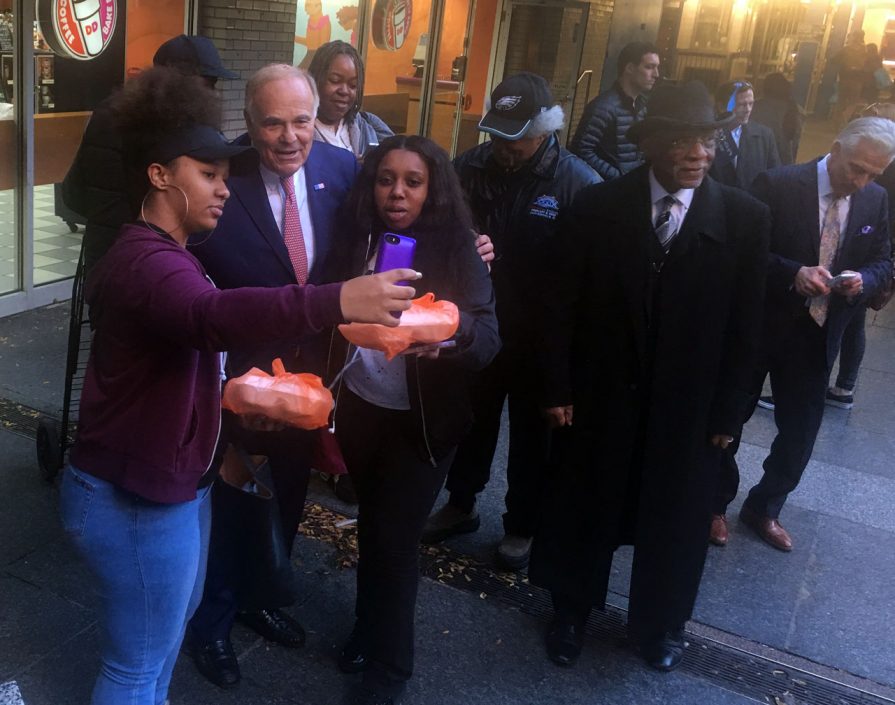 ---
The man who, earlier, had wondered who Ed Rendell was eventually moved in to get his photo with John Street. He ended up taking a photo with his arms around both Rendell and Street, smiling broadly. After that, the politicians dispersed. Street left around 4:30, while Goode and Rendell hung out for a bit longer. They kept shaking hands, giving Philadelphians the chance to shake hands with some former mayors — whether they knew it or not.
---