Patrons See "Covert Racism" in Recent Enforcement of Woody's Dress Code
Regulars at the popular Gayborhood bar say they don't recall hearing about a "no sweatpants, no sneakers" rule before the last few weeks.
---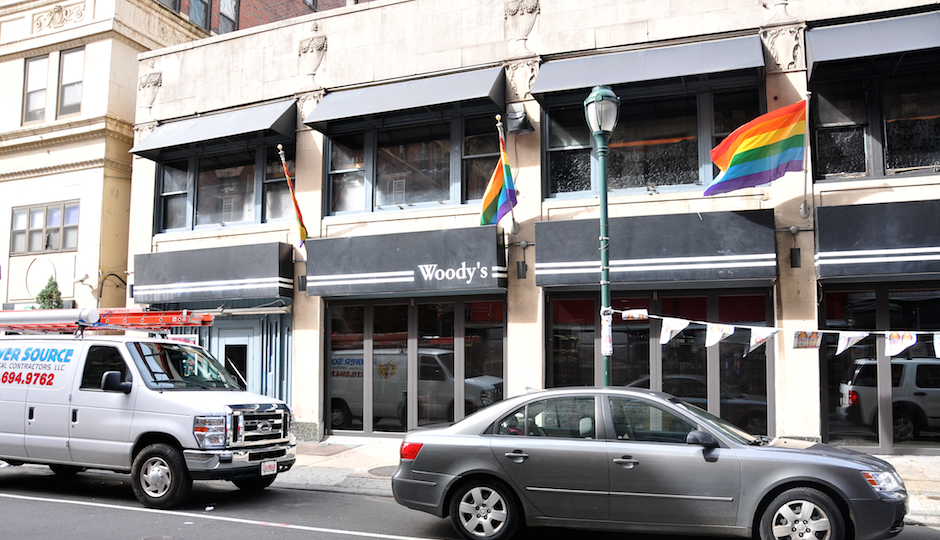 Around midnight on Saturday, September 17th, popular Gayborhood performer Kemar Jewel arrived at Woody's with some friends to celebrate a successful FringeArts gig he'd just finished. To his surprise, for the first time in seven years of regular patronage of the bar, he was rejected at the door — and the reason puzzled him: Jewel was told he could not enter because he was wearing Adidas trackpants and sneakers.
"The bouncer told me that they couldn't let me in with sweatpants and sneakers because that's their policy," Jewel, 25, says. "I was outraged … a place that I've called home for years had now flipped the script on me."
Jewel — well known in the Gayborhood as a "Mr. Everything" winner at Tabu, a youth marshal at Philly Pride, and a former employee of the Attic Youth Center — says he has gone to Woody's since he was 18 and claims he has always worn similar sportswear attire without incident, including as recently as August.
"I go to Woody's so much that many of the staff members know my face, especially the DJs," he says. "Whenever I walk in the room, I greet the DJs and they usually play some Beyoncé song because they know I know all of the choreography and I like to perform." However, his recent encounter has now left him questioning the rationale behind the dress code.
"I am a product of the Philadelphia gay community, and I love and support it wholeheartedly," Jewel says. "But I cannot support covert racism like this." Jewel considers the targeting of such popular urban sportswear like the Adidas track pants he wore that Saturday night an "institutionalized way" of turning down patrons of color.
Enforcement of Gayborhood bar dress codes that target urban fashion trends has seemingly become more frequent in the past year. Back in May, similar claims of racial profiling were made after ICandy was perceived to enforce a policy banning Timberland boots. ICandy's general manager Jeff Sheehan later told Philadelphia Gay News that a miscommunication between management and a member of the door staff was to blame for the incident and that "the dress code is clean, neat and casual."
After Jewel expressed outrage over the incident on his Facebook page, commenters related similar experiences at the bar and questioned the nature of the policy:
Despite numerous phone calls and an in-person request, the bar's general manager was not available for comment. During a visit to the bar by G Philly during its happy hour social on Monday, September 19th, the bouncers present at the door, including the one who had turned Jewel away on Saturday, would not comment except to say that management was responsible for the call on dress code.
During the same visit, a bartender named Aaron said: "The dress code has always been in place. Management wants a clean, casual, and decent look … sweatpants and other loose clothing are banned because they are easy to take off." Aaron, a longtime employee of the bar, added that although he does not recall sneakers being prohibited, "it all depends on the look. It's about safety and decency. It's up to the bouncers to make the final call at the door of what's acceptable. … Sometimes management tightens up on them when they are being too lax with enforcing the dress code, and that's probably the case right now."
Currently, neither Woody's official website nor its Facebook page has any information about a dress code. And while there are posters and information inside the bar about patrons not being served alcohol if they appear to be intoxicated, there are no signs outside or inside that inform guests of the dress code. In comparison, nearby bars such as Boxers PHL, U Bar, and Tavern on Camac do not have any type of dress code.
Longtime Gayborhood observer Mark Dobbins says he thinks the community "needs to take a long hard look in the mirror." Dobbins, a white gay strategic communications consultant, saw Jewel's public post on Facebook and decided to "speak out about it" online: "If you frequent places that continue to marginalize the LGBT community of color under the coded excuse of a dress code, then you're part of a larger problem that we must confront."
Dobbins, who says he has frequented the Gayborhood and its bars for the past 25 years, has "observed the growing public complaints of racism" around him. "I know I am a white cisgender male. I don't claim to speak for a community in which I don't live," he says. "But when I see overt acts of racism I must speak out. Silence in the face of oppression is acquiesce — and that sticks in my throat."
---
---