Meet the DNC Host Committee's "Donkeys Around Town"
57 colorful fiberglass donkeys — one for each delegation — will be located around Center City for the convention.
---
---
Brian Thomas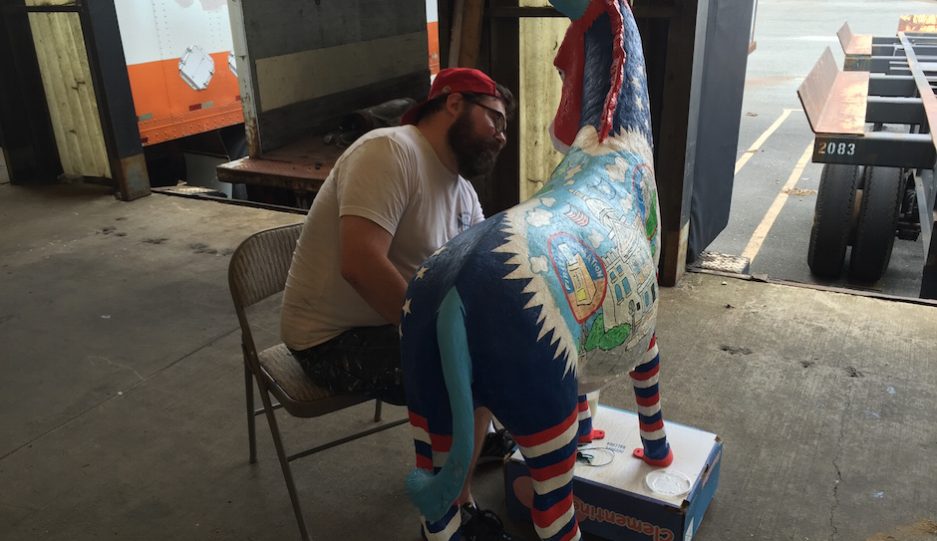 Brian Thomas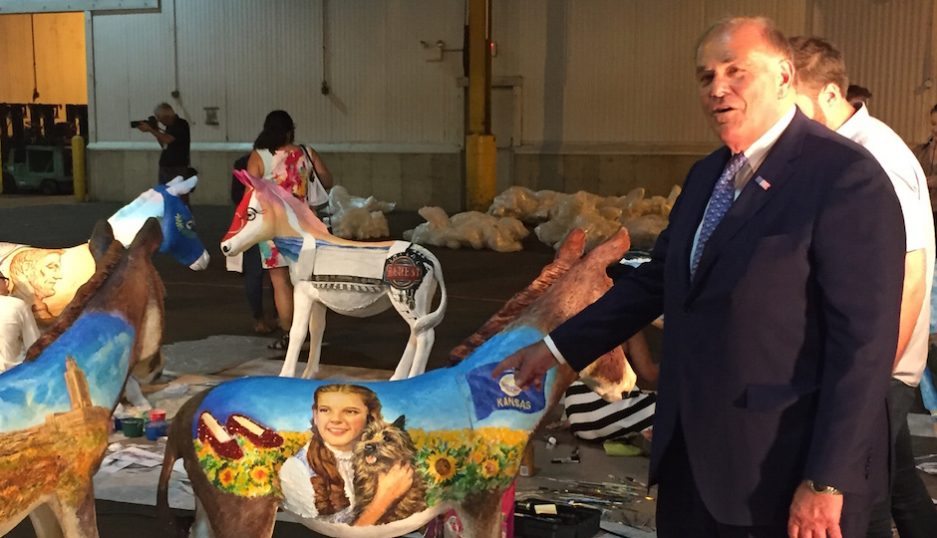 Brian Thomas

Brian Thomas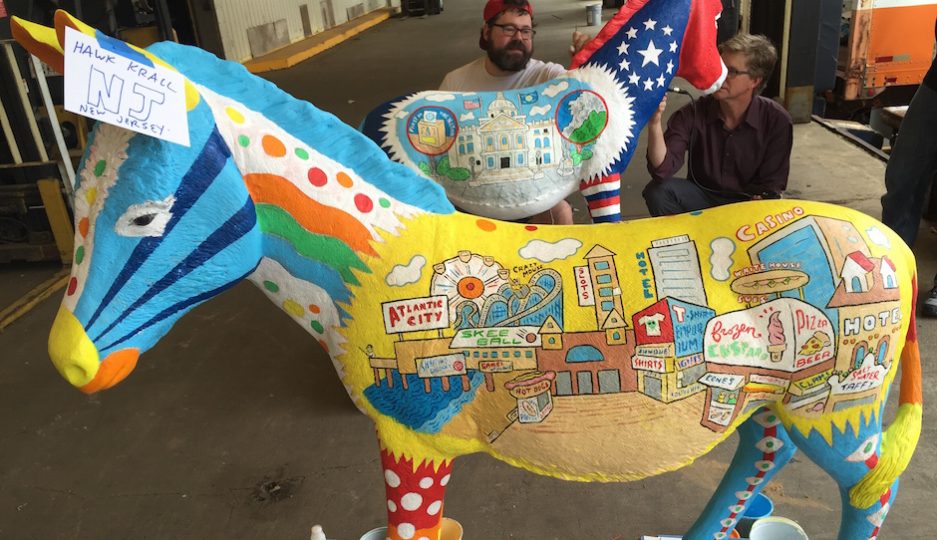 Brian Thomas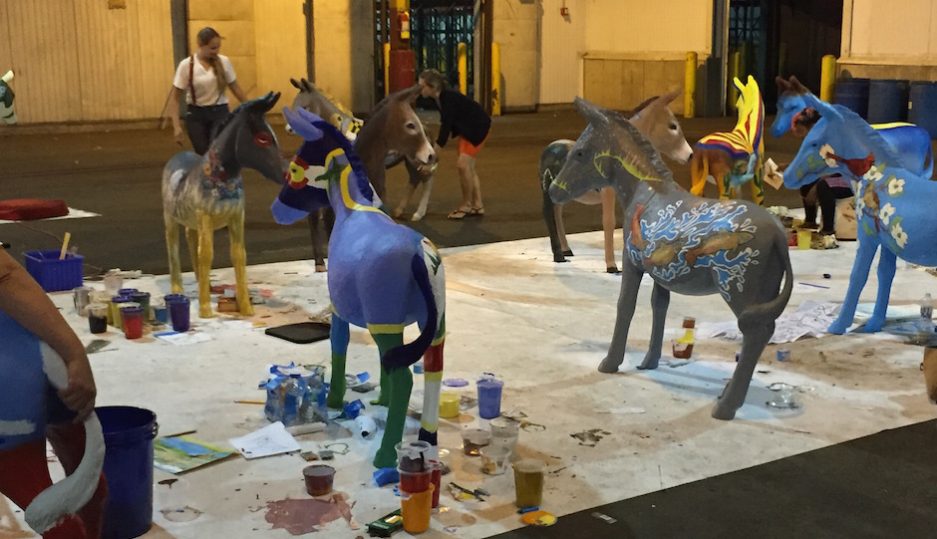 Brian Thomas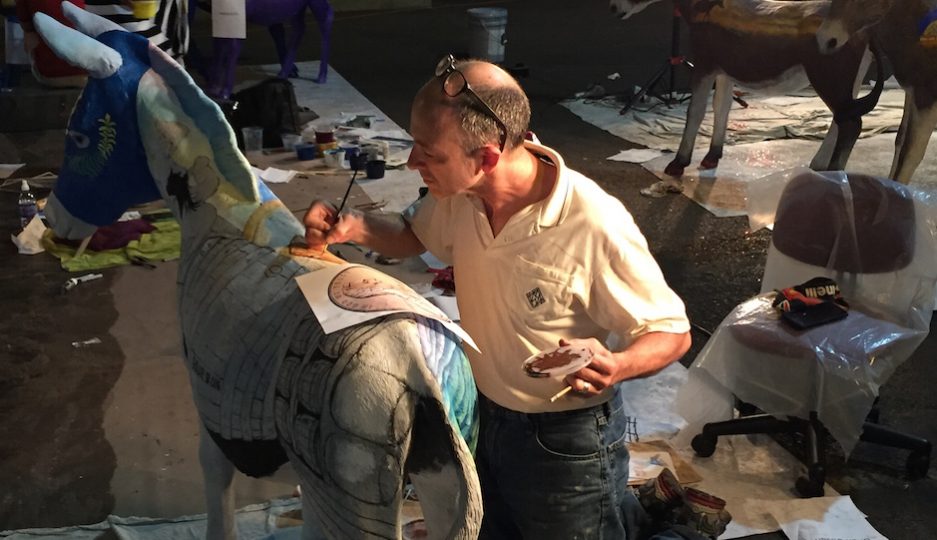 Brian Thomas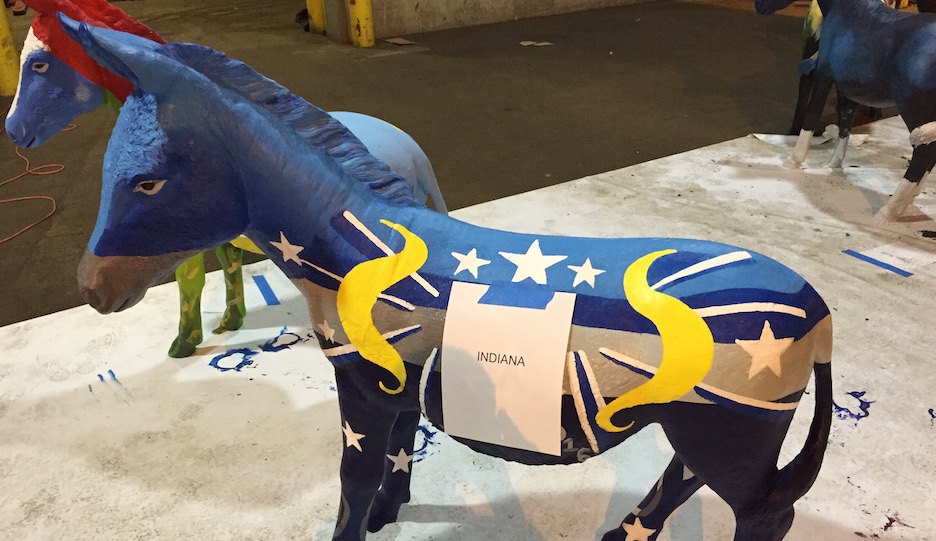 Brian Thomas
---
During next month's Democratic National Convention, visitors will likely run into a few colorful donkeys. And they'll have some local artists to thank for that. The DNC Host Committee unveiled the nearly completed Donkey's Around Town earlier today.
Each fiberglass donkey (there are 57 in total) represents a delegation that will be in town for the convention. Each state has one, as well as the five U.S. territories, D.C., and Democrats Abroad. The donkeys all have iconic images from the state they represent. The Kentucky donkey, for instance, has a barrel of bourbon on one side and a mask like a thoroughbred race horse. That donkey was done by Downingtown resident Brian Cesario, who also did the Tennessee donkey.
The Pennsylvania donkey, which was the prototype for the display, is currently in storage. New Jersey's donkey, however, was there. The artist, Philadelphia native Hawk Krall, was inspired by the colors of Atlantic City.
"One of the elements that they wanted was Atlantic City, so I kind of went with the color scheme of the Steel Pier," said Krall. The donkey has a ton of Jersey icons on both sides, from Sinatra to diners to a cartoon version of Atlantic City. Krall also was assigned the New Hampshire donkey, which had a covered bridge and patriotic color scheme.
Each delegation submitted the different components they wanted on their donkey. The artists then drafted up a sketch, which was submitted to the delegation for approval before the actual donkey's were painted.
The donkeys will be at various locations throughout Center City from July 1st through September 5th. Afterwards, each delegation will have the opportunity to claim their donkey. Any donkey that's left over will be auctioned off by ArtJawn.com, who, along with Mural Arts, helped find and coordinate with the artists who participated in the program. All proceeds from the auction will be evenly divided between the artists, who also each receive an individual stipend for their work.
"Photo ops are important, and the 57 Donkey's Around Town will give locals, visitors, media, and delegates the chance to snap and share their fun Philadelphia images with friends and family — all potential future visitors," said Meryl Levitz, president and CEO of Visit Philadelphia, in a statement.
According to former Governor Ed Rendell, who chairs the DNC host committee, there will be an online scavenger hunt for the donkeys. The two grand prizes are an all-expenses paid weekend in Philadelphia and a Philly sports package with tickets to Phillies, Flyers, Sixers, and Eagles games.
A full list of the donkeys and their locations, as well as more information on the artists, is available here.
---