I Used to Think Léger's Work Was a Meaningless Hodgepodge [GALLERY]
How the PMA's beautiful new exhibit, Léger: Modern Art and the Metropolis, has changed my opinion.
---
I have never been a big fan of the French modern painter Fernand Léger. His work always looked to me like a meaningless hodgepodge. I'm happy to report that a beautiful new exhibit, just opened at the Philadelphia Art Museum—Léger: Modern Art and the Metropolis—has altered my opinion.
Leger was a farm boy who came to Paris in 1900 to become an architectural draftsman. It was the dawn of a new century and in the next 20 years the city would become a hotbed of experimental art and culture. Leger was enthralled with the ferment of energy, excitement and opportunities. He enthusiastically embraced the urban environment and the emerging modern world it spawned. Not surprisingly, given his background, he was drawn to architectural subjects. In fact, the exhibit was inspired by one of the museum's premier holdings, Leger's post-cubist masterpiece "The City" (above), which leads to the second of four sections that make up the show. In Leger's rendering, the city is freed from snapshot representation and reduced to its most elemental forms. It's a monumental collage-like interplay of rectangles, squares, circles, cylinders, and triangles in strong, flat colors pulsing with life.
Leger was interested in everything whirling around him—film, dance, advertising posters, graphic arts, contemporary architecture ala Le Corbusier. The show is arranged around his varied interests with his work hanging alongside examples of his contemporaries. Films are projected on the walls. Snippets of new music play in the different rooms. There are drawings of ballet costumes he designed along with the huge scenic backdrop. The goal is to capture the pulsating rhythm of a transformative period in art. And it succeeds.
What I used to miss in Leger's paintings was the lack of drama or passion or even breathtaking beauty. But he is not gorgeous Monet or realistic Manet, easy to look at and appreciate. Leger interpreted the world differently and this excellently designed exhibit helped me see and value his work with new eyes. I now understand his innovative way of translating urban life and how he led us into modernism by rendering the cityscape as a riot of vibrating color, shape and movement. On my way home, driving down Market Street, I found myself eyeing the buildings and the moving traffic not as they were, but how Leger might have painted them.
This exhibit runs until January 5, 2014 at The Philadelphia Museum of Art. For tickets call 215-235-SHOW or philamuseum.org. There is a children's guide if you want to take the kids. I suggest you take a docent tour or definitely rent the accoustiguide.
---
Images from Léger: Modern Art and the Metropolis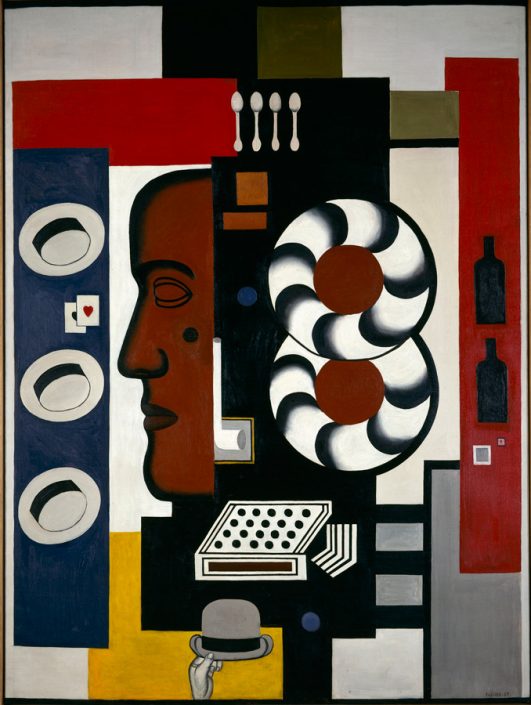 ---
---