Photos: A.C.'s $25 Million Strip Club
It's the first of its kind in the country.
---

Casino pastimes like gambling, smoking and boozing seem to go hand-in-hand with sex, and yet there has never been a gentleman's club, strip club, nudie joint — or whatever else you want to call them — inside a United States casino. But that's all about to change, thanks to Robert Gans, owner of Manhattan's Penthouse Executive Club and Scores, two of New York's most high-end adult clubs.
Gans, who has a spare-no-expense reputation, is set to open the $25 million Scores Atlantic City in the Trump Taj Mahal the first week of August. The massive 36,000-square foot club has been in development for over four years and features several state-of-the-art showrooms with live dancers, private rooms, a sports bar (it's called "The Spread"), and an outdoor terrace overlooking the Atlantic City Boardwalk. Thanks to New Jersey law, the performers will wear panties and pasties. I got Gans on the phone to learn more.
Why the heck are you investing so much money in a city that some people say is on its way out?
I figure, you just have to target the market correctly. Atlantic City is not going down 15 to 20 percent a year in terms of the heads coming in. It's gambling that they're saying is dropping. And frankly, all we're looking for are bodies coming into Atlantic City —not gamblers. We are part of the nightlife of Atlantic City, which is on the uptick, even if gambling has been tapering off.
So Atlantic City can be saved?
Yes. They just started in the last year or two promoting the city. Up until then, no one really bothered to promote the city as a whole. It's a jewel with a lot of dust on it, and I'm hoping that the Atlantic City jewel will be polished and people will come back.
You have to be a little worried, considering the litany of problems at Revel.
I'm not a casino expert, but the Revel, when they started, they didn't market it correctly to Atlantic City. The Revel is not a bad place. Perhaps if built in Vegas, it would have been a success.
They oversold the fact that you could see the ocean, which, at night, is black. No smoking? What casino doesn't have smoking? Whatever their model or marketing plan, it was incorrect.
As for Scores, any convention in Atlantic City, any bachelor or bachelorette party, any tourist interested in nightlife and adult entertainment will want to be there.
Is Scores Atlantic City basically a replica of Scores New York?
No, not at all. We decided to make Scores Atlantic City an adult entertainment complex, whereas most clubs irrespective of the New York Scores or anyone else are more traditional, some more elegant than others, where you'll basically have a room and a pole and some chairs.
What we've tried to accomplish in A.C., because of the demand for whom we're presenting there, is the kind of place where you can come out and spend an entire night, should you elect to come out in an adult environment. You can watch the game in the sports bar, you can be on the terrace outside, which is going to be a place where everyone is going to want to hang out on a nice evening in summer. You can change the entertainment level to suit your needs.
Four years seems like a long time to develop this.
When we started this process, the Atlantic City market was controlled by commissioners in Atlantic City, and you had to go through their process. As we were doing so, Chris Christie was elected and took back the management to Trenton, so the vast majority of the work we had done was moved backwards and put on hold.
Then we had to start the process with new people. Where we had explained who we were and demonstrated by our places that were in business already to the former group and commissioners, we now had to explain ourselves to a new group of people.
Does it really take $25 million to build a strip club?
In the case of Scores Atlantic City, yes. In excess of $25 million. We're probably 15 percent over-budget.
A.C. has its own inherent course, shall we say. You have to factor that in. And, listen, we only do things one way: the right way. When you walk in, you can't not be impressed with the physical space. And then, frankly, we have to deliver. If we don't deliver, it can be the most beautiful place, and it won't matter. But we will deliver.
Below, renderings of Scores Atlantic City, complete with rendered strippers:
---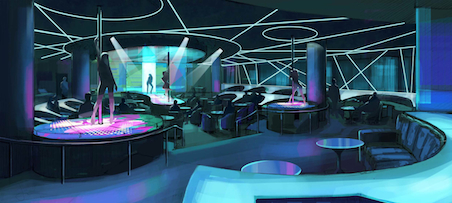 ---
---
---