News
Where to Drink on the Biggest Drinking Holiday of the Year
The night before Thanksgiving is one of the biggest drinking nights of the year. Here are the best spots in Philly to get the party going.
---
Old friends are back in town, college students are home on break and everyone is going out — it's the night before Thanksgiving, also know as the biggest drinking night of the year. Whether you're looking to take shots out of a ice turkey's butt, have a beer and pizza with your family, or sip natural wine, Philly's bars have got you covered tonight. For the best deals of the holiday, scroll down. For the best bars of the year, click here.
ITV, East Passyunk
Go for the complimentary shots of Wild Turkey taken directly out of the ass of a turkey ice luge. Stay for BBQ turkey tails, and for the fact that ITV is one of our favorite bars in the city.
Manatawny Stillworks, East Passyunk and Pottsdown
Get a taste of Manatawny's just released new Bottled in Bond whiskey at their East Passyunk bar, where they'll be offer 2-ounce pours for $13 all night. At their Pottsdown location, they'll open early at 3 p.m. for an evening of live music, food trucks and special cocktail offerings.
Tinsel, Midtown Village
One of Philly's favorite Christmas-themed pop-up bars will preview this year on Thanksgiving Eve from 5 p.m. to 2 a.m. Mall Santas with ID get their first drink free from 5 p.m. to 6 p.m.
Tradesman's, Midtown Village
Sponsored by Jack Daniel's Apple and Big Hill Cider, Tradesman's carnival-themed pre-Thanksgiving festivities are a good option if you're not quite ready to slip into Christmas vibes. Look for prizes, apple-themed cocktails, and a DJ from 10 p.m. to 2 a.m.
The Thirsty Dice, Fairmount
If you like an activity with your drinking, head to The Thirsty Dice, where guests can play any of the bar's over-800 games for free from 5 p.m. to 7 p.m. Drink specials will include $4 select drafts, $5 bartender's choice cocktails, and $6 food specials.
Square 1682, Rittenhouse
There's something for everyone at Square 1682. White Claws, glasses of sparkling rose, and Bud Light all for $4, plus snacks like burgers and duck wings, during their double happy hours from 5 p.m. to 7 p.m. and 10 p.m. to 12 a.m.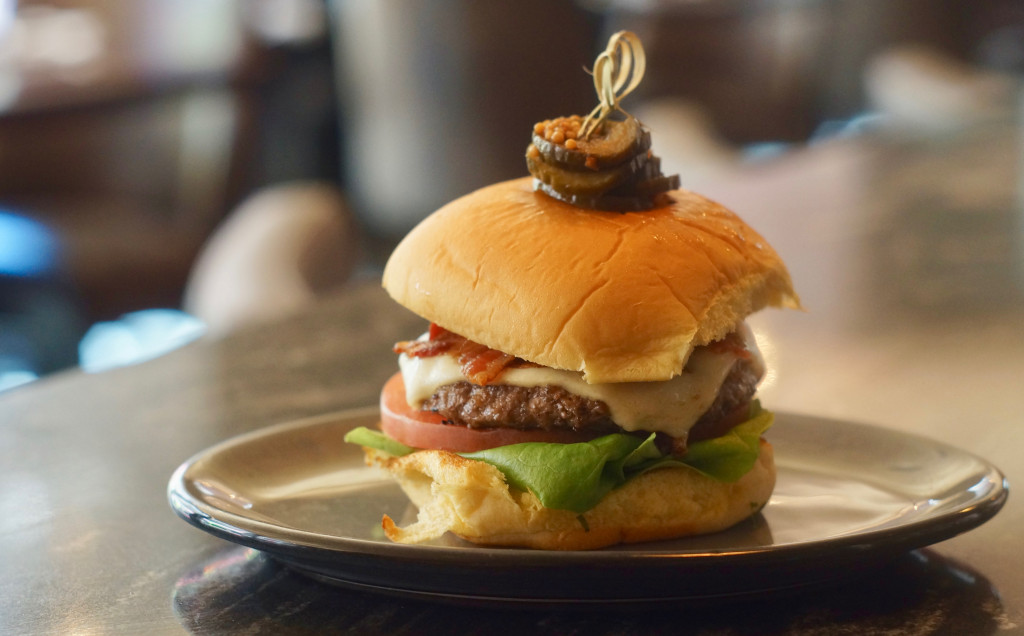 MilkBoy, South Street
The pumpkin colada (made with spiced rum, coconut, and pumpkin spice syrup) and the Friendsgiving sandwich (one of many excellent Thanksgiving sandwiches in the city) will be discounted for Thanksgiving-eve partiers at MilkBoy.
Good Dog Bar, Center City
Cans of beer will be half-priced all night at Good Dog Bar, where you can also get a burger stuffed with Roquefort cheese, and plenty of classic bar vibes, which helped land Good Dog on our list of best bars in the city this year.
Fiore Fine Foods, Queen Village
Fiore's regular Wednesday night Amaro happy hour is amped up this week. Instead of their regular $6 pours of amaro, look for select $4 options, plus a $6 amaro spritz. There will also be a fire-roasted turkey special for those who just can't get enough of the bird.
Bloomsday, Queen Village
Another of our favorite bars this year, Bloomsday is helping us all prepare for the big holiday with 10% of all wine in their bottle shop, plus special domestic wines by the glass all evening.
The Bercy, Ardmore
$5 specialty cocktails, $3 bar snacks and $3 all draft beers will be available from 8 p.m. to 10 p.m. at the Bercy for their reverse happy hour on Wednesday night. Look out for new menu items as they introduce a new chef in the coming weeks.
Enza Pizzeria, Wyndmoor
For a crowd-pleasing meal before the big day, head to Enza Pizzeria for an all-night happy hour including $2 beers and ciders, $5 house wine and $6 pizzas.
---