You Can Now Get French Food in Old City Till 1 A.M.
Skip dinner to save room for Royal Boucherie's oysters, charcuterie, and crispy, meaty bites.
---
Royal Boucherie, Nick Elmi's American brasserie, is just what Old City needed this winter: a cozy-yet-upscale spot with a focus on simple, elegant pleasures like oysters, house-made charcuterie, and natural wines.
Now that the spot has been open for a few months, Elmi and his team have taken that special-yet-comfy vibe to late night with their new post-dinner service bar menu.
Cocktail-wise, stay seasonal with the warming house punch, made with multiple rums, cognac, tea, and spices and finished with a fragrant dusting of fresh nutmeg. Or go for A Very Stable Genius, a tall, sherbet-orange glass of sunshine — vodka and aperol sweetened with a vanilla-orange cordial and fizzed up with a pour of Allagash White — that's the opposite of its namesake.
In terms of post-dinner fare, Royal Boucherie is inspired by a sort of refined surf and turf. Snack on fresh oysters, cured scallops, shrimp cocktail, or chilled razor clam with celery, apple, and horseradish.
Or for something a little more substantial, there are meat-centric sausages, burgers, sandwiches, and even a lobster roll — named, appropriately enough, Really Big Lobster Roll and filled with more than half a pound of meat. And the mortadella grilled cheese, its interior draped with perfectly utilized American cheese, shouldn't be missed.
And if you're not that hungry, stick with the snacks, particularly those that are breaded and fried, like the bright, tangy green olives stuffed with pork and coated in a crispy, savory breading, or the savory, tender smoked trout croquettes — fried, naturally, in pork fat.
Royal Boucherie's late-night menu starts around 10 p.m. and is available till the kitchen closes at 1 a.m. Check out the full menu below.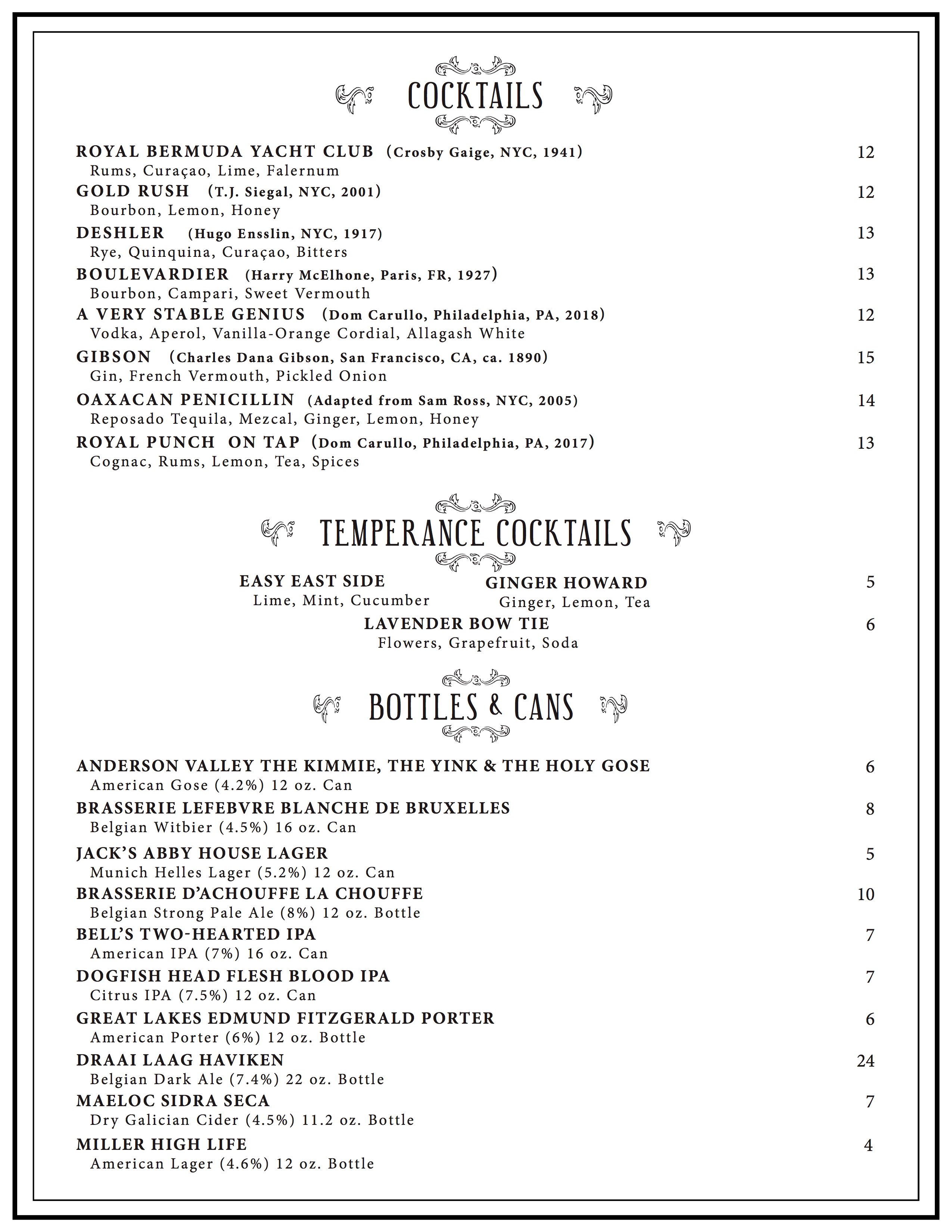 ---
---