First Look: Morgan's Pier, Summer 2016
---
Who says you can't go home again? Jim Burke is proof that you can go home and you can do so with a brewski in hand. The Burkes are back in town following a stint in New York, and Jim is happily installed under the blue skies and multicolored umbrellas of Morgan's Pier for the summer. Fans will remember he and Kristina Burke at the mention of their Bella Vista restaurant, James, that they closed back in 2011. The pair is cooking up their next move, and in the meantime he's putting an Italian spin on his Morgan's Pier offerings.
In summers previous, we've slapped on our sunscreen and eaten Nick Elmi's dancing tater tots with bonito, furikake, and kewpie mayonnaise. We've ponied up to the bar for a watermelon rickey with David Gilbert's piri piri chicken. We've tackled root beer peanuts and George Sabatino's manila clams with ramp-scallion sausage. But while past summers have made a carousel of Morgan's Pier's menu, things are a little different on this merry go-round.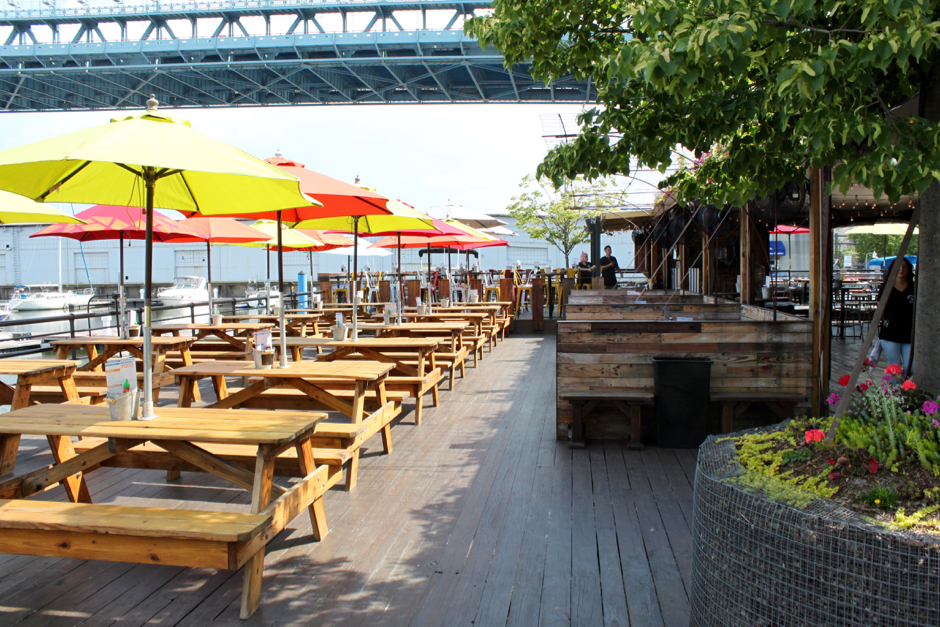 Though the ambitious menus presented by these different chefs-in-residence made for experimental yet picnic-friendly foods and a changing face to the place year after year, this year the Pier is balancing Burke's offerings on one side of the menu with an array of tried and true (if a little less interesting) standards on the other. Some of these come directly from David Katz's opening menu for the space. The corn and blue crab fritters are gone, but the watermelon and feta salad with red onion is back, as is the brown sugar glazed, thick cut "snack bacon." Chicken wings are on deck, this time with buttermilk ranch, and the seemingly inevitable fried brussels sprouts, present here and on every other bar menu in town, this time featured with pancetta.
While the sandwich offerings are a predictable line-up of fried fish, burgers, a crab cake, lobster roll, and a short rib cheesesteak, the menu of snacks also includes a few items that are more of-the-moment. Fried cheese curds with spicy tomato sauce are pretty much a guaranteed home run, and the soy-scented tuna poke with fried lotus chips is sure to be oft Instagrammed. Seafood lovers will rejoice at the chance to eat shrimp cocktail, a lobster salad, oysters on the half shell, or a selection of all three from the newly added raw bar.
But what of Burke? While the rest of the menu hews towards beachy flavors, Burke is introducing a new, more landlocked, but no less summery option. His menu includes flavors that he himself might cook for you if you were invited to an outdoor summer supper in the Italian countryside. Burrata toast with honeyed apples and sage presents cool weather flavors to balance out the summery ones on the regular menu's standard caprese toast with tomato and aged balsamic. He's grilling melon to accompany prosciutto, a way to caramelize the sugars before the super-sweet midsummer melons arrive. It's a plate that is easy to like under any circumstances, but it's especially easy out-of-doors on a sun-dappled table. Similarly, the chef's board of meats, cheeses, and simply prepared local vegetables isn't necessarily ground-breaking, but it's supremely satisfying for al fresco nibbling.
Though his other offerings hew towards rustic Italian simplicity, you'll notice the chef's attention to detail if you're looking for it. Bright golden arancini, stuffed with rich lamb ragu, take their color and perfume from a significant infusion of saffron. The rich red bowl of cioppino, a tomato seafood stew studded with shrimp, scallops, mussels and garlic-rubbed bread, is kissed with a drizzle of grassy olive oil. And though the rosemary and garlic roasted lamb with smoked eggplant puree isn't likely to win a beauty contest, it's perfectly cooked meat is as rich as Zahav's smoked shoulder and the casual dining environment means that you can shamelessly tackle it with your hands, assisted by a bucket of cold beer, with a breeze blowing through.
Mostly the same as summers past, Morgan's Pier has added a couple of new seating areas as well, so whether you're there for the views or the food, it's as summery as ever, and, like coming home, it's a pleasant place to return to.
Morgan's Pier [f8b8z]
---