Wake-Up Call: The McCoy Media Blitz
---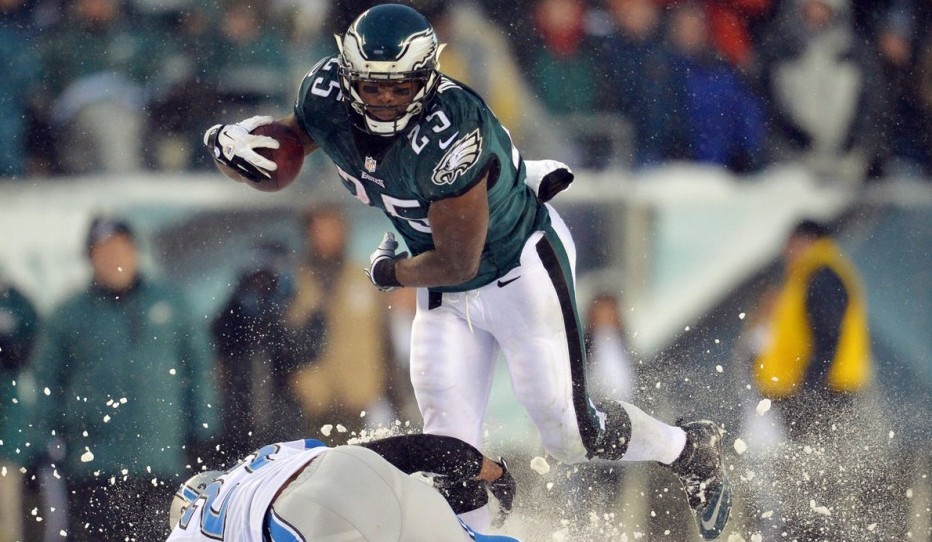 LeSean McCoy blew through ESPN's Bristol, Connecticut campus Monday. By the time his media tour was done, he had predicted an Eagles Super Bowl, talked up Johnny Manziel and declared himself the best back in the game. The NFL world can thank him for a few drops of rain in a relatively dry week.
To recap:
Best in the game
When McCoy was asked if he was the top running back in the league, he answered with a "Yes, sir."
"My brother always rips me all the time, trying to make me play harder. I say, 'I'm the best,' and he'll say, 'Did Adrian Peterson retire?' I look at the last three years and everything. I think AP has been the best back for so long, and he's been doing it for so long, that's why he automatically gets the best running back [title]," he  said.
"But the last three years? I've been All-Pro, first-team, twice. I never leave the field. I block. I catch. I never leave the field. I don't have anybody do my job; I do it myself. Tons of credit goes out to Adrian Peterson. I'm a big fan of his, for sure. But I feel I'm the best."
McCoy had almost 300 more rushing yards than his next closest competitor (Matt Forte) last season while averaging 5.1 yards per tote. He averaged 100 rushing yards per game in 2014. Peterson, who had the second highest average, ran for 90 yards per game. McCoy made a strong case.
Fan of Johnny Football
McCoy gave Manziel a vote of confidence during the first round of the draft, calling him the best quarterback in the class.  McCoy thinks he would have been a good fit for the Eagles, but also showed love for Nick Foles. From CBS Philly.
"I'm a Johnny-guy, I really am, since college," McCoy said on ESPN.  "He's played in the best conference [SEC], he's played well, he has tons of swag, I mean he's an athlete. He's a quarterback and I thought he'd be a good matchup for us."

McCoy, who admitted for a second he thought the Eagles might draft Johnny Manziel with the 22nd pick, defended his quarterback Nick Foles.

"Nick is good," McCoy said. "I don't think people really appreciate him because he is so new. He can play. I think when we move a guy like Michael Vick, and Michael Vick can still play, to put Nick in the position to start he must be doing something good. You'll really see this year he's the real deal."
Eagles-Broncos Super Bowl
McCoy did some of his talking on one of ESPN's Instagram accounts, where he was asked who will play in the Super Bowl this year.
"Eagles and…Denver," said McCoy.
Final score?
"42-21."
Presumably, with the Eagles on top.
And that was that.
I had a Blast at the Espn campus ….. I think I found my job when I retire lol

— Lesean McCoy (@CutonDime25) May 19, 2014
WHAT YOU MISSED
The Eagles signed two more of their rookies on Monday.
Jordan Matthews on his mindset, and "Murderleg."
With the Eagles' roster now at 90, Sheil takes a look at the offensive depth chart.
The Eagles re-signed Arrelious Benn just three days after cutting him.
Marcus Smith believes he has something to prove, Kapadia writes.
WHAT THEY'RE SAYING
Field Yates of ESPN.com lists Zach Ertz as one of 10 players primed to make the second-year leap.
Ertz managed four touchdowns in his last six games as a rookie, a precursor to what looks like a breakout season as a sophomore. The Eagles offense will need to account for the loss of DeSean Jackson, which will be aided by re-signing Jeremy Maclin, trading for Darren Sproles and increased production from a player such as Ertz. A critical cog in his ascension: beefed-up blocking ability, as Ertz has said himself.
Zach Berman caught up with Joe Banner to get his thoughts on Jeffrey Lurie, who has now owned the Eagles for 20 years.
"I view his ownership as an extremely successful run in spite of the fact that his No. 1 goal and my No. 1 goal [a Super Bowl win] . . . didn't happen," Banner said. "There's so many things from where the franchise was to where the franchise is, and probably will continue to be, for the city to feel great about."…

"We accomplished a lot of great things together, have some incredible memories with each other," Banner said. "I do think there was a little roughness as I exited, but almost 19 years we had together was amongst the longest partnerships of that nature in professional sports. It was a great run, in my mind."
COMING UP
Sheil analyzes the defensive depth chart.
---