PHOTOS: A Very Sweaty Be Well Philly Underground Event at Lithe Method
Last night, Undergrounders sweated their faces off — then refueled with mimosas. It was a good Monday night.
---
Yesterday, a sick me (darn you, cold season!) watched as a room full of Be Well Philly Undergrounders got their butts totally kicked — I'm sure they'd all agree with this — at Lithe Method's Old City studio. I am 100 percent sure that most of them are afraid of a flight of stairs today, and also 100 percent sure that they feel like total beasts. Lithe Method will do that to you.
The class, led by instructor Jonathan Cedrone, was a mash-up of two of Lithe Method's most popular classes: Twiggy and Skinny Jeans. All the ladies, and one very brave dude, walked out of the class very sweaty, some surprised that they were even sweaty at all — because names like Twiggy and Skinny Jeans! I'm telling you guys: The classes are harder than they sound.
If you've never been to Lithe Method, the studio, with three locations around Philly, is home to Cardio-Cheer-Sculpting, a fitness technique that utilizes resistance training and cheer-based conditioning to, well, make you sweat your face off and tone the crap out of your muscles.
After everyone sweated their faces off, the Be Well Philly Undergrounders ended the evening with some Lithe Method Mimosas made with Lithe Foods Smile, Sparkle, Shine juice — grapefruit juice as a mimosa mixer is a freakin' revelation, you guys — and Mionetto Prosecco. It was a good Monday night. Big ups to our friends at Lithe Method for showing us how they do things, and big round of applause to the Undergrounders who came and got their sweat on. I promise, the sight of a staircase won't be as scary in a day or two.
You can check out photos (If you've never done it, photos really are the best way to get a feel for Lithe Method) below. And if you aren't signed up for Be Well Philly Underground (it's free!), you should probably get on that, stat. Our next free pop-up fitness event is going to pretty darn sweet — and I mean that quite literally.
All photos by Susan Nam
---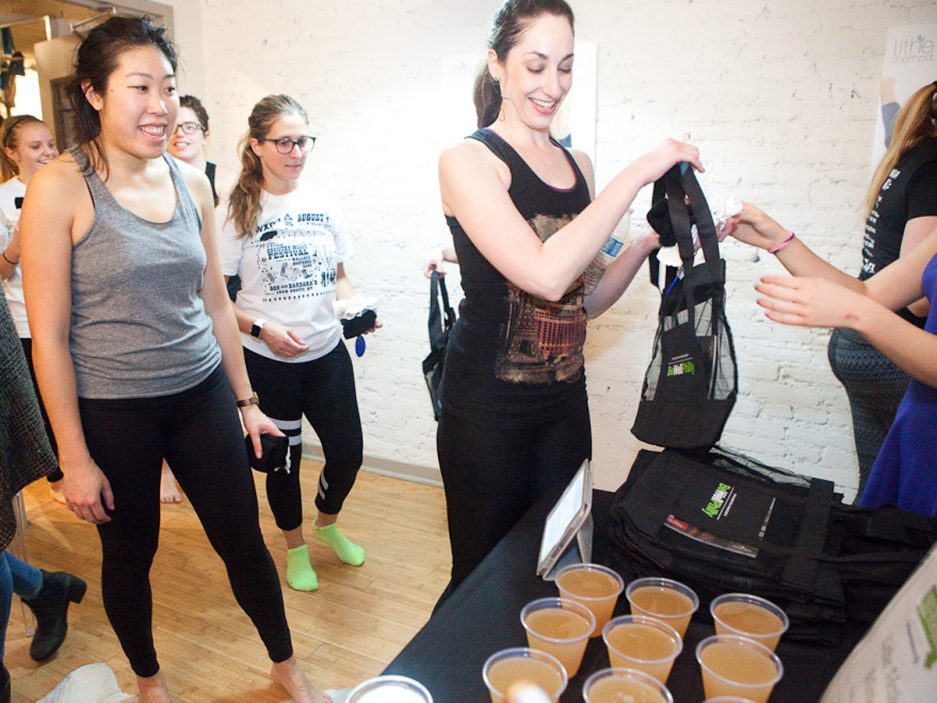 ---
Like what you're reading? Stay in touch with Be Well Philly — here's how:
---