Meet Choco, This Week's Adoptable Running Dog
He thinks running is the greatest thing ever — can't you tell?
---
This week's adoptable running dog, Choco, is currently biding his time at ACCT, but as you can see from his photos, he thinks running is the greatest pastime on planet Earth and can't wait to get sprung from the joint so he can run to his heart's content. So, who's going to go scoop him up?
Name: Choco
Age: 3 years old
Breed: Terrier mix
Size: 50 pounds
Running style: You can see by Choco's pictures that he probably — scratch that, definitely — thinks that running is the greatest thing ever. He is currently at ACCT, Philly's open-intake shelter, so the Milers haven't had a chance to run with him yet but ACCT volunteers have noted that Choco really loves to run. We think he's probably on the faster side when he runs, so if you are looking for a pal to bring some joy into your life and make you laugh on those tough speed work sessions, Choco is your guy.
Why Choco is awesome: Some people might look at Choco and his cropped ears and think he's mean but he's the total opposite. This guy is a complete love bug and has a tender spirit. He can have fun in any situation and loves to play fetch. He's also house-trained and loves to give kisses to his human friends. Choco is Mr. Positivity and is just waiting for the right family to come along to share in his glass-half-full attitude.
---
Anastasia M.
Anastasia M.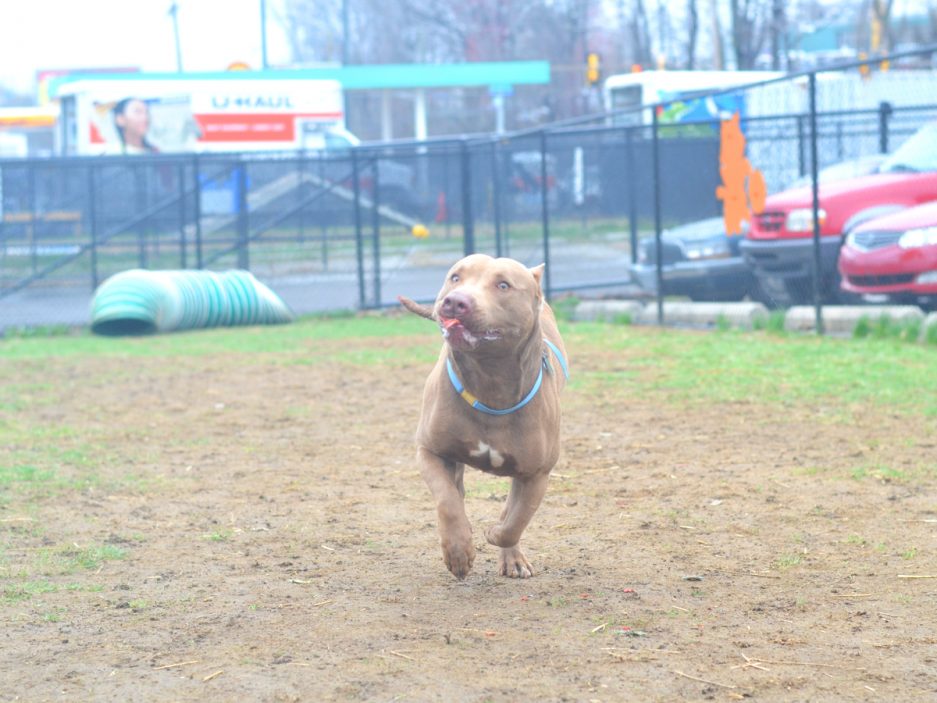 ---
Choco is available for adoption, foster, or rescue at Animal Care and Control Team (ACCT). They are located at 111 West Hunting Park Avenue and can be reached at adopt@acctphilly.org or 267-385-3800. Choco's animal ID is A25327334. And for more awww-worthy photos, check out our previous adoptable running dogs here.
……………..
We work with The Monster Milers each and every week to profile local running dogs waiting to be adopted. The Monster Milers are a group of runners who help shelter dogs burn off energy and get much-needed exercise by taking them on runs around the city, and they also just launched their first-of-it's-kind Adopt a Running Buddy foster program. If you're not in the market for a pup right now, but would still love to help out homeless dogs, you can always become a Monster Miler volunteer or foster parent. Find out more about how to get started with those processes here.
Like what you're reading? Stay in touch with Be Well Philly—here's how:
---