Meet Shelby, This Week's Adoptable Running Dog
This pup really knows how to rock a tutu.
---
Friendly? Check! Loves cuddling? Check! Is down to pound the pavement? Check! This week's adoptable running dog, Shelby, is perfect on paper and in person. Learn more about her below.

Name: Shelby
Age: 5 to 7 years old
Breed: Pit Bull / Bull Terrier mix
Size: 55 pounds
Running style: Shelby may not be a puppy anymore, but she still has tons of energy. She loves getting out in this beautiful spring weather, meeting new people, and going for a slow-paced run. She would love to be adopted by someone who will take her on frequent three-mile runs, at a 10-plus minute-per-mile pace.
Why Shelby is awesome: Sweet Shelby is the all-around perfect dog and would make a great addition to a wide variety of homes. She is an energetic lady but manages to maintain impeccable leash manners when when out and about in Northern Liberties and never jumps when greeting people. Shelby loves to go on walks and runs, but what she loves most of all is hugging and lots of attention from humans. When you meet her at Street Tails, you will see a smiling, quiet lady, with big ears, wiggling around in her kennel and wagging her tail at you — and you will almost never see her kennel dirty, because she's housebroken!
---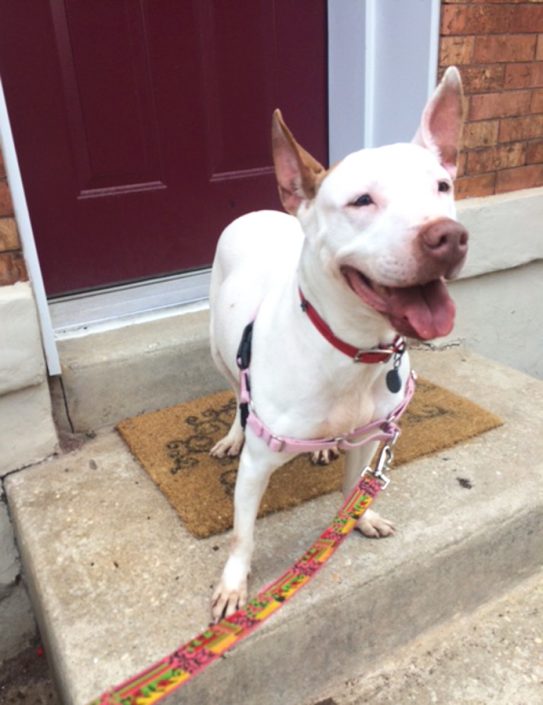 ---
If you're interested in adopting Shelby, you can fill out an application at www.streettails.org or contact Street Tails Animal Rescue by phone at 267-761-9434 email them at adoption@streettails.org. And for more awww-worthy photos, check out our previous adoptable running dogs here.
………..
We work with The Monster Milers each and every week to profile local running dogs waiting to be adopted. The Monster Milers are a group of runners who help shelter dogs burn off energy and get much-needed exercise by taking them on runs around the city, and they also just launched their first-of-it's-kind Adopt a Running Buddy foster program. If you're not in the market for a pup right now, but would still love to help out homeless dogs, you can always become a Monster Miler volunteer or foster parent. Find out more about how to get started with those processes here.
Like what you're reading? Stay in touch with Be Well Philly—here's how:
---