Meet Cy, This Week's Adoptable Running Dog
This big guy is all about pounding the pavement — and snuggling.
---
This week's pup is a big ball of love, and he makes for a great running pal, to boot. And just look at those ears! Learn more about him below.
Name: Cy
Location: The Monster Milers Adopt A Running Buddy Foster Program. (The success of the Monster Milers' rescue program — which pairs bright, enthusiastic and loving dogs from our city's open-intake shelter, ACCT Philly, with active and dedicated foster families until they find their perfect adoptive match — depends on you! If you are interested in fostering, make sure to contact them!)
Breed: Mixed breed, possibly Akita/pit bull/Labrador retriever.
Age: 5 years
Weight: 62 pounds
---
Megan Murphy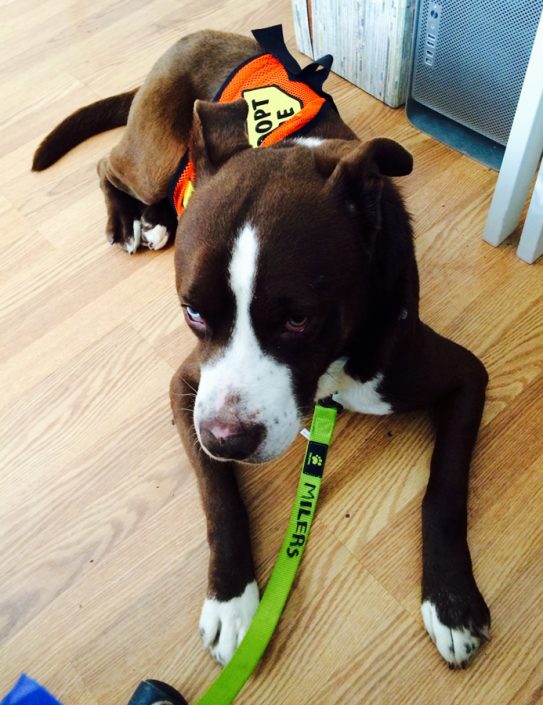 Megan Murphy
Megan Murphy

---
Running style: From the city's open-intake shelter to safety in his foster home with two fierce racers who love Philadelphia's running community, Cy has proven himself a force to be reckoned with in the running department. During the day, he can be found accompanying his 2:47 marathoner foster dad on a tempo run or doing 5K repeats on the trail with his foster mom. Then, come nightfall, you'll find him quietly enjoying dinnertime and playing with his toys, followed by a great snuggles and snoring session.
Why Cy is awesome: The best thing about Cy is that, while he loves to run, he doesn't HAVE to run. And, like his namesake, elite marathoner Cyrus Gichobi Njui, he makes it all look and feel easy! He's every bit as happy to go all out on a workout as he is to simply stroll by the river or watch people in the park. He has excellent leash manners, is housebroken, is crate-trained, is quiet around the house, loves affection and treats, makes friends easily (with both dogs and people) and shares his toys and food very nicely with his Bernese mountain dog foster brother. Cy's one-of-a-kind looks fit his unique, many-sided personality — he's got a little bit of everything, and a lot of love for everyone!
You can learn more about Cy here. If you are interested in meeting Cy, contact the Monster Milers here. And for more awww-worthy photos, check out our previous adoptable running dogs here.
……………..
We work with The Monster Milers each and every week to profile local running dogs waiting to be adopted. The Monster Milers are a group of runners who help shelter dogs burn off energy and get much-needed exercise by taking them on runs around the city, and they also just launched their first-of-it's-kind Adopt a Running Buddy foster program. If you're not in the market for a pup right now, but would still love to help out homeless dogs, you can always become a Monster Miler volunteer or foster parent. Find out more about how to get started with those processes here.
Like what you're reading? Stay in touch with Be Well Philly—here's how:
---