Meet Keeva, This Week's Adoptable Running Dog
---
This week marks a big one in our Adoptable Running Dog series. It's the first week we're showcasing a dog from the brand-spanking-new Monster Milers rescue. That's right—the animal-shelter running group now has it's own adoption and fostering program. How cool is that? Keeva is the group's first rescue, so let's do the Monster Milers a favor and take her off their hands, okay?
---
Keeva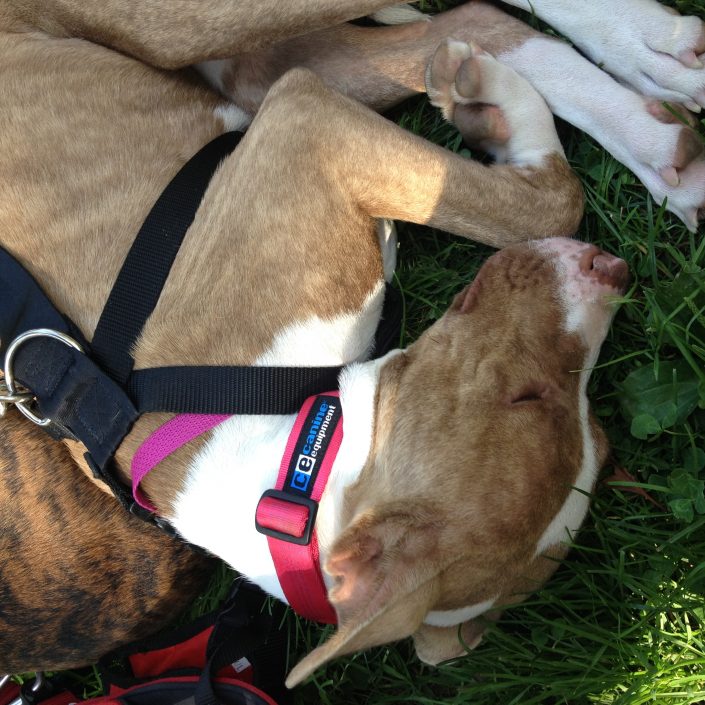 ---
Name: Keeva
Age: Between six months and one year
Breed: Pit bull mix
Size: 34 pounds
Background: Keeva was found as a stray by a kind stranger who brought her to the city shelter.
Running style: Keeva's leash manners are near perfect, and she has plenty of playful puppy energy to burn. Being so young, she needs a forgiving surface and shorter distances for now, which makes her a great companion for a beginner runner or someone getting back into it.
Why Keeva is awesome: Shy at first, Keeva has a playful side, but is a love bug through and through. She is a born lover and master snuggler. (We fell in love with her instantly at the shelter.) Keeva is dog-social and currently lives in foster care with another pooch.
You can find out more about adopting Keeva by contacting the Monster Milers' foster care coordinator, Leah at adopt@themonstermilers.org. And for more awww-worthy photos, check out our previous adoptable running dogs here.
……………..
We work with The Monster Milers each and every week to profile local running dogs waiting to be adopted. The Monster Milers are a group of runners who help shelter dogs burn off energy and get much-needed exercise by taking them on runs around the city. If you're not in the market for a pup right now, but would still love to help out homeless dogs, you can always become a Monster Miler volunteer. Find out more about how to get started with the volunteer process here.
Like what you're reading? Stay in touch with Be Well Philly—here's how:
---