3 Ways to Feel the Holiday Spirit in Rittenhouse This Winter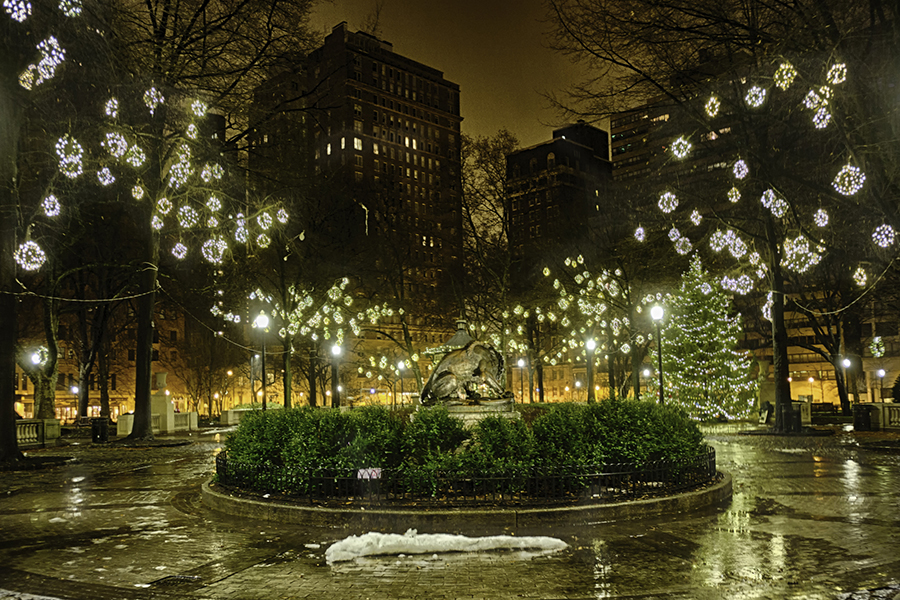 December has arrived and that means it's finally time for all of the details — twinkling lights, decked-out shops, perfectly iced cookies — that make Philly a little bit more magical during the holidays. Whether you're enjoying a quiet vacation or hosting out-of-town guests, head over to Rittenhouse to celebrate the season in style. Walking around the square, it's hard not to think a winter wonderland has arrived in the heart of the city. Check out the tree (and grab a celebratory cocktail or two) at these festive events happening in Philadelphia's most picturesque neighborhood this month.
Count down at the holiday tree lighting ceremony.
Bundle up and bring the whole crew to Rittenhouse Square on December 3 for the official park lighting celebration taking place at 5 p.m. In the lead-up to the big "three, two, one!" moment, kids can enjoy family-friendly activities and of course a little holiday music. After getting into the Christmas spirit, watch as the hundreds of twinkly lights illuminate the 30-foot fir at the center of it all. With so many flagship stores in the neighborhood — like Philadelphia landmark Boyds and the upscale boutique Lagos — it's the perfect chance to pick up a few presents, too.
Sip seasonal drinks at The Laurel's holiday open house.
After the tree lighting, the party continues over at The Laurel's sales gallery at 1845 Walnut Street. Guests will warm up with cocktails and Christmas treats while previewing the 600-foot ultra-luxury tower coming to the northeast corner of the square. It's the last new construction to go up on the city's most exclusive green, with sky-high terraces and wraparound floor-to-ceiling windows offering future residents unparalleled views. Learn more about this modern skyscraper — including its breathtaking $25 million penthouse — with a festive spirit in hand at this holiday soiree.
Lace up your skates at the Dilworth Plaza ice rink.
Walk a few blocks north to show your stuff at the city's premier outdoor rink, open now through February 23. A winter garden, cozy cabin and artisan marketplace transform the space outside City Hall into a cheery Christmas village, but the skating takes center stage as the main attraction. Bring or rent skates, then start gliding and sliding across the ice under the twinkle lights. Whether it's a memorable family outing or dreamy date night, this picture-perfect evening could come straight out of your favorite holiday movie.
Want to make Rittenhouse home for the holidays? Make an appointment with The Laurel sales gallery for more information on living on Rittenhouse Square.
This is a paid partnership between The Laurel and Philadelphia Magazine's City/Studio
---