Now's Your Chance to See What Philly Looks Like From 600 Feet in the Air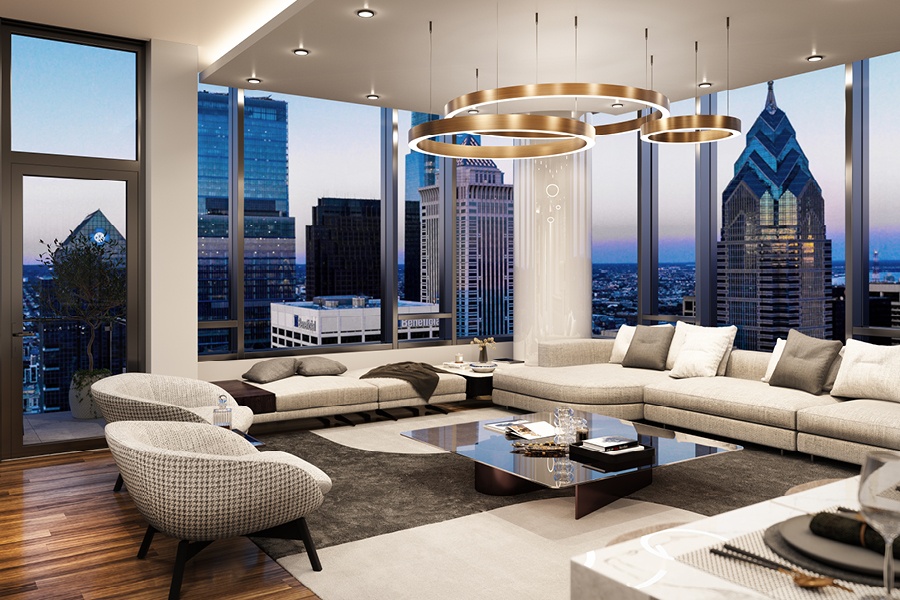 Exactly zero residential buildings in Philadelphia stand taller than City Hall — until construction finishes at The Laurel, that is. The luxury high-rise tower will join an elite club of skyscrapers when the building tops out at 599 feet in 2022. That's more than 50 feet above William Penn's hat and high enough to become one of the ten tallest buildings within city limits.
The 48 floors at 1911 Walnut Street will overlook Rittenhouse Square below and the rest of Philly beyond. And while most of us can only dream of what a true bird's-eye view of downtown would look like, The Laurel is offering prospective buyers and curious spectators the chance to see the city from several hundred (virtual) feet up. Glimpse some of the building's unobstructed sightlines below and click here for the full panoramic experience.
---

---
The $25 million penthouse oversees leafy streets in the immediate vicinity, the glass-encased Center City towers to the northeast and the green expanses of Fairmount Park to the northwest. Face the Walnut Street Bridge to view Penn Park, the FMC Tower and 30th Street Station all lined up in a row along the Schuylkill. The Delaware River meanders along to the east, with the shores of New Jersey fading into the horizon beyond.
It's no wonder that the sightlines played a paramount role in the development and design. "Southern Land's vision for this project set the tone for a noble and elegant tower that would offer a new residential experience for city dwellers," says SCB architect Clara Wineberg. "The sun-filled units feature expansive wraparound windows and sliding glass doors, which provide residents with incredible views of Philadelphia."
Most residences include one, two or three balconies for outdoor viewing, but the penthouse lays claim to five terraces of its own. Strategically placed around the building, they provide outlooks in each direction. Frequent hosts will also appreciate the expansive terrace that's part of the private residents' club on the 26th floor. The entertaining space abuts an exclusive lounge with a club bar and catering kitchen. Because with views like these, it's safe to say just about everyone will want to visit.
With construction at The Laurel currently underway, interested buyers can visit the nearby sales office at 1845 Walnut Street for more information. In the meantime, watch as the building starts going up, up, up via the live construction cam. Philly's skyline will welcome a sparkling new addition before you know it.
Interested in calling The Laurel home? Learn more about moving to the newest development on Rittenhouse Square.
This is a paid partnership between The Laurel and Philadelphia Magazine's City/Studio
---