6 Really Good Reasons to Get Married on a Boat
Looking for a truly unique venue that still showcases all the things you love most about Philly? For the most incredible views of the City of Brotherly Love and a location that will surprise and delight your guests, set sail down the Delaware river and say, 'I do' on a ship! The Spirit of Philadelphia, or The Freedom Elite (a smaller sister ship), provide a picture-perfect setting to spend your special day with your nearest and dearest. Picture this—you and your crew dressed to the nines, dining on the finest foods and dancing the night away as you set sail into the sunset and your new life chapter. Sounds pretty dreamy, right? But if you still need a little convincing, read on.
We polled six Spirit of Philadelphia alumni couples to share why being on a boat made all the difference on their big day.
Here's what they had to say:
Views, views and more views.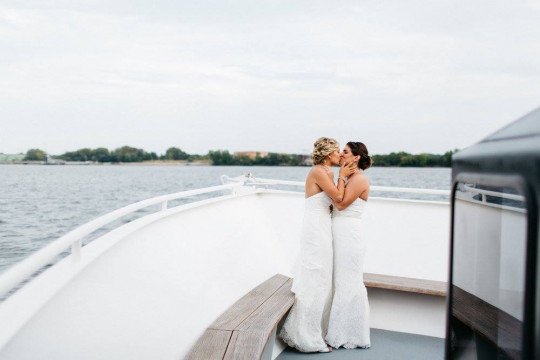 "The thought of getting married on the water while taking in the beautiful views sounded perfect to us. We were right—the constantly moving backdrop was so perfect and our guests were able to enjoy different scenery along the way (like the skyline and the Ben Franklin bridge) all night. Our most memorable part of the day was getting pictures taken during sunset. It was just the two of us, on the front of the boat, holding each other and watching the sunset. It was a beautiful moment and the view was absolutely breathtaking!"
-Allyssa & Heather, married September 10,2016
It's an indoor and an outdoor venue.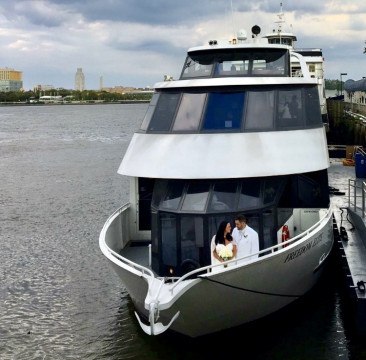 "It actually rained during the dinner portion of our evening. You'd think rain on a boat wedding would hamper the event, but it didn't at all. No one was phased. We spent the night eating, drinking, dancing, enjoying the view, and spending time with the people who matter most to us."
-Amy & Jamie, married September 16, 2017
The planning process is smooth sailing.
"We had been looking for a venue that would offer a truly unique experience for our guests and also one that was as inclusive as possible. Spirit's Freedom Elite Yacht not only provided a beautiful venue, on-board executive chef and extensive bar selection, but also a DJ and wedding cake sourced from a local bakery. That alleviated an enormous amount of stress for us, and helped to streamline the planning process. The whole staff could not have been more receptive or kind."
-Courtney & Chris, married June 18,2016
An intimate setting means more time with guests.
"We had an intimate wedding of approximately 55 people, although the ship can hold up to 75. It was exactly what we wanted—to celebrate our union with our closest friends and family. We really made hallmark memories together as we sailed past some of the most beautiful landscapes the city has to offer and committed our lives to one another."
-Melanie & Jason, married April 15,2017
Your guests will have a night to remember.
"We wanted to give our guests an experience—not just have your 'typical' wedding. We really wanted people to walk away feeling like we gave them something back for coming to our wedding. What better way than to give them a dinner cruise, wedding, and party all in one?! I still have people telling me it was the best wedding they've ever attended."
-Alicia & Matt, married May 3,2014
It's perfect for Philly-proud couples.
"We wanted a unique and intimate setting in the city that we lovingly call home – Philadelphia—and to bring in some Philly elements that shaped our relationship. The boat setting could not have been better with us cruising on the river with the Ben Franklin Bridge and stunning skyline behind us! We also used the 'LOVE' symbol throughout our theme, swapped table numbers for names of meaningful Philly locations (our favorite park, the bar where we met, our favorite restaurants), had a map of Philadelphia as our setting chart and gave out soft pretzels as our favor."
-Jennifer & Jonathan, married May 20,2017
Plan your own smooth sailing wedding celebration today at spiritcruises.com.
This is a paid partnership between Spirit of Philadelphia and Philadelphia Magazine's City/Studio
---