New Ultra-Luxury Residences on the Parkway Feel Like a Private Oasis
Lush ornamental grasses, specimen Japanese maple trees and scattered giant moon stones … This isn't Longwood Gardens we're talking about, but an aesthetically minded ultra-luxury building coming to the Philadelphia's Museum Mile in 2021. 2100 Hamilton will green up the Parkway even further with a nearly half-acre private garden and outdoor gathering space behind the Rodin Museum.
"The site is a remarkable location," says Joe Sikora, principal at landscape architecture firm Sikora Wells Appel. "We wanted to create a beautiful garden and oasis that is an extension of the Parkway and the Rodin Museum, one that is both an amenity for the residents and an enhancement to the neighborhood." Bock Development Group, a luxury real estate development company, is spearheading the project that has already broken ground.
In addition to the diverse mix of shrubs, grasses and perennials, the plan includes a 40-foot-long water wall that will frame the adjacent museum. An additional granite water table connects an upper and sunken terrace, with relaxed fireside lounge spaces for socializing or taking in the scenery. When the weather turns, a smart sensor even automatically adjusts the louvers on a wood pergola.
The 10-story building itself is oriented around garden views. Some of the largest residential balconies available in the city will look out onto the artfully designed green space — not to mention the panoramic Center City backdrop beyond. Electronic retractable glass walls and heated terraces provide unobstructed sight lines both indoors and out. On the ground floor, an indoor saltwater infinity pool and lobby spaces look out onto the landscape as well.
While the design highlights the outdoors, the 29 luxury residences' interiors double down on coveted features. Natural light from those floor-to-ceiling windows illuminates simple, timeless interiors. Notable draws include two gas fireplaces per unit and oversized glass-walled showers that transition from clear to opaque at the flip of an optional switch.
"Our design process becomes a choice on what to leave out, rather than what to put in," says architect Cecil Baker. Take a prospective look inside the ultra-luxury residences below:
---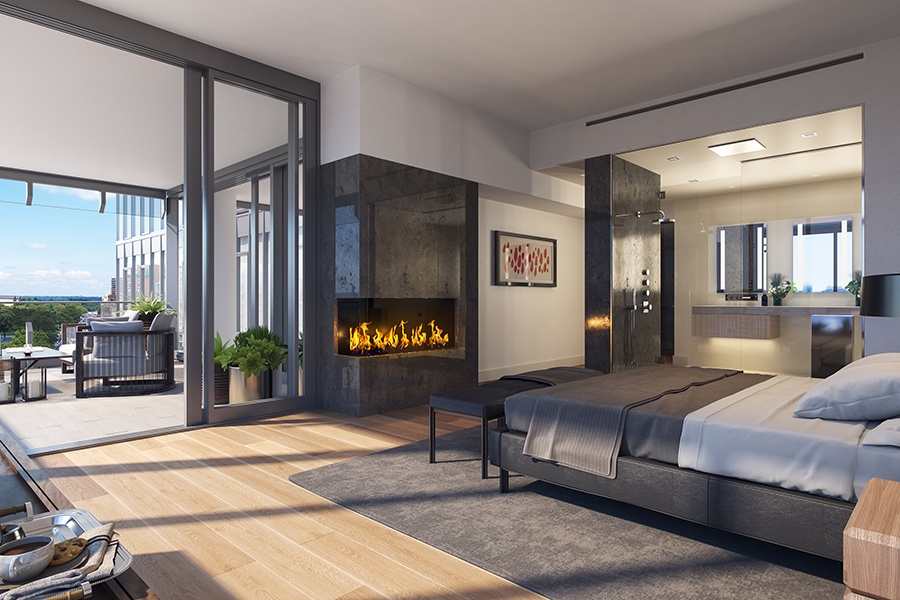 ---
Private elevators with biometric facial recognition technology — another signature 2100 Hamilton feature — will whisk residents up from valet parking or a chauffeured private car to their respective floors. Owners can access a state-of-the-art fitness center or book the building's event space or hospitality suite to host guests.
With all of this just steps away from the Museum Mile, it's the perfect opportunity to own a serene hideaway right in the heart of Philly.
Call this private oasis your home. Learn more about making the move to 2100 Hamilton
This is a paid partnership between Bock Development Group and Philadelphia Magazine's City/Studio
---