Field Guide: 10 Best Shops in Rittenhouse
Bespoke menswear, a modern atelier and shoes for all.
---
Look past the flash and splash of Walnut's national outposts and you'll find some of the most upscale independents in town, each one buoyed and validated by the very interlopers that have pushed them further from Philly's most hallowed retail stretch of Walnut, between 15th and 18th streets.
Here are some of the best reasons to wander beyond Walnut, including the best shoeshine in the city, two top beauty bars, and a high-fashion atelier that turns out some of the coolest clothes we've seen.
There are the grand dames of Rittenhouse, Walnut expats and high-end womenswear purveyors Knit Wit (1729 Chestnut Street)—which recently broadened its luxe selection (think Wang and Lim) with more contemporary picks (Alice + Olivia, DVF)—and Joan Shepp (who flees Liberty Place this summer for 1811 Chestnut). You'll want to stop at her cavernous new storefront for boundary-pushing pieces from the likes of Margiela, Owens and Watanabe.
Along with four-floor luxury retail haven Boyds (1818 Chestnut Street) and bespoke menswear studio Commonwealth Proper (1839 Chestnut Street), they've turned Chestnut (yes, Chestnut!) into a high-fashion powerhouse.
Less haute but just as covetable is Mettlers American Mercantile (2129 Chestnut Street), which stocks men's and women's clothing and accessories that are a cooler, younger riff on Ralph Lauren's Ivy-prep aesthetic. ToBox (25 South 19th Street) is simply the best men's shoe store in Philly. Its counterpart for women: Head Start Shoes (126 South 17th Street), which finds luxury in pairs sans red soles (think Fiorentini + Baker boots).
For jewelry, TownHome (1616 Walnut Street) and Egan Day (260 South 16th Street) pack mighty, tightly edited collections into pint-size spaces. Speaking of pint-size, designer Bela Shehu might be slight in stature, but she's a force when it comes to fashion design. Visit her appointment-only studio, NINObrand Atelier (333 South 20th Street), to shop her spare, modern collection. You'll want it all.
While You're There // Make your way to the back of ToBox, where you can score a stellar $6 shoeshine — and a glass of whiskey.
Take a Break // Pamper shopping-sore feet with a pedi — and a complimentary glass of champagne — at Nail Bar (133 South 18th Street), then pop around the corner for a quick blowout at Blo/Out Bar (1804 Chestnut Street). Who says bars are just for beer?
 See pics of some of our favorites right here:
---
Courtney Apple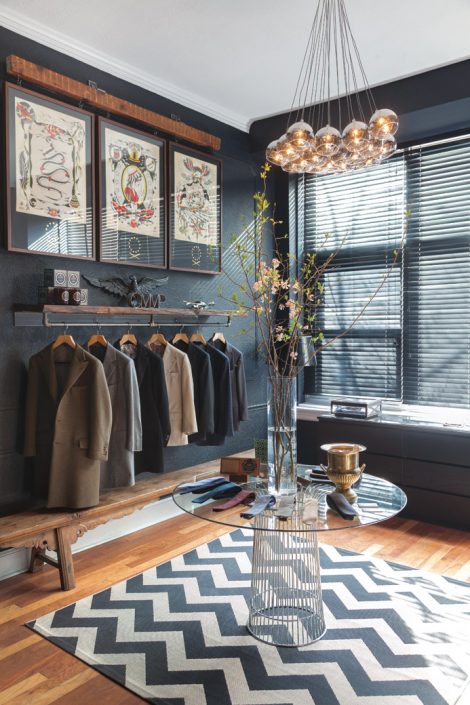 Courtney Apple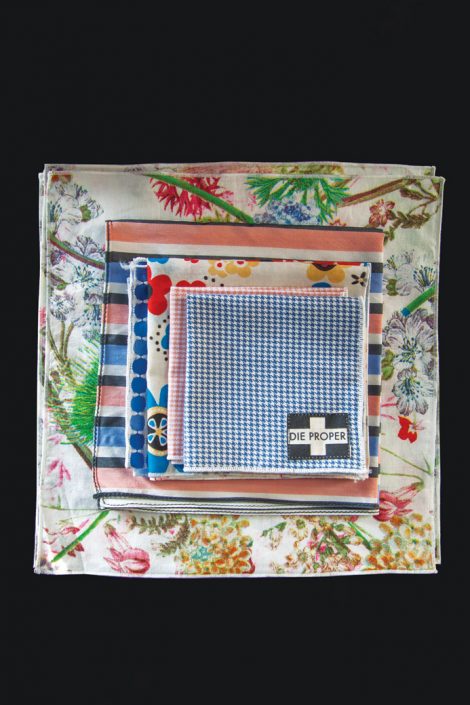 Courtney Apple
Courtney Apple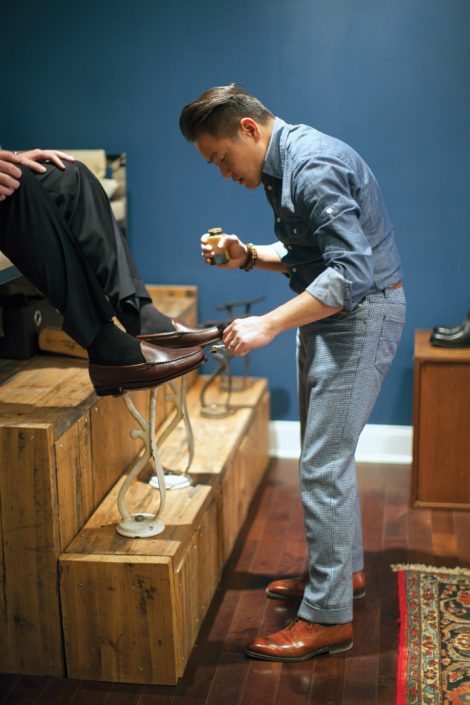 Courtney Apple

---
---