Dana Spain and Partner Launch New Development in Port Richmond
It will be their first completed venture as McSpain Properties.
---
Now that South Kensington bids fair to become an annex of Northern Liberties and Fishtown has been hipstered beyond recognition, where's a young gentrifier with more taste than money going to go now?
How about the next neighborhood upriver from Fishtown?
One of the first new construction projects in years in Port Richmond stalled when the housing market bubble burst in 2008, and it's now being revived in a new and improved form, bringing well-laid-out, extra-wide townhomes to an attractive but modest block close to Allegheny Square Park and the Richmond branch of the Free Library of Philadelphia.
The six-unit development at 2989-99 Livingston St., which will complete the planned 12-unit project, is the first for McSpain Properties, a development firm formed by two veterans, Dana Spain and Sean McGovern. McGovern has been active in developing housing around the Temple University campus, while Spain has rehabbed commercial properties and designed private residences for individual clients. "McSpain Properties allows Sean and I to meld his skills of budgeting and onsite construction management with my design and finishing talents," Spain said.
The two came across the Port Richmond site while they were in the process of acquiring a nearby lot at Marlborough and Wildey streets in Fishtown for a 15-unit townhome development. Everything about the lot, from its location to its condition, appealed to them. Port Richmond, Spain said, "is a charming, old-world Philadelphia neighborhood where people care for their homes and their neighbors. Often, people raised in this area come of age and want to start a family but also want to stay close to their roots."
But doing so can be difficult, she continued. "It can be cost-prohibitive to rehabilitate older homes and prices in nearby communities can be out of reach for them."
The lot on Livingston Street presented a golden opportunity for McGovern and Spain as it already had the necessary permits in place, thanks to the project that was halted after the first six units were completed.
The basic shape of the homes had already been decided: they are two stories high, a rarity for new construction in Philadelphia and possible only because of their extra-wide lots. "The lots are 25 feet wide," said broker Rob Oryl of BHHS Fox & Roach, which is marketing the homes. "You won't find that anywhere else. It's at least one-and-a-half times the width of a typical Philadelphia rowhouse lot.
"That allows you to have a living room, a kitchen and a garage all included on the same floor. It also allows you to have a full basement. The lots are also incredibly deep, which allows you to have a large window well in the rear that lets lots of natural light into the basement."
On the outside, the homes are almost identical in appearance to the already completed units on Almond Street. But they're totally different on the inside. McSpain contracted with architect Kevin J. O'Neill to completely redraw the original floor plans. "The new layouts utilize the space better," said Oryl. "They also have a full master suite on the second floor, and the other two bedrooms on the floor share a bathroom." Both the master bathroom and the shared bathroom have double vanities, so there will be no problem with everyone in the home getting ready for a night out on the town all at once.
"And as a small but important detail, we added an entrance from the garage into the house, which the adjacent homes do not offer," Spain said.
The new units will not only function better on the inside, they will look better. "We upgraded the interior finishings to include stainless steel Frigidaire appliances, solid surface contemporary vanities, luxury tile bathrooms with mosaic tile shower enclosures, sensored closet lights, and a full laundry room on the 2nd floor," Spain said. She also noted that the 10-foot-high ceilings, upgraded lighting, and high-quality bathroom fixtures will add a "wow factor" to these properties.
The project, Spain said, will also set the standard for developments bearing the McSpain name. "We do not simply use builder-grade materials and finishings even at this price point [the homes list for $325,000] to squeeze out profit. We take pride in building homes, not just houses, that we can be proud to put our name on and which are not 'trendy' but timeless."
---
2989-99 Livingston Street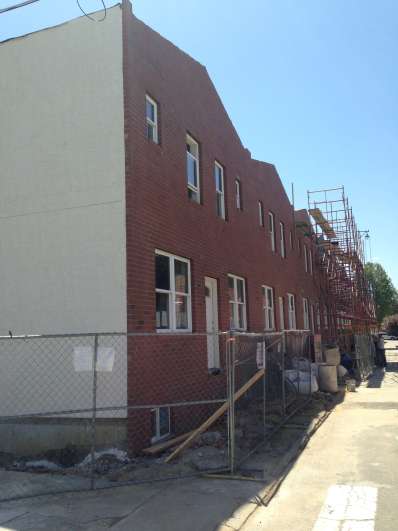 ---
Photos and floorplans via BHHS Fox & Roach
---
---