Millennials Are Drowning in Student Debt
They may have energized our city, but they can barely afford houses, cars, even kids. Inside the crisis that could crush the city.
---
It was sticky and humid the day my sister Ellen graduated from West Chester University this spring, even by Pennsylvania-in-mid-May standards. As I sat in the school bleachers alongside fellow proud families and friends, the students processed onto the football field, all decked out in purple and gold.
While the band played "Pomp and Circumstance" on a loop, a pang of nostalgia struck me. It wasn't all that long ago that I'd donned the cap and gown, and there was something about college life I suddenly sort of missed. Maybe it was college sports, or my friends who'd scattered across the country, settling everywhere from Austin to Denver to New York. Maybe it was the slower pace of life in a rural college town, as opposed to the big-city hustle. Or maybe I just missed the blissful ignorance of getting financial aid.
The commencement speaker was more entertaining than others I've heard — a former CIA spy who served during the Cold War and aided in the pursuit of notorious drug lord Pablo Escobar. Another speaker made a point of reminding all of us in attendance of the profound benefits that come with a college degree — the near-certainty of a job, a higher income. I thought about the huge financial sacrifice most of the students sitting before me had made: Nearly three-quarters of West Chester grads have student loans. They'd face the financial — and mental — burden of repaying those loans before reaping many of the benefits. Maybe they already knew what they were in for, but I'd guess probably not.
I decided to move to Philadelphia after college because I landed a job here. After years of print-journalism professors bemoaning the death of the industry, I counted my lucky stars to have found full-time employment in the field at all. But the city was appealing for reasons beyond my first "real job," including the relatively inexpensive cost of living. The first apartment I rented in Center City cost $575 a month, and I lived alone. Yeah, I could essentially cook pancakes on the stove while lying in bed watching Netflix, but that was fine by me. I could still afford to go out and experience the perks of city life — happy hours with friends at new restaurants, comedy shows, regular takeout — without having to worry too much about making rent or paying my bills each month. And pretty quickly after planting roots here, I realized a lot of Philadelphians my age were here for the same reason.
In the past decade, millennials have flooded into Philadelphia. (Our 20-to-34-year-old population grew by an eye-popping 100,000 residents between 2006 and 2012.) This younger, more educated cohort — many of us newcomers have bachelor's degrees — is changing the city in countless ways, and Philly is having a bit of a moment because of us. Plenty of swanky new apartment complexes have been erected to satisfy growing demand. Neighborhoods like Fishtown and Northern Liberties are booming. New businesses (Caviar, Uber, goPuff) have opened up.
But along with vitality, we millennials have brought something else to town: mountains upon mountains of still-to-be-paid student loans. "Student debt is crushing my soul," one Philadelphian confided to me recently. Is it also crushing our city?
•
While it's impossible to say so definitively, a case can be made that Philadelphia is one of the student debt capitals of America. According to 2016 data from the nonprofit Institute for College Access & Success, Pennsylvania has the second-highest level of such debt per borrower of any state in the country. (Sixty-eight percent of graduates here have loans, with an average balance of $35,759.) And the part of the state with the most borrowers? You guessed it: Philadelphia. One recent survey rated the level of student debt in Center City zip codes as "astronomical" — with residents carrying up to 700 percent more debt on average than the rest of the country. What's more, nearly one in five borrowers in Philly has student debt in collection.
All of this makes us particularly vulnerable if, as some people predict, the student debt bubble bursts. In January, Brookings published a report projecting that if current trends hold, 40 percent of students who started college in 2004 could default on their loans by 2023. In a city whose economy is so heavily dependent on eds and meds, such an implosion could be devastating, potentially reducing the amount of loan money available to students and shuttering some local colleges. How well would Philly hold up if there were fewer schools employing people and many fewer students pouring into the city each year to rent apartments, go out to eat, and otherwise spend money while they're attending school?
But a dramatic Big Short-esque catastrophe isn't the only way Philadelphia is susceptible to problems from student debt. Paradoxically, those who hold the highest balances aren't necessarily the most likely to default; big borrowers tend to have advanced graduate degrees, and working as a cardiologist at HUP pays just fine. Those who have the most trouble with repayment are those who borrowed lower amounts — in the $5,000-or-less range — but dropped out of school without graduating. While there are no data on precisely how many people in the region are in this situation, school statistics suggest there are plenty of them. For instance, research from Pew and the Department of Education shows that the Community College of Philadelphia has a lower six-year graduation rate — just 17.5 percent — than its peer colleges, and that only 33 percent of CCP grads are breaking into the principal of their loans. Similarly, Cheyney University's graduation rate hovers around just 20 percent, while over 80 percent of its grads haven't paid a cent of their principal loan balance.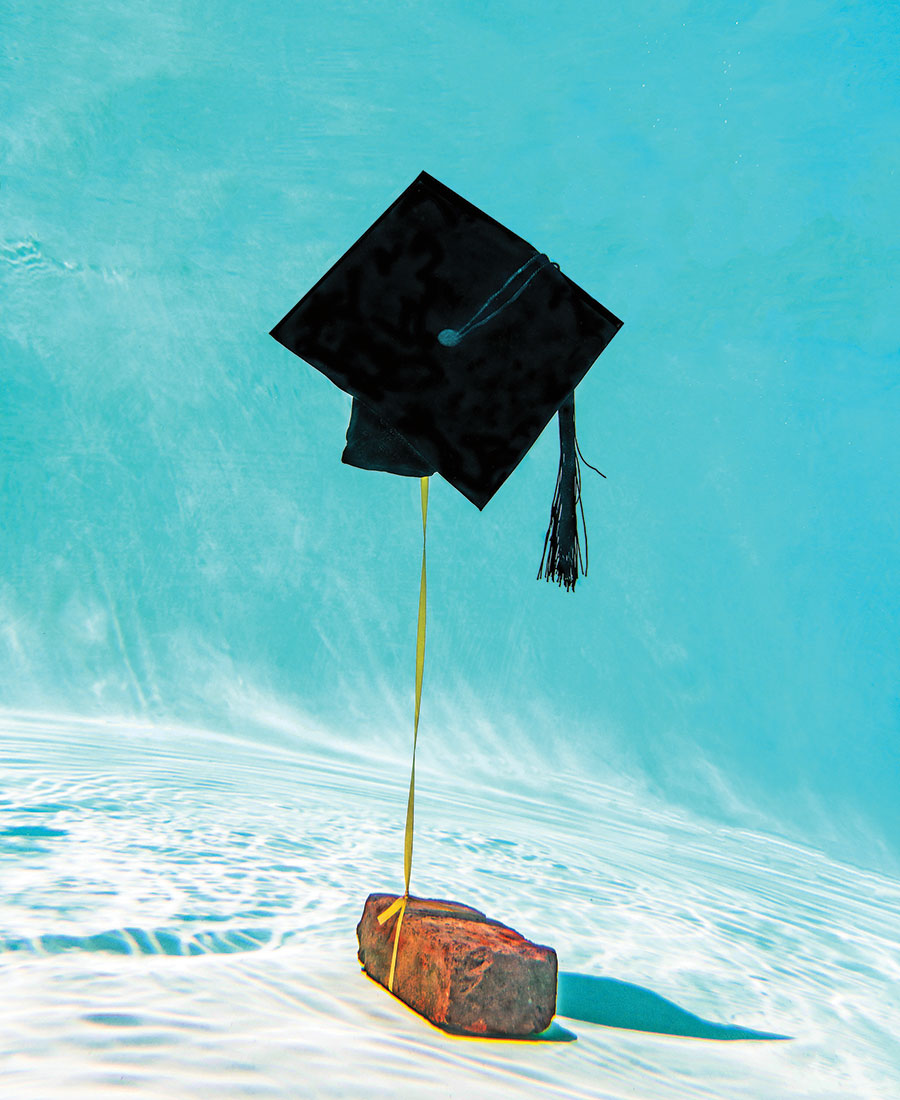 "You don't get anything out of it," says Doug Webber, a Temple professor who studies the economics of higher education and has testified to the U.S. Senate about student debt. I meet with him one day in his office, discreetly tucked in a back corner of one of the university's buildings. People who take out loans but don't graduate, Webber says, "don't see an earnings boost. They have this debt that is non-dischargeable, and they're basically only qualified for high-school-diploma-level jobs."
As bad as that scenario is, Webber says that to really understand the economic stagnation caused by student debt in Philadelphia and elsewhere, you need to look beyond those who default and focus on another group: people who are simply making payments without really moving the needle on how much they owe. According to Webber's research, only 60 percent of students who have entered repayment are paying off principal three years in. Last year, Webber proposed a plan that would penalize universities if their graduates don't crack into the principal of their loans two years after entering repayment. In Webber's view, that would be a much more effective way to combat graduates' financial burdens, since so many of us aren't in default but aren't necessarily climbing out of debt. By continually making payments on loans that are accruing interest faster than we can pay them off, we're essentially hamsters spinning the never-ending student-loan-repayment wheel.
Ask around, and you'll find that plenty of millennials in Philadelphia are looking at student loan payments ranging from $500 to $1,400 a month for the next 10 to 25 years of their lives — and are resigned to doing so. One St. Joe's graduate I talked to for this story told me that despite paying $1,400 a month for his undergraduate degree in finance, he's "100 percent sure" he's going to law school. All the extra debt he'll be taking on? Well, he assured me, he'll figure out a way to pay it off. I don't doubt him, although I do wonder just what he'll have to give up in order to make that happen.
•
Cody Amengual graduated from Penn State with an MA in international relations in 2016. A year later, he was still hunting for full-time employment — only by then, he had more than $174,000 in student loans hanging over his head. Amengual, 26, tall and dark-haired, says his master's program didn't give him as many opportunities to meet employers as he'd expected, but he forged connections on his own, through friends, friends of friends and cold calls. During his job search, he consistently made last-round interviews, but final offers proved elusive. He worked odd jobs — everything from driving Lyft to mowing lawns to helping a guy from a Craigslist ad move bricks in his backyard for a couple of hours — to make ends meet. When he had to pay his student loans and rent at the same time, he racked up more than $5,000 in credit-card debt, so he moved back in with his mom on Long Island.
Eventually, Amengual got a job as a security analyst for an international travel assistance company here in Philly, where he spends his days reporting on security threats throughout the Americas (like planned protests and hurricanes) and warning college students about pickpockets in Europe before they study abroad. To afford his student loan payments, he's enrolled in the government's income-driven repayment plan, which lets graduates pay less in the lower-earning early stages of their careers. Still, he's putting down around $600 out of each monthly paycheck — and not getting much for it. Every payment is like a raindrop in a lake, since he's barely touching his remaining interest and principal.
"One of the places doesn't let you save your card information," he laughs, referring to his loan servicer's website. "I think about the psychological toll they make you go through every month by tediously typing each number in." When you're paying back student debt, even success breeds frustration: "It's always going to be a big payment, because say I get a job in three years and I'm making $100,000 — the loan payment will go up with that. So it stops you from making other investments. It's hard for me to save." If he fails to get a significant raise, Amengual could be stuck in student debt rigmarole for the next quarter century. "It's a love-hate relationship. I have my degree in a nice, fancy frame in my room, hanging up," he says. "I look at it in the morning. I'm like, fuck you."
Amengual's happy he's living in this city for the same reasons I am. We see Philadelphia in all its glory: a big-city job market sans the impossible-to-afford rents and cost of living of other Northeast hubs like New York, Boston and Washington, D.C. When Amengual got his Philly job offer, he immediately turned down an interview at AIG, the behemoth insurance company based in Manhattan: "With AIG, I'm like, 'Please withdraw my candidacy,' via email. Like, yeah, I took a better job in a cheaper city, with more responsibilities."
It's great that Philly's affordability is helping graduates make ends meet at the start of their careers. But the future isn't necessarily so rosy. A lot of the city's newcomers have a long way to go before they can even start to consider major financial investments that would impact the city in larger ways. For many, milestones like buying a home are completely off the table. In a previous generation, I'd probably already have the keys to a South Philly rowhome and maybe even a kid in tow by now. Instead, I've opted for an $800 student loan payment every month.
Millennials generally buy fewer houses than previous generations — in 1982, when boomers were under 35, 41 percent owned their homes. In contrast, as of 2016, only 35 percent of millennials did. Melissa Waller, a 31-year-old hospitality sales manager who lives in Northern Liberties with one roommate, says student debt has completely upended any notion of home ownership for her: She pays $800 per month on her student debt, too. "It's not where I want to be at 31. I'd love to be buying something, especially in Philadelphia, with all of the development happening in the neighborhoods. But I feel like I've missed my opportunity to buy in those neighborhoods," she says.
Phil Giangiordano, a loan officer in the Philadelphia area for the past 30 years, echoes the impact that student debt has had on potential home buyers. He says he's seen a definite increase in the amount of student debt owed by mortgage applicants in the past 10 or 15 years. In some instances, debt has completely disqualified potential buyers.
But of course, home ownership isn't the only arena where student debt is holding people back. One Tuesday morning, I chat with my cousin, Lauren Moss, a 36-year-old professor at Kutztown University, about her experience with student debt. She and her husband pay around $1,400 per month, and the loans have played a big role in their decision-making about when to start a family. It seemed impossible to consider having kids when they both had so much left to pay off from school. "We were living month-to-month as it was. I convinced myself that maybe I didn't care that much about starting a family, because it didn't seem like a possibility," she says. "For women in academia, if you wait until tenure, when you're finally making more money, you're near 40. … I had friends who were on public assistance in order to be able to afford having kids earlier." Though she loves her career as a professor, she admits she might be getting to a place where she'll feel regretful if it turns out she's waited too long: "When you're 18, or in your 20s, there's only so much you can project into the future. Everyone has to make choices."
Student debt has impacted the social landscape in other ways, too, says Temple's Doug Webber. For example, consider the student-debt problem through a racial lens. Brookings research shows that for those who entered college in 2004, black bachelor's-degree holders are five times more likely to default on their loans than white BA holders. Though higher education has long been heralded as society's best response to economic inequality and stagnation — problems that have plagued Philadelphia for decades — taking on student debt to afford an education seems to be stunting economic mobility for many young people. In Philadelphia — a majority-minority city that's nearly 44 percent African-American — that's particularly troubling.
Webber blames the race gap on a number of factors, including the fact that for-profit colleges are disproportionately attended by minority students. Notoriously aggressive marketing tactics by many for-profit schools (like now-defunct ITT Technical Institute or the University of Phoenix) paint a picture of promising employment opportunities after graduation despite the fact that historically, for-profit degrees don't hold as much clout among employers as those from nonprofit schools. That leaves too many students in the worst of all possible worlds: holding student debt without strong job prospects.
•
Though millennials are the face of student debt, older generations aren't immune from the financial burden. Philadelphia City Councilwoman Cherelle Parker noticed the phenomenon a few years ago, when some of her constituents were unable to fix their sidewalks or update their homes. She got to the root of what was holding them back: Many were struggling to pay off student loans they took out for their kids' — or even grandkids' — educations. Older borrowers are particularly vulnerable when taking on student loans because they typically manage multiple types of debt — they're paying off mortgages, medical bills and car loans, too. In January, Council passed a Parker-sponsored resolution to investigate the degree to which student debt affects older borrowers in Philly. Research is under way, and Parker is hoping to recommend specific policy changes to City Council when the investigation wraps up.
Whether much can be done for borrowers of any age is an open question. In the national conversation, a number of solutions have been put on the table. One favorite is to "wipe the slate clean," or simply forgive all outstanding national student loan debt, no questions asked. Webber likens that to "using a hammer when a scalpel would be a better tool" — it would help those who are struggling, but the overall cost would be astronomical.
Congress continues to work on re-authorizing the Higher Education Act of 1965, the law through which all federal student financial aid is run. Its proposed reform — a bill called the PROSPER Act — is a mixed bag. On the positive side, it would increase the amount of federal spending devoted to Pell grants, which don't have to be repaid. But the bill would also do away with the Public Service Loan Forgiveness program, which lets government employees and workers at nonprofits see student debt forgiven after 10 years in the workplace. On top of that, it would eliminate the federal subsidy for undergrads that prevents interest from accruing while they're still in school. For many students, that could add up to thousands in additional debt.
The bottom line is that there's very little on the horizon that will do much to alleviate the decades-long problem Philadelphia is facing. At this point, the best-case scenario seems to involve remedying the debt problem for future generations, not solving it for current graduates.
Back in May, after the West Chester graduation ceremony ended, family and friends gathered at my mom's house for wine and cake and plenty of food. Inevitably, most of my sister's conversations started off with the same routine question from one family member or another: So, what do you want to do now that you've graduated? She says she wants to move out West — to Utah or Oregon or somewhere in between. But she's also started thinking about potential roommates and apartments in Philadelphia. It's cheaper than moving far away; there are good jobs here. "I might stay in Philly for now. Gotta pay those student loans," she joked to aunts and uncles and friends. Gotta pay those student loans, indeed.
Published as "Sunk" in the September 2018 issue of Philadelphia magazine.
---
---