Dunkin' Donuts Just Ruined Your Eagles Season
Yes, the Birds trounced the Redskins, but Dunkin' Donuts isn't offering its beloved free coffee promotion this year.
---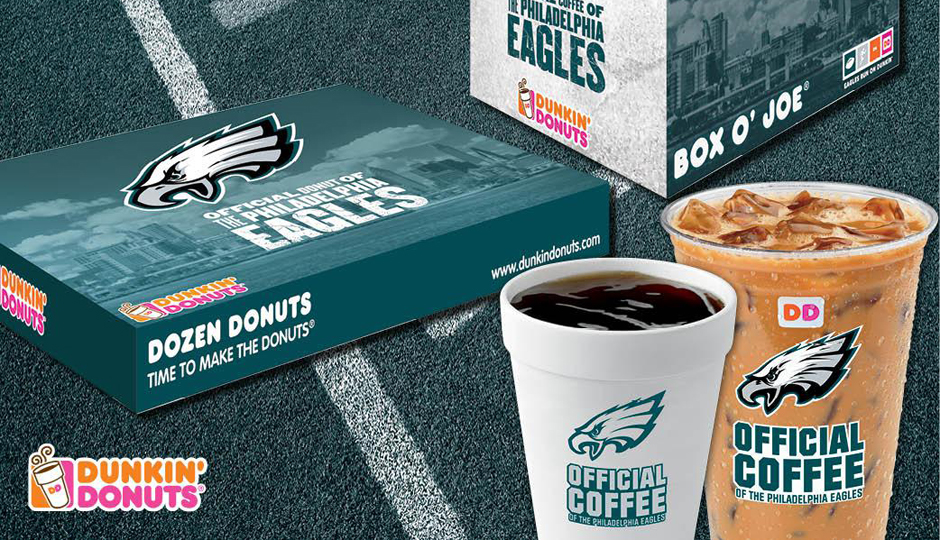 It's Monday – which typically sucks – but today doesn't nearly as much because our Iggles really took it to the Redskins in D.C. yesterday. One of my favorite parts of the fall season is how Mondays are invariably better any time the Eagles pull off a win the day before, especially when that victory comes against a bitter division rival like Washington. Everybody's walking around Philly with a little more pep in their step. (Although Mondays following a loss are especially brutal).
Synonymous with that bump in Monday morale is the long-running promotion at Dunkin' Donuts where football fans are entitled to one free coffee on the day after wins. For years Eagles fans braved not just the elements, but also long lines, all to receive that free reward in midnight green-stamped Styrofoam. Unfortunately that won't be the case this season, as Dunkin' pulled the plug on the beloved free coffee campaign in favor of a new offer tied to its DD Perks program:
.@Eagles fans! Perks members can score a $1 Med Coffee every game day this season! (Location based offer. 1 per Perks member) #FlyEaglesFly pic.twitter.com/alYCOLpaeL

— Dunkin' Philly (@DunkinPhilly) September 6, 2017
"For 10 years, fans have come to rely on Dunkin' Donuts to fuel their passion for the Philadelphia Eagles," Jessica Weissman, the field marketing manager for Dunkin' Brands, said in a release. "We are excited to launch the new Eagles Game Day Offer to reward our most loyal fans, our DD Perks members, with the chance to score $1 medium Hot or Iced Coffee on all Eagles game days, and look forward to keeping our Dunkin' Donuts guests and Eagles fans cheering loudly throughout the season."
Personally, I'm not much of a coffee guy – I don't really need it to get moving in the morning and I'm naturally pretty wired – but this really sucks for those who are. I know plenty of Philadelphians who don't follow sports, yet they always still made a stop at Dunkin' for their free coffee on Mondays. Wonder how much residual business Dunkin' is going to lose as a result of this blunder. Wawa coffee is better, anyways.
Wow !!! It's horrible to take away the Free Coffee away the day after a Win !! There weren't many wins to enjoy !!! Booooooo Dunkin Donuts

— UBA SeXXXY Beast (@ShulerEdward) September 9, 2017
we have so little joy and now they take our coffee

— jess, u bum. (@ilovechooch) September 9, 2017
Joe Banner must work for Dunkin Donuts now

— Ray Moffo (@RayMoffo) September 9, 2017
Follow @jtrinacria on Twitter.
---
---