At Least Five Deaths in Amtrak Derailment, Says Mayor
65 are reported injured in Port Richmond crash. SEPTA service on the Chestnut Hill West and Trenton Regional Rail lines suspended until further notice.
---
---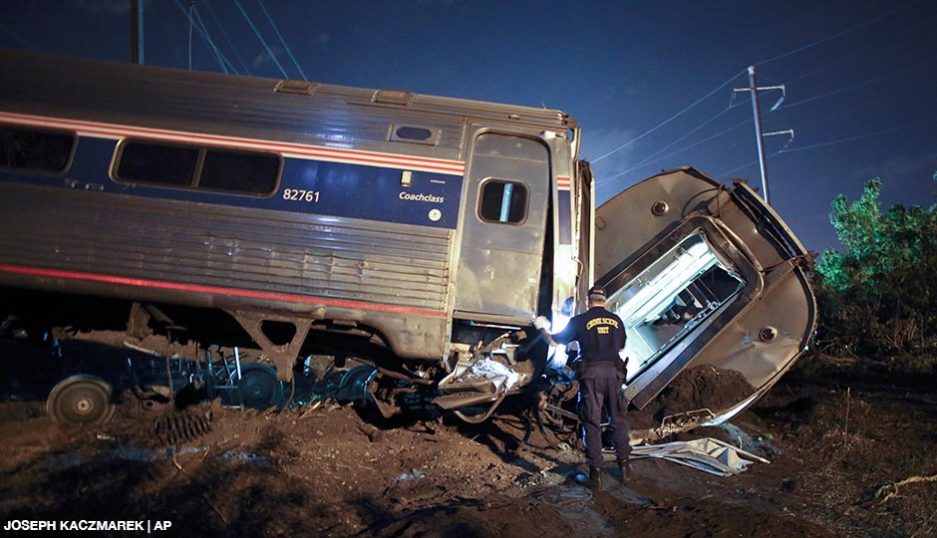 ---
[UPDATE: 1:13 A.M.] Mayor Nutter has updated the injury toll: 65 people have been confirmed injured, 6 of whom are considered critical. The number of fatalities remains five. The mayor says that he cannot confirm that all passengers have been accounted for at this time.
[ORIGINAL: 11:50 P.M.] An Amtrak train bound from Washington, D.C., to New York City derailed in the Port Richmond section of Philadelphia around 9:30 p.m. tonight. Numerous injuries were initially reported and, according to Mayor Michael Nutter, there have been at least five fatalities. A call to Amtrak has yet to be returned.
In a statement to the press given at around 11:45 p.m., Nutter said "the train's seven cars, including the engine, are in various stages of disarray, turned over, upside down, on their side." He added that while many individuals were able to walk off the train, "I've been down on the train, on the tracks with my staff. It is an absolute disastrous mess."
Executive Fire Chief Clifford Gilliam told the media that injured passengers were taken to hospitals including Temple, Einstein, Torresdale, Hahnemann and Jefferson.
According to an early report from the Associated Press, which had an employee on board, Northeast Regional train 188 left Washington earlier on Tuesday. The train, carrying 238 passengers and five crew members shook as it headed into a turn and then went off the tracks.
Early reports suggest that at least 50 people have been injured in the crash, which resulted in several cars toppled over. One of the passengers was former congressman Patrick Murphy, who said he was helping people on the train.
@Amtrak @msnbc @NBCNews pray for these passengers. pic.twitter.com/mksZNy7eqo

— Patrick J. Murphy (@PatrickMurphyPA) May 13, 2015
Instagram user Yameen Allworld "Holladay" was on the train and posted these videos of the aftermath to his account:
Twitter user Janelle Richards posted this video of passengers trying to exit the train:
Video I took moments after crash. People trying to open the door and get off the train. pic.twitter.com/fJ2bxXfmhG

— Janelle Richards (@Janelle_News) May 13, 2015
In the aftermath, SEPTA buses were reportedly being used to transport the injured to hospitals:
I count about 20 people on this SEPTA bus headed for hospital pic.twitter.com/2GwKiChkmL

— Michael Boren (@borenmc) May 13, 2015
2 "buses" with 23 patients each from #Amtrak derailment going to Hahnemann and Frankford-Torresdale hospitals, according to dispatch.

— Kenneth Lipp (@kennethlipp) May 13, 2015
If you have questions about friends and family on train 188, call Amtrak's emergency hotline: 800-523-9101.
If you're looking for Philly-based passengers, the Philadelphia Police say to check the Webster School, 3400 Frankford Ave., 215-537-2525.
Amtrak reports that the Northeast Corridor is suspended between New York and Philadelphia.
SEPTA reports that Regional Rail service on the Chestnut Hill West and Trenton lines are suspended until further notice.
Chestnut Hill West: Service is suspended until further notice due to police activity. Alternate service suggestions are available online.

— SEPTA (@SEPTA) May 13, 2015
Trenton: Service is suspended until further notice due to police activity. Alternate service suggestions are available online.

— SEPTA (@SEPTA) May 13, 2015
The National Transit Safety board has announced it is gathering information on the derailment.
NTSB is currently gathering information about tonight's Amtrak derailment in Philadelphia.

— NTSB (@NTSB) May 13, 2015
This is a breaking story. More info as it becomes available.
---