PHOTOS: Billy Cavallo Takes Us Backstage at an Andrew Christian Video Shoot
---
In September, Rowan grad student — and Gayborhood bartender — Billy Cavallo was crowned the 2013 Most Original Stoli Guy in New York City. The title earned him an appearance in one of those drool-worthy Andrew Christian underwear videos, which he filmed last week in L.A. Now he's back in Philly with some behind-the-scenes stories and photos. He gives us the skinny below:
Andrew Christian picked me up from my hotel the day after I arrived and we went to the set together. I gotta say, when I met the other models, I was quite intimidated. Except for one guy, they had all been in these videos before. I was pretty much the newbie, but for the most part everyone was very sweet and welcoming. They even invited me to the movies with them. By the end of the first day I felt completely comfortable. The nights consisted of going out in West Hollywood, which is L.A.'s Gayborhood. Many of the models work at the biggest gay club, The Abbey. I even got to meet up with fellow Stoli Guy Matt, who's from San Diego.

Besides all the playing, I filmed an interview discussing myself and the Stoli competition, and two videos that will be featured on the home page of andrewchristian.com within the next few months. I can't give too many details about the videos, but they are both very different from the other: one serious, and one much more fun. Off camera many of the guys were goofballs. We had a lot of fun in the photo shoot, where we were bench pressing each other, and got to enjoy some cocktails in between shots. I had a little bit of on-set romance with one of the other models.
Believe you me, I drilled Billy on the on-set romance, but he was stingy with details. All he told me was that they went out together on the second night. You can let your imagination take it from there.
Billy Cavallo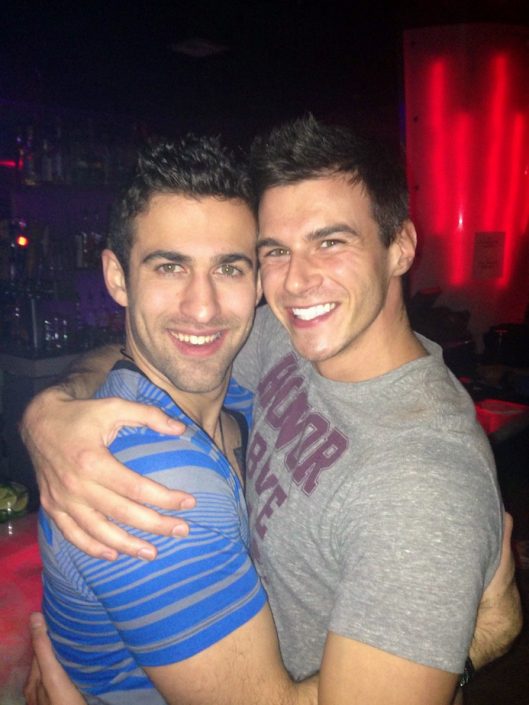 Billy Cavallo
Billy Cavallo

Billy Cavallo

Billy Cavallo

Billy Cavallo
---