News
Vernalicious Brings Veggies and Comfort Food to South Philly
Chef Verna Swerdlow, long known for her now-shuttered food truck, opens her cozy BYO in the Whitman neighborhood this weekend.
---
A beloved food truck owner is about to make her brick-and-mortar comeback. Vernalicious, Verna Swerdlow's petite BYO in Whitman, opens its doors this Friday, April 12th at 101 West Ritner Street.
When she dove back into the hospitality business after permanently parking her truck more than three years ago, the chef set out to serve the kind of food she wanted to see on restaurant menus.
"I don't cook at home, and all I wanted was some goddamn vegetables," Swerdlow said, "but a lot of chefs treat vegetables like a garnish."
At her new counter service and takeout spot, Swerdlow will serve honey-thyme carrots, citrus roasted beets, potatoes smashed or boosted with herbs in potato salad, and seasonal specials as sides. On the abbreviated opening menu, those veggies support proteins like pulled chicken, salmon, and crab cakes, which can be ordered as platters, sandwiches, or over salad greens. Comfort fare like baby back ribs, chicken pot pie, and mac 'n' cheese round things out.
In the near future, she plans to host pop-up dinners with friends from her food truck days like Spot Gourmet Burgers and Gigi & Big R Caribbean Soul Food. The space will also host free vegetable-focused after-school cooking classes for kids; the first is scheduled for Monday, April 29th.
Hours will be Wednesday through Sunday from 11:30 a.m. until around 7 p.m., Swerdlow says; she'll tweak dinner hours based on neighborhood demand.
Check out the opening menu at Vernalicious below.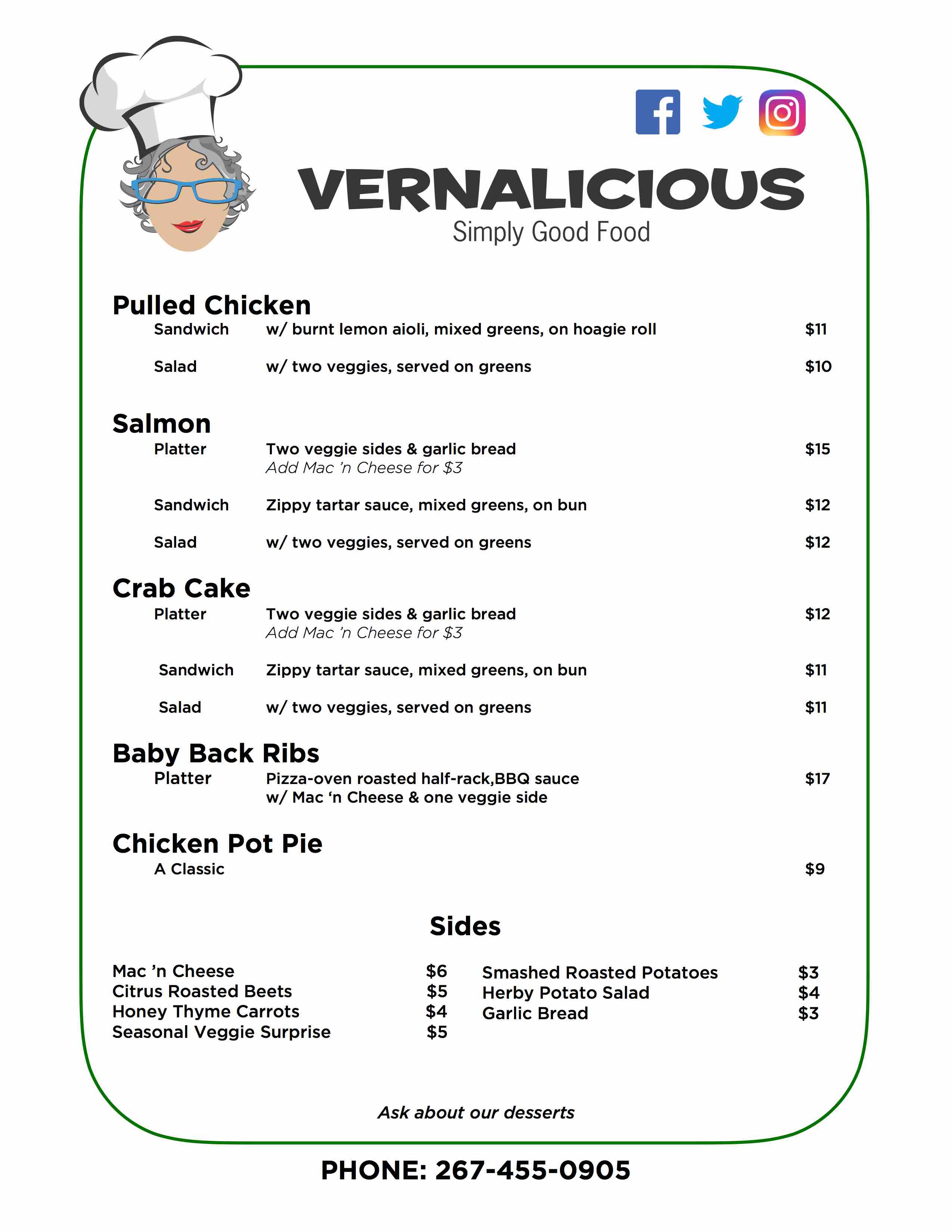 Correction: The original version of this story said that Vernalicious is in Pennsport. We regret the error.
---
---