A Director of Admissions Reveals How to Nail the School Interview and More
Choosing a high school is one of the most important and impactful decisions your family can make. We talked with Meg Perry, Director of Admission at Solebury School, for an expert look at what families can do to find the school that is the right fit for you and your student.
Start by brainstorming everything you are looking for in a school—such as academic offerings, location, size, community focus, sports teams—and write it down.
While every school has the best interest of their students at heart, each is one is its own unique entity. Your job is to determine which one will best fulfill your aspirations, and this process starts with self-reflection. At its root, this is what the coming months are about for you. Ask yourself the hard questions. What type of daily schedule will help you not just learn, but thrive? Are you willing to commute for the school of your dreams? How does a school's location tie into the life of the students and the residential life program? What is truly important to you, what are your priorities are as a student and as a whole family? Now get a notebook and write your list down. With each school visit, record your thoughts and feelings, and compare them back to your list. This is an incredibly valuable exercise that has enormous benefits.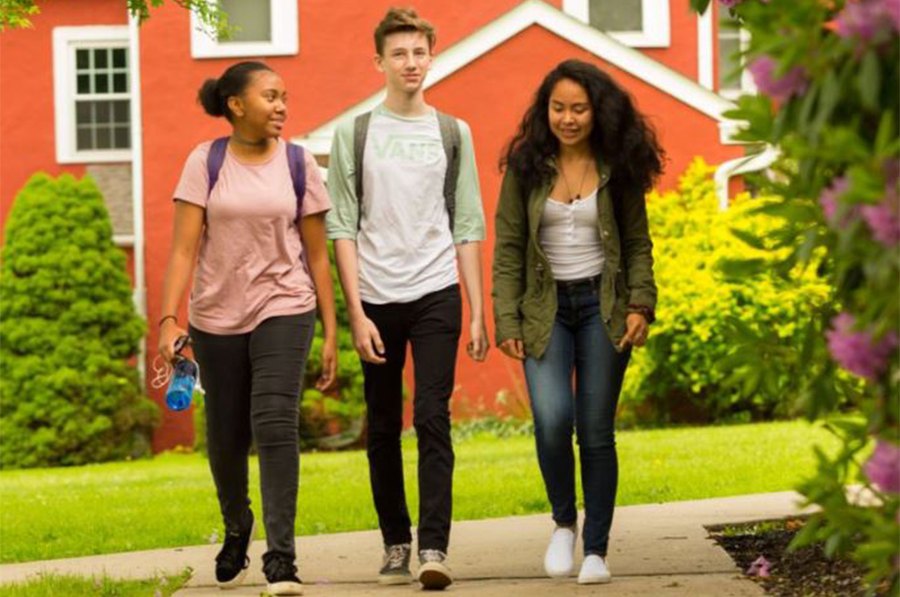 Visit lots of schools and ask lots of questions.
We are in a moment where families can "visit" almost any school they choose—and never leave their house! It is possible to attend 3 or 4 open houses in the same afternoon. Take advantage of this. Schools are being so creative right now and are opening their doors to families in really interesting ways. You can virtually chat with students and teachers, sit in on a class, and tour campuses. If you want something, just ask and chances are the school will arrange it for you. Our job as admissions professionals is to bring in students who will thrive while they are at our schools, so whatever we can do to get to know you better, we are happy to do. At Solebury, we are also happy to offer an in-person tour—ask all of your schools if this is possible.
The best way to nail the interview? Be yourself. Seriously.
The interview is a frequent source of worry. So here's the truth. Admissions folks are not trying to trip you up or to stump you. We do what we do because we like talking to young adults. We like finding out about you. It should feel more like a chat, and you can expect questions about things such as what you're doing, enjoying, hating at school, about what you're involved in and how you spend your time, etc. The really good news? These are questions you know the answers to better than any person on the planet. It is also a time where you get us one on one to answer your questions. Take advantage of this—it's a great opportunity for you to learn about our school. And at the end of the day, we both want the same thing—to find a great fit.
To learn more about Solebury School and discover what school should be, visit solebury.org.
This post was produced and paid for by Solebury School
---