On Point: Philadelphia Ballerina Finds Second Home in Fashion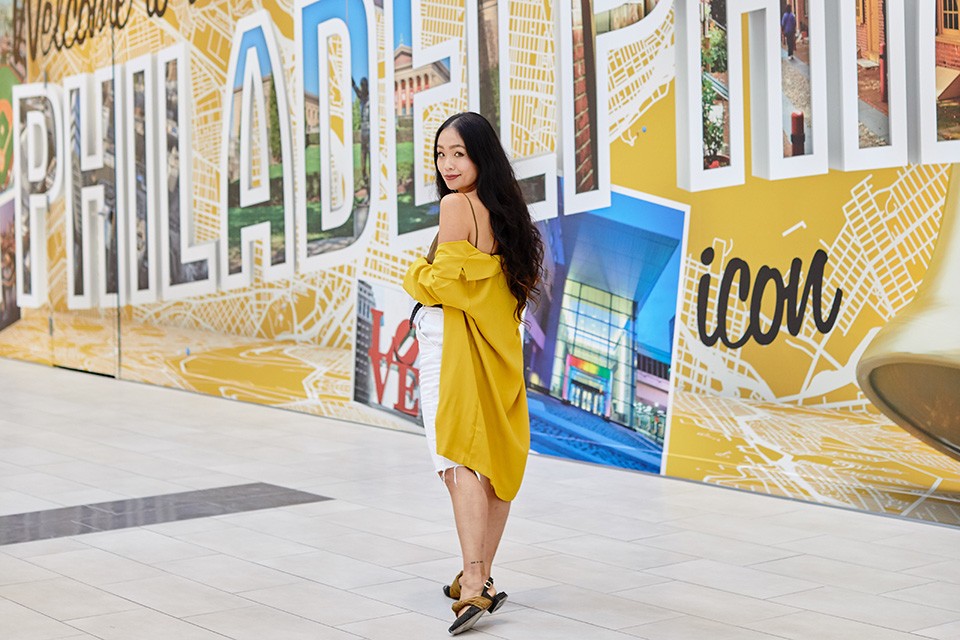 Ballerina-turned-fashionista Rié Aoki turns heads both on and off the stage. The First State Ballet Theatre company member began dancing when she was six and was exploring fashion not long after. She started a fashion blog in high school in Tochigi, Japan, outside of Tokyo, before moving to the U.S. to pursue her ballet career. When off the clock, the professional dancer models bold, bohemian looks with long dresses, bright oranges and yellows, and layered textures for her 11k Instagram followers, and shares her Philadelphia and foodie adventures on her blog (follow along the fun @rievictoriaaoki).
We caught up with Rié at the newly opened Fashion District in the heart of Center City Philadelphia to talk about her journey into fashion, how she balances work and play, and why she never dons the same outfit twice.
Professionally… I'm a ballerina. I've been dancing since I was six, when I started to copy my best friend. No one else in my family dances—they're not at all artistic. They're into sports.
I train… four hours a day. Outside of rehearsals I make sure to ice and relax. When I was younger I didn't need to worry about recovery as much, but now that I'm older I need to make sure to rest. I also eat a lot of nutritious food. People are always surprised by how much I eat!
I've lived in… Tochigi, Japan, where I was born, plus D.C., Wisconsin, South Carolina, Florida and now Delaware. Each place I've lived has influenced my style, but I've always loved bohemian looks.
My favorite thing about Philadelphia… is the people. They're not trying to impress anyone, but I find them inspiring. I'll come here to people watch and will end up with three months of outfit ideas.
When I was a kid… I would dress up my three-year-old sister and take her picture. It's not that different from what I do now!
I never wear… the exact same outfit twice. I reuse pieces but always find a different take. It helps fuel my creativity!
I feel most like myself in… warm colors. My closet is full of yellows and oranges.
Fashion is like ballet… in that it's an outlet for me to be myself and to be creative. They've both also given me opportunities to go to new places and meet new people. The local Philly blogger community is so welcoming.
I'm looking forward to… having a new spot in the city to shop, eat and people watch. Fashion District is beautiful.
My favorite Fashion District store is… probably H&M. I've been focusing more on finding pieces that are sustainably made, and I like that H&M is moving toward using all sustainable or recycled materials.
Explore Fashion District Philadelphia—Philly's newest destination for shopping, dining, entertainment, art and culture. Learn more here.
This is a paid partnership between Fashion District Philadelphia and Philadelphia Magazine's City/Studio
---