T

here are two types of influence in Philadelphia. ¶ There are the people who have worked their way to the top of their fields, who pull all the levers and know all the secrets — the people you'd love to have on speed dial if you ever need to get anything done around here. ¶ Then there are those who burst onto the radar unexpectedly, perfectly matched for the moment, and end up changing how the whole city operates. ¶ In these tumultuous times, who wields such influence is constantly changing. This is our completely unscientific, highly debatable effort to track the evolving power players in the city: to celebrate those who, in the past year and the years before, made moves that shape where we've been, and those who, in the year ahead, will have the biggest role in determining our future.
---
---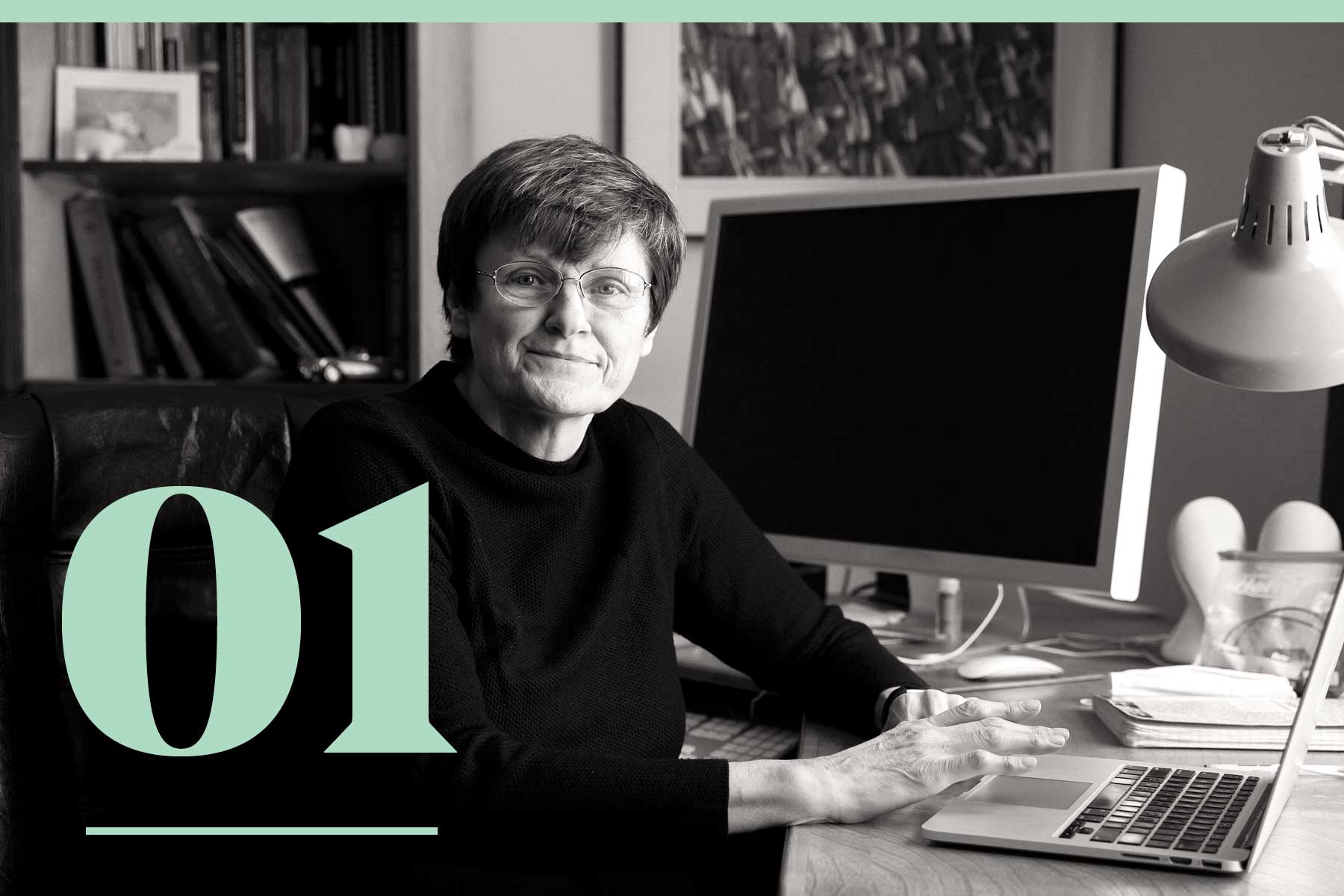 Katalin Karikó
Strong-Willed Savior
Bullheadedness gets a bad rap these days. We bemoan anti-vaxxers who won't listen to reason. We despise Trump conspiratorialists who insist the election was rigged. We despair at the likes of 9/11 truthers, Sandy Hook doubters and flat-earth believers: Why won't they see what's real and what's not?
But there's another kind of stubbornness, more rare and more lonely — the kind that saw Socrates convicted, got Galileo arrested, and cost Sir Thomas More his head. It's the heels-braced, dug-in-deep belief in yourself, in your own mind and its reasoning powers, that keeps you steadfast in the face of scorn and ridicule and failure. That's Katalin Karikó's stubbornness.
The daughter of a butcher, she was born in Hungary and decided early on that she wanted to be a scientist. After moving to the United States in her 20s, she worked in academia for decades, unheralded and unrecognized, always seeking funding for her vision of utilizing so-called messenger RNA to infiltrate the body's defenses and induce the production of proteins that could coax it to heal. She was forced out at Temple; then, at Penn, she was passed over for promotion and tenure and nearly let go. You could understand why. "The best scientists," says one who worked with her at Penn, neurosurgeon David Langer, "try to prove themselves wrong."
But Langer left Penn, and Karikó — "Kati" to her friends — struggled to find another collaborator. A chance meeting at a photocopier led her to Penn immunologist Drew Weissman, whose dream was to create an AIDS vaccine. Their work together resulted in the discovery of a means of using mRNA to redirect the function of cells without triggering the body's immune system to attack.
And that led — eventually — to two pharma companies, Pfizer in America and BioNTech in Germany, funding their further work, and the testing, in 2020, of an mRNA-powered vaccine to fight a new virus that had stopped the world in its tracks. When the results of that first trial proved the vaccine's efficacy, according to the New York Times, Karikó ate a whole box of Goobers. In September, she and Weissman were awarded a $3 million Breakthrough Prize for their research, and their names have been tossed around for a Nobel as well. (Better luck next year.)
She says she never doubted it would work. — Sandy Hingston
Brian Roberts
King of All Media
FLEXING FOR GOOD: During the pandemic, Roberts's Comcast opened more than 100 Lift Zone internet hubs at community centers throughout the region, and its RISE program is on track to assist 13,000 small businesses owned by people of color nationwide by the end of '22. OUNCE OF PREVENTION: With wife Aileen, he endowed the Roberts Family Professorship in Vaccine Research and the Katalin Karikó (#1) Fellowship Fund in Vaccine Development at Penn. TECH BOOMS: With 2018 acquisition Sky, the company is planning to roll out a big new as-yet-unnamed entertainment operating system. TECH BUSTS: Many viewers found Olympics coverage on Comcast's streamer Peacock befuddling. WELCOME BACK: The company was expected to return employees to offices on October 18th — a potential boon for Center City.
William Hite
Gatekeeper to Normal
LATEST CHALLENGE: Negotiating a path back to "normal" through the pandemic-prompted quagmire of wary teachers, angry parents, and students who just want to get back to school. Say what you will about whether he's met the occasion: This city does not get back on track until parents have faith that schools are running functionally. LATEST TRIUMPHS: A new three-year contract with the feisty Philadelphia Federation of Teachers, reached just hours before the old one was set to expire. And Hite was named 2020 Superintendent of the Year by the National School Foundation Association for ensuring that students have the resources they need to succeed. HURDLES AHEAD: Crumbling infrastructure in the city's aging buildings — asbestos in the walls at Masterman; not enough bathrooms at Beeber — has infuriated staff and teachers. Outta here: Hite just announced that he'll be leaving his longtime post at the end of the school year, posing the next massive challenge for Mayor Kenney (#5).
Ala Stanford
Godmother of Community Health Outreach
There was a DJ playing R&B, and free mango water ice flowed. It was another vax jawn, this one at the Dell Music Center, for folks looking to get their first vaccine shots. The party vibe was courtesy of the Black Doctors COVID-19 Consortium, which has vaccinated more than 51,000 people, almost all people of color in hard-to-reach neighborhoods. For the immunocompromised, they now offer booster shots. ¶ Founder Ala Stanford is the godmother of culturally responsive outreach. When the BDCC hosted a 24-hour vaccination site at the Liacouras Center, more than 4,000 folks waited in line to get their shots — almost twice the number expected. Instead of waiting for government grants, the surgeon has raised more than $800,000 in funding from her GoFundMe campaign. BDCC won the city's Magis Award for going beyond the call of duty, and Stanford counts Patti LaBelle and Spike Lee among her new celeb friends. ¶ The heroic backstory is legend now. Stanford rented a van with her own money, got PPE from her own practice, and called her own medical friends. They started going door to door. It's this kind of ingenuity that has rumors swirling about whether she'll become the city's new health commissioner. ¶ "She is a perfect example of how a community member can stand up and lead during a time of crisis," U.S. Surgeon General Vivek Murthy said during a U.S. Department of Health and Human Services event in April. "It's extraordinary what you've been able to do." — Lynette Hazelton
Jim Kenney
Lame Duck Already
STOCK: Falling. Between the Philly Fighting COVID vaccination embarrassment and Kenney's recent refusal to declare a state of emergency regarding gun violence, someone should remind him that he's still mayor for a few more years. KRYPTONITE: Kenney has had to begrudgingly respond to City Controller Rebecca Rhynhart's (#18) bombshell reports on topics as wide-reaching as his administration's tear-gassing of protesters on the Vine Street Expressway and how it's spending its $155 million anti-gun-violence budget. NEXT UP: Any chance at the Governor's Residence or a U.S. Senate seat has all but evaporated.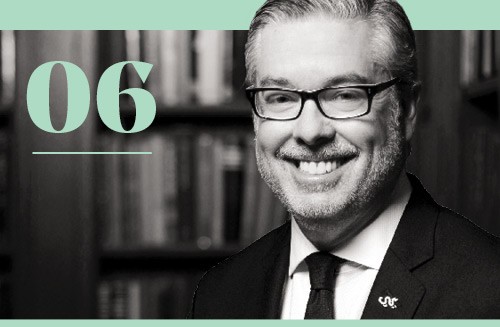 John Fry
The New Dean of Deans
Penn and Drexel don't like to consider themselves in competition with each other, but the truth is, when you think "University City," one university comes to mind first, and it's not the one with the dragon mascot. ¶ The landscape is shifting, though, and in more ways than one. Amy Gutmann is about to become a diplomat. Prost! Drexel president John Fry, meanwhile, is sticking around. And about that landscape … Buildings are sprouting up left and right at Schuylkill Yards and UCity Square, two partnerships with two different developers (total investment: between $4 billion and $5 billion) with the same goal: transforming Drexel into the anchor of a newly innovative West Philadelphia neighborhood centered on gene therapy and life sciences. In August, Powel/SLAMS, a new $34 million K-8 STEM-focused public school spearheaded by Drexel and located in one of those developments, welcomed students for the first time. ¶ There are concerns over what an ascendent Drexel will mean for the existing neighborhood, but Fry insists the university is focusing on "the connection between innovation and inclusion." It's a vision, it could be said, that very nearly stretches from cradle to grave. "Right now, there are 810 kids in a school we helped build," Fry says. "Hopefully, those kids will find their way to Drexel, Penn, or some other great institution and then work their way into Schuylkill Yards and UCity Square doing cell and gene therapy one day." ¶ That might once have bordered on the quixotic, but Fry remembers when a group of Powel parents met with him a decade ago, asking if he could do anything to improve the situation at the school, which was so over-enrolled that kids were being educated in trailers. ¶ Fry did, and now there's proof. — David Murrell
Gregory Deavens
Insurance Angel
BIG SHOES: He took over as president/CEO at Independence Blue Cross mid-pandemic from the legendary Daniel Hilferty, who notes, "It's reassuring to have Greg as a steady hand at the helm." AGILITY: Deavens leveraged IBX's many relationships to quickly remove financial barriers to COVID testing/vaccinations and expand telemedicine access. He also repurposed the Independence Live venue as a vax clinic. IMPACT AGENDA: He's working with the Tribuneto bridge health-care gaps in the Black community, a focus. PANDEMIC LESSONS: "The centerpiece of our 2025 strategic plan is equitable whole-person health, bringing together physical as well as mental health."
Madeline Bell
Kids' Health-Care Visionary
POINTS OF PRIDE: In her sixth year as president and CEO of Children's Hospital of Philadelphia, Bell helped get 19,000-plus teachers and daycare workers vaccinated and launched the hospital's Center for Health Equity. INFLUENCE: "Bell's leadership makes it possible for teams across CHOP to ensure that all children have equal access to quality health care and to change systems — like employment and housing — that contribute to health disparities," says Tyra Bryant-Stephens, senior director of the new center. COMING SOON: In May, CHOP is opening a 52,500-square-foot outpatient behavioral health hub in University City.
Michael Forman
The Connector
INVESTING IN PHILLY: As chairman and CEO of the Navy Yard-headquartered FS Investments, he runs a thriving $23 billion asset-management business. EXCLUSIVE CLUB: As a co-founder of the Fitler Club, Forman has gone all-in on the belief that bringing Philly's powerful and influential together will produce transformative ideas. FOR INSTANCE: In response to 2020's racial uprising, he convened the informal monthly "Saturday Morning Group" with union power broker Ryan Boyer (#19), CHOP's Madeline Bell (#8) and Drexel's John Fry (#6), to "get folks in Philadelphia collaborating with a goal of making this a more equitable city."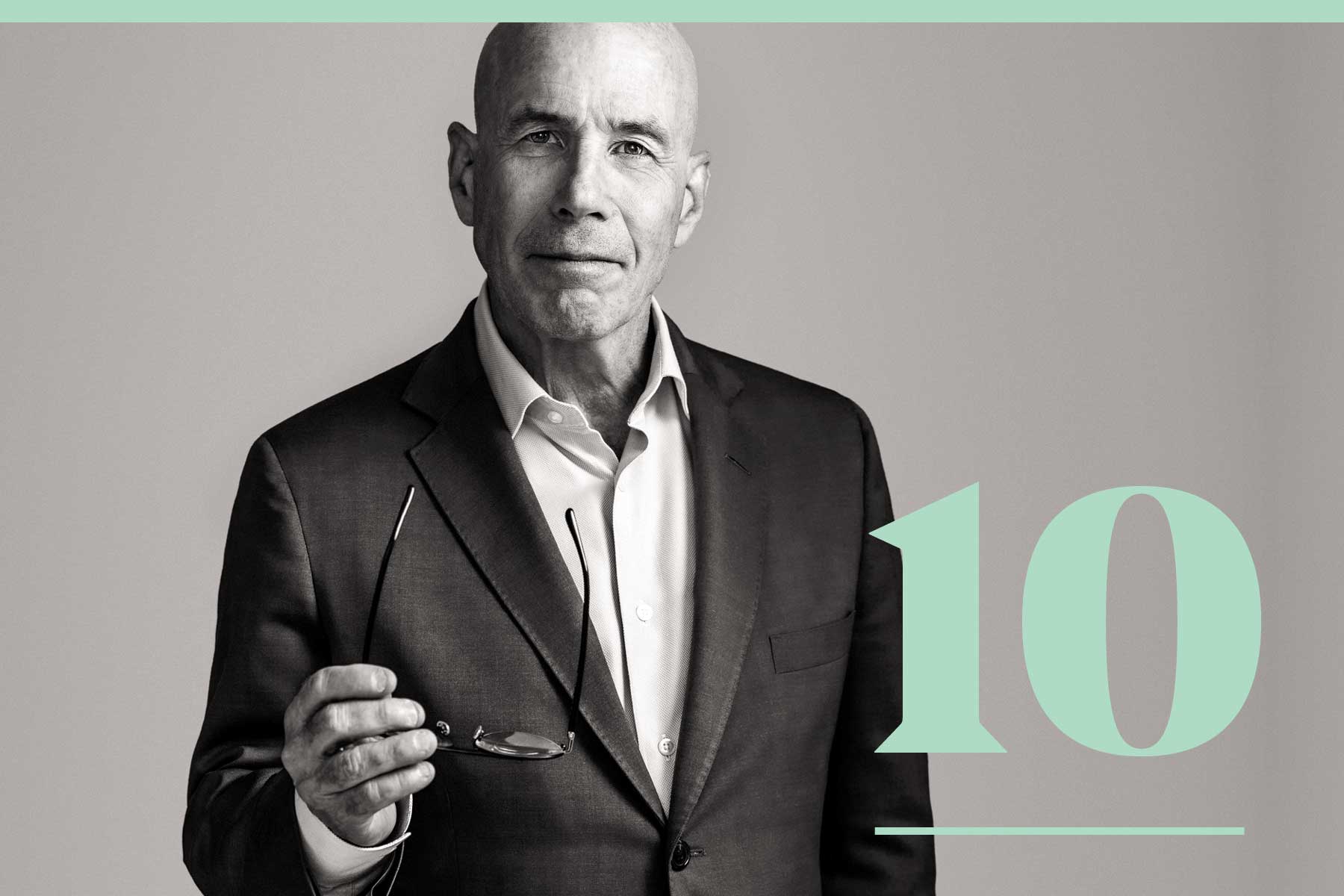 Stephen Klasko
Health-Care Disrupter
"If you want to change the entire world of health care … "
That's the first line of a video announcing the Specialty Care Pavilion, the big 11th and Chestnut development Jefferson Health unveiled its plans for in September of last year.
Coming from some other health system, it might sound like so much throwaway marketing drivel. But this is Stephen Klasko's Jefferson Health, and "change the entire world of health care" is exactly what he's been gearing up for in the past half-decade.
When we wrote about Klasko for this issue in 2017, we noted the buying spree he'd been on (Philadelphia University, Abington Health, Aria Health … ). And it continues: Jefferson was expected to absorb Einstein Healthcare Network in October, which will vault it over Penn Medicine as the region's largest health system. This month, Jeff is expected to finalize its purchase of Health Partners Plans, giving it a foothold in the insurance world.
With that kind of portfolio, Klasko figures, you can really shake some things up. "Sixty-two percent of people believe that we purposefully make health care more complicated," he notes incredulously. That, he figures, has to change. In 2020, he teamed up with Silicon Valley entrepreneur Hemant Teneja to write UnHealthcare: A Manifesto for Health Assurance, with the idea of disrupting a system whose problem, he says, dusting off an old adage, "isn't that we aim too high and fail, but that we aim too low and hit the mark."
That's where the Specialty Care Pavilion will come in. Klasko has brought on former Apple CEO John Sculley to help design a building that will foster a new kind of health care. The rise of telemedicine means that lots of health care can happen anywhere, while hospitals will still be needed to treat the very sick. But Klasko imagines a middle ground, a holistic space where this "health assurance" can happen, utilizing the most innovative ideas and partnerships.
"I want it to be the space station between health care at home and the hospital," says Klasko, "the answer to the question: If a Silicon Valley entrepreneur and the CEO of an East Coast medical center had a kid, what would it look like?"
Klasko just announced he'll be retiring from Jefferson at the end of the year. We'll be watching his next moves with anticipation. — Brian Howard
Larry Krasner
Untouchable DA
LATEST TRIUMPH: After facing an unprecedented primary that included the refusal of the Philadelphia Democratic Party to endorse him and the FOP trolling him with a Mister Softee truck outside his office, Krasner crushed Carlos Vega at the polls, proving he's the Establishment's worst nightmare. BY THE NUMBERS: Despite the Protect Our Police PAC's onslaught of negative ads, Krasner took home nearly 67 percent of the vote. NEMESIS: Vega still has a federal age discrimination suit pending against Krasner — and is suing his campaign for defamation.
Josh Shapiro
Governor or Bust?
BIG PLANS: The former Montco commissioner, who won his second term as state AG, told this magazine in March of a gubernatorial run:"I expect to be a candidate." In October, expectation met reality. CLOUT: While half the state's Dems have announced runs for Senate, Shapiro is the lone Dem in the governor discussion. "It is unusual," the Committee of Seventy's David Thornburgh told a reporter in July. CHALLENGE: With the exception of Ed Rendell, our region hasn't been a pipeline to Harrisburg. "I was proud to be the first Democrat to lead Montgomery County since the Civil War," says Shapiro. "That required a lot of work to reach across the aisle, find common ground, and solve tough problems."
Jeff Brown
Grocer Plus
Of all the folks people chatter about as mayoral contenders heading into 2023, none has a résumé like Jeff Brown's. Yes, he owns a bunch of ShopRite and Fresh Grocer locations in the region. But it's how he runs them and what he does with his capital — social and the regular kind — that make him formidable. ¶ He's gotten lots of ink over the years for opening stores in food deserts and for his dedication to employing returning citizens. But he doesn't do these things to be charitable; he's recognized that those decisions are good for the community and good for his business, a potent combination. His customers in neighborhoods that other grocers have abandoned are intensely loyal, and he's discovered that employees with records often have, shall we say, unaccredited business experience that, he tells us, can propel them quickly into management. ¶ His proactive problem-solving, his knack for finding untapped talent, and his dedication to opportunity get people excited. He's got an initiative that helps local entrepreneurs launch products through his stores. He aided the start of the PA 30 Day Fund so small businesses could survive the pandemic. He's on the board of Philadelphia Lawyers for Social Equity, which promotes record expungements that can open the door to mortgages. And he's investing in an app (with MilkCrate and YaFavTrashman) to crowdfund littering cleanup. ¶ Will he run for mayor? "If you were to walk with me through our grocery stores, and we have 175,000 customers a week, every single one pleads with me to consider it," says Brown. The decision, he adds, will be as simple as this: "If I want to help, how would I do it, and is this the best way?" — B.H.
Maria Quiñones Sánchez
The Next Mayor?
SEAT OF POWER: As Council's fourth most senior member, the 7th District's MQS has seen a lot; as appropriations committee chair, she has imparted that wisdom to all the fresh-faced new Councilmembers in recent cycles. A good relationship with Council is important when … MAYOR WATCH: Between her progressive bona fides, her laser focus on business tax reform, and the fact that without party backing, she's fought for every win, she'll be battle-tested and formidable if, er, when she runs. QUOTABLE: "Black women and women of color are the ones deciding elections, and anyone who doesn't fit that demographic is not reading the room."
Leslie Richards
Route Wizard
FINALLY: In September, SEPTA's general manager unveiled the organization's long-anticipated signage plan. Step one: renaming all the trolley, subway and rail lines so you don't need to interpret a secret code to cross town. FUMBLES: The poorly executed closure of Kensington's Somerset Station brought unneeded national attention. NEXT UP: SEPTA's union contract was due to expire October 31st, setting up a fight over pay and death benefits for families of workers who died of COVID. "I've been in every round of negotiations for probably the last 20 years, and this by far is going to be the hardest," says TWU Local 234's Brian Pollitt. "We're known to fight; it's what we do."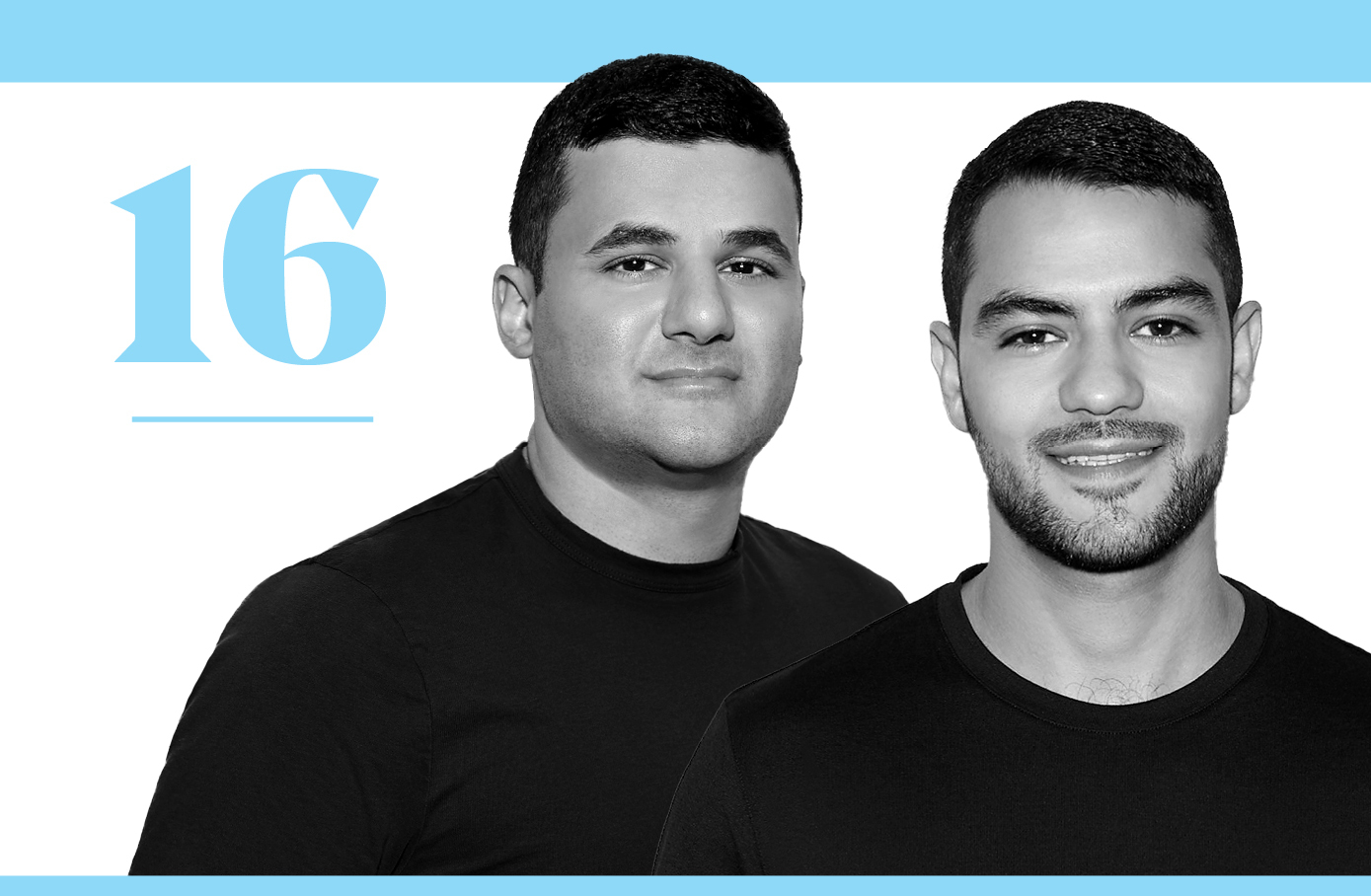 Rafael Ilishayev & Yakir Gola
Convenience Conquerors
BY THE NUMBERS: How about $15 billion? That's Gopuff's latest valuation, up from $8.9 billion in March. LATEST CONQUESTS: The NoLibs company bought European brands Fancy and Dija, adding Gopuff presence in the U.K., France and Spain. Stateside, they snatched up BevMo and Liquor Barn. STOCK: Well, it's still a private company, but … IPO rumors are swirling. THE OTHER SHOE: As with most gig-delivery companies, its workers are coming together to ask for their fair share. An open letter signed by workers at dozens of sites across the country this summer kicks off: "We're worth more than a $3 bag of snacks."
Kevin Mahoney
Health Equity Champion
BIG MOVES: This past year, the University of Pennsylvania Health System CEO debuted missions to reduce maternal morbidity for Black and brown mothers and increase colorectal screenings for the city's most at-risk residents, all while helping to keep Mercy Hospital alive. QUOTABLE: "To budget is to choose. Improving access and delivery of care means building an entire system — including financial resources — around equity." NEXT UP: Mahoney is leading the charge in launching a federally qualified health clinic in West Philly, plus working to reopen the neighborhood's shuttered crisis response center.
Rebecca Rhynhart
Flamethrower
NEMESIS: You can't flip open the paper without reading about one of her latest investigations. In August, that meant discovering that only 21 percent of the city's $155 million anti-violence budget would address the crisis in the short term. GROWING PURVIEW: Rhynhart has also issued reports on corrections staffing, the city's payroll system, and federal COVID relief funds. It's almost like, well … MAYOR WATCH: Rhynhart spent her Labor Day marching with union leaders, spent the weekend before at a Vax Up Philly parade … we all love a parade, but there's probably more to it.
Ryan Boyer
Labor Kingmaker
STOCK: Rising. This dynamic labor leader saw most of the judicial candidates his powerful Laborers District Council backed (Nick Kamau, Wendi Barish, Lori Dumas) win their spring Democratic primaries, further proving that labor endorsements (sans Johnny Doc) still matter. BRAGGING RIGHTS: In June, Boyer opened his union's new Laborers' District Council Training and Learning Center, a $30 million complex in North Philly. POWER MOVES: Teamed with Saturday Morning Group compatriot Michael Forman (#9) to launch and co-chair the Philadelphia Equity Alliance, dedicated to bringing together the city's sharpest minds with the goal of creating no less than the country's most equitable big city.
Erika James & Jason Wingard
Philly's New University Powerhouses
When President Biden (#46) nominated Penn president Amy Gutmann to be America's next ambassador to Germany, curiosity ensued. Who would be the city's next big deal in education? How might he or she redefine how colleges operate in a town known for its vast eds and meds? And who would be immediately ready to handle Philly's high-profile scrutiny of college leaders?
With the emergence of new Wharton dean Erika James and the arrival of Temple University president Jason Wingard, we didn't have to wait long to find out.
James, who became the first woman and person of color to hold the role in Wharton's 140-year history, hit the ground running as the pandemic and racial uprisings collided in 2020. "This year really brought to the forefront these kinds of issues, and what I have observed at the Wharton School is, there's so much focus by many of our faculty already on these matters connected to diversity and inclusion," James said in a June 2021 interview with Penn Today. "And that's been very heartening to see." Such DEI efforts are already paying off. Under James's leadership, Wharton is the first elite MBA program to enroll more women than men. "This landmark achievement demonstrates Wharton's commitment to providing a diverse and representative community for our students," James said at the time.
In June, Wingard made history as Temple's first Black president in its 137-year history. "I certainly recognize the significance of this moment," the West Chester native said at the time — and it's become clear in his latest moves that he undoubtedly does. When classes began in late August, Wingard fired the university's provost, chief operating officer, head of advancement, and two other senior administrators, a move he's describing as a part of his "high-performance and collaborative management structure."
Looks like neither James nor Wingard is too worried about that scrutiny. — Ernest Owens
Jamie Gauthier
City Council's Breakout Star
STOCK: Rising. The progressive newbie Councilmember has quickly established an unapologetic reputation, calling out Kenney for not declaring a state of emergency as gun violence disproportionately impacts her district. TOUGH TALK: "For the Mayor to offer such a flippant, tone-deaf response to our call for action after so much time has gone by and so many people have been injured or killed is simply unconscionable," Gauthier wrote in a headline-grabbing open letter to Kenney in July.
Jerry Sweeney
The Skyline Shaper
LOOK UP: Brandywine Realty Trust, where Sweeney is prez/CEO/trustee, broke ground in June on the West Tower, the first big salvo in the massive Schuylkill Yards project (see John Fry, #6) that could cement Philly's Cellicon Valley dreams. CHALLENGE: The region's biggest office landlord met COVID's remote-work challenge by aggressively updating buildings for safety and working with tenants on financial solutions. BIG LIFT: Purchased and distributed 36,000 meals from pandemic-affected restaurant tenants to help keep them afloat. OFFICE MANTRA: "Physical spaces help companies define their culture. Culture defines their brand. Brand translates into employee retention and profitability."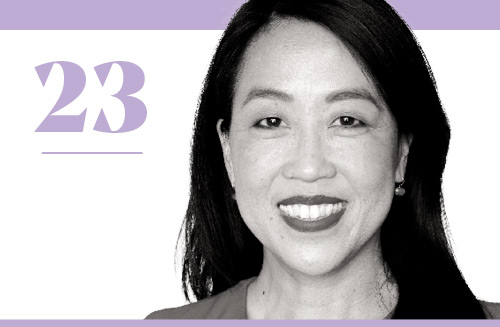 Helen Gym
Eviction Bulwark
LATEST TRIUMPH: Gym introduced one of City Council's most consequential bills of the past year, mandating mediation between landlords and tenants before the former can file for eviction. NATIONAL PLAUDITS: Everyone from the Biden administration to the New York Times editorial board praised Philly's eviction policies. MAYOR WATCH: "I'm focused on seeing real, substantial change in the City of Philadelphia for the people who need and deserve it the most," says Gym.
Joseph Forkin
River Rebuilder
Spend any time along the Delaware, and it's impossible to miss the impact of Delaware River Waterfront Corporation president Joe Forkin. Penn's Landing had languished for years as a missed opportunity for the city to reconnect with its seafaring past. It languishes no more. ¶ There's Cherry Street Pier, which has provided an open-air haven where Philadelphians can safely dine, drink and shop during the pandemic. There are the miles of new bike paths — some completed, some still under construction — stretching the Delaware River Trail from Pennsport to Fishtown. There was the demolition of the unused sky-tram tower, a monolithic reminder of past failed projects. There are new benches, new bike racks, new solar-powered lights — little things that make a place actually feel like somewhere you want to be. And then there are the big things. ¶ The Durst Organization — which won the opportunity to redevelop Penn's Landing over a bid from the 76ers' ownership group — aims to bring close to 2,400 residential units to the site, essentially creating an entire new neighborhood in the process. The proposed towers will realign a skyline that has been shifting westward for decades, with one tower slated to be the tallest building east of Broad Street. ¶ While that's waiting to kick off, Forkin has spearheaded the long-promised Penn's Landing Park, which will cap I-95 and Columbus Boulevard between Chestnut and Walnut streets. Yes, that project is already delayed, with a now-planned 2026 opening. And there will be more hiccups, and fights. But it's hard to look at the work being done along the Delaware and not be at least a little hopeful. — Bradford Pearson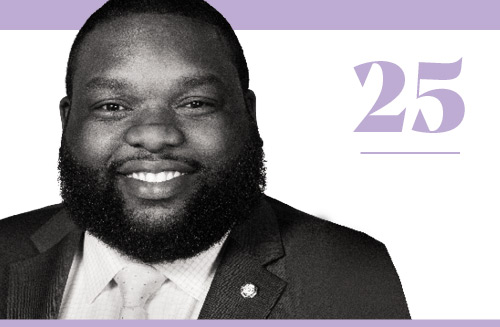 Jordan Harris
Philly's MVP in Harrisburg
STOCK: Steady. The Democratic Caucus Whip has proven to be the city's most reliable state Rep in Harrisburg as he continues to push for criminal justice reform and more in a reluctant GOP-controlled state legislature. INFRASTRUCTURE PUSH: Harris was vocal in urging the state's D.C. delegation to back President Biden's (#46) infrastructure bill, penning an Inquirer op-ed arguing it would "make good on Biden-Harris's pledges for racial equity."
Richard Vague
Man For All Seasons
MANY HATS: As the state's Secretary of Banking and Securities, Vague has had his hands full with a management crisis at PA's largest pension fund. AUTHOR, AUTHOR: Vague, a venture capitalist, published An Illustrated Business History of the United States this year and has both a biography of Colonial financier Thomas Willing and a treatise on debt in the works. IOU: Vague's interest in the relationship between private debt and financial crises prompted him to propose a "debt jubilee" in Democracy journal. He's turning that idea into yet another book.
Brad Ingelsby
Our New Hollywood Hotshot
The last great television series set in Philly that had us all obsessed was It's Always Sunny in Philadelphia. (Dispatches from Elsewhere doesn't count, aside from daily spottings of André 3000 and his flute.) That changed last spring, when screenwriter (and Archbishop Carroll grad!) Brad Ingelsby gave us Mare of Easttown. The explosive seven-episode HBO murder mystery starring Oscar-winner Kate Winslet captivated audiences everywhere with its bombshell reveals and wry humor and introduced a nation to the culinary delicacies of Wawa and the peculiarities of the Delco accent. ¶ "I can't control how many people will watch it or what the critics will say about it," Ingelsby, a Chester County native, told us before the show's debut back in April. "And I can't really worry about it. All I can worry about is whether I'm proud of the product, and I am very proud of this and my part in it." ¶ The show earned a staggering 16 Emmy nominations (and four wins!), massive critical acclaim, and a viral SNL sketch. For Ingelsby, it resulted in a three-year deal at HBO. The only question now is: What regionalisms will he unleash on unwitting audiences next? Our vote: a dark comedy about water ice. — E.O.
Tumar Alexander
The Manager With No Days Off
TOUGH JOB: Since becoming Kenney's third managing director last fall, Alexander hasn't gotten a break, what with the city's botched vaccination rollout, the MOVE remains controversy, a damaging police tear-gassing report, the encampment crisis on the Parkway, skyrocketing gun violence, highway flooding and, honestly, lots of other things we've probably forgotten. READY FOR IT: "I know more than most what that job entails in terms of work product and stress and the countless hours that you put into this job in a normal situation," Alexander told the Tribune last fall. QUOTABLE: "I know more than most what that job entails in terms of work product and stress and the countless hours that you put into this job in a normal situation."
Cristina Martinez & Ben Miller
Cause Celebs
STOCK: Rising. (It always seems to be, doesn't it?) After spending the past year serving more than 100,000 meals to locals in need, the South Philly Barbacoa duo added "vaccination gurus" to their résumé, co-hosting taco-for-a-shot events with Jefferson Health. WHAT'S NEXT: Martinez expanded her 9th Street empire earlier this year by entering a management agreement with music venue Connie's Ric Rac. CROWNING ACHIEVEMENT: That agreement comes with a liquor license!
The Haas Family
The Givers
THE ULTIMATE PHILLY FANS: "Is it good for the city?" That was how F. Otto Haas determined how to give away the family fortune. Clearly, sending $8 million to 90 local nonprofits to help them weather the pandemic was very good indeed. QUOTABLE: "The William Penn Foundation is important not only to help people during the COVID crisis, but to stabilize the neighborhood schools," says recipient Le-Quyen Vu, executive director of the Indochinese American Council. She's using her grant to help schoolchildren get on grade level. LIFETIME ASSIGNMENT: The foundation created by Haas's parents, whose board is chaired by F. Otto's daughter-in-law Janet (pictured), has doled out more than 10,000 grants in its 76 years.
Joel Embiid & Bryce Harper
Brothers in Long-Term Contracts
CONTRACT LAW: Embiid: six years, $261 million remaining; Harper: 10 years, $248 million remaining. Get comfy, you two! WHY WE LOVE JOEL: We drafted him; he stayed. WHY WE LOVE BRYCE: He chose to come … to us! NEXT UP: Championships (or for the Phils, even a freaking playoff berth) would be nice, but given the MVP caliber of play both displayed last season, just giving us a reason to tune into games for the foreseeable future is cause for celebration.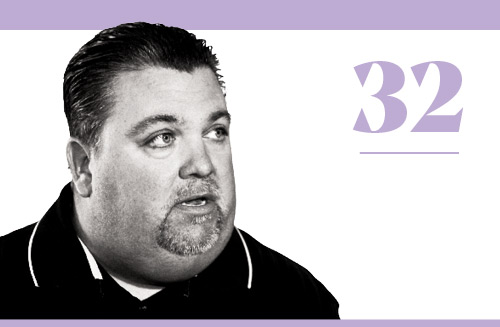 John McNesby
Status-Quo Lover
NEMESIS: Any and all police reform advocates. POLITICAL WHIFF: The FOP's endorsement of DA challenger Carlos Vega and its Republicans-registering-as-Democrats-for-the-primary gambit flopped spectacularly. Tough Bargain: The city and the FOP agreed to a new contract in September, with the city celebrating disciplinary and arbitration reforms it hopes will keep bad officers off the force and the FOP celebrating what it considers a maintenance of the status quo. "DISCIPLINE GRIEVANCE AND ARBITRATION RIGHTS 100% PROTECTED," the union proclaimed in a press release. Who's right? Time will tell.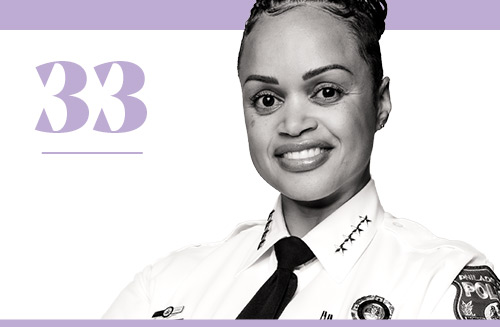 Danielle Outlaw
The Outsider
EMPTY PROMISES: This has been a murderous year — one of the worst on record in Philadelphia. When Mayor Kenney hired Outlaw as police commissioner, it was because he wanted an outsider to shake up the scandal-plagued police department and reduce the shootings. Neither has happened. CURRENT CLAMOR: City Controller Rebecca Rhynhart issued a scathing report about the department's response to 2020's civil unrest, and the Inky called for Outlaw's head for tear-gassing protesters. QUOTABLE: "No one person is responsible for the problem of gun violence in Philadelphia," says Dorothy Johnson-Speight, founder of Mothers In Charge. "It takes the police commissioner, the district attorney, and don't forget the community."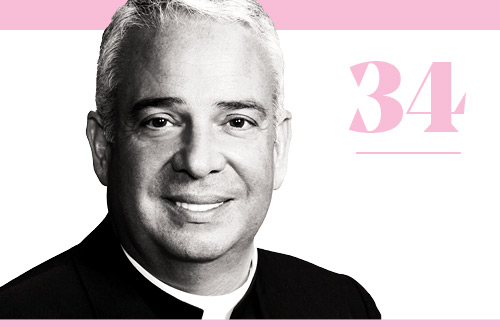 Archbishop Nelson Pérez
The Faith Healer
When Bishop Nelson Pérez replaced Archbishop Charles Chaput as head of the Philadelphia archdiocese in February 2020, it was seen as a direct message from the Vatican: We're changing the way we do business in Philadelphia. ¶ Pérez wasted no time realigning the archdiocese's priorities (though it would be hard not to; Chaput was viewed as one of the country's most conservative archbishops). On Martin Luther King Jr. Day, Pérez announced the creation of a Commission on Racial Healing, what he called "a direct response to the racial divide in our nation." ¶ "Racism is sinful, and evil, because it's an assault on the dignity of the person," Pérez said at the time. "The church is present in every corner of the world, in villages, in big cities, everywhere. And it has had to struggle right from the beginning with the blessing of diversity and the tensions of diversity." ¶ He's also tasked with finding a way to slow the decline of Catholicism in the region, which now has 214 parishes, down from 268 in 2010. He's used social media to reach out to a younger generation of Philadelphia Catholics, embracing Twitter and video messages. He met with the newly established Philadelphia chapter of the Young Catholic Professionals, a group that aims to strengthen the faith of millennial Catholics in the archdiocese, and held mass in solidarity with Cuban protesters. ¶ After years of staid archbishops, Pérez has struck a more hands-on approach — and expects his flock to do the same. "Don't observe life from a balcony, complaining about what you see, but get up and do something about it," Pérez told Al Día. "Be involved." — B.P.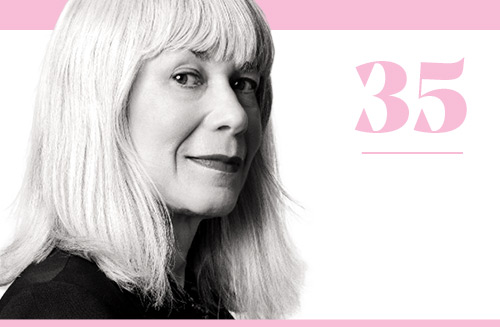 Inga Saffron
City Advocate
BOUNCING BACK: When the flap over the "Buildings Matter, Too" headline (which she didn't write) led the Inquirer's top editor to resign, it would've been easy for Saffron to play it safe for a bit. She did not. LATEST SALVOS: Saffron aimed her pen at the city's ineffectual Historical Commission, the small-minded decision to reopen MLK Drive to vehicular traffic, and tepid plans for the Parkway. CROWNING ACHIEVEMENT: Highlighting the imminent destruction of the Doctors' Row stretch of Christian Street, leading to a demolition moratorium and the likely creation of the city's first historic district dedicated to Black Philadelphians.
Josh Harris & Michael Rubin
The Billionaires
MONEY CLUB: The deep-pocketed Sixers owners make waves in and out of the arena. FORTITUDE: Despite last season's playoff flop, majority owner Harris continues to invest in The Process, locking up Joel Embiid (#31) and snapping up Rockets vet Tad Brown as his new CEO. PRINTING MONEY: Rubin's Fanatics sports apparel company saw its valuation triple year-over-year to $18 billion with the announcement that Jay-Z is investing in a new digital arm that will include betting, ticketing and NFTs. Is an IPO next? IMPACT MOVES: Rubin's REFORM Alliance with Meek Mill continues the fight against draconian probation and parole laws.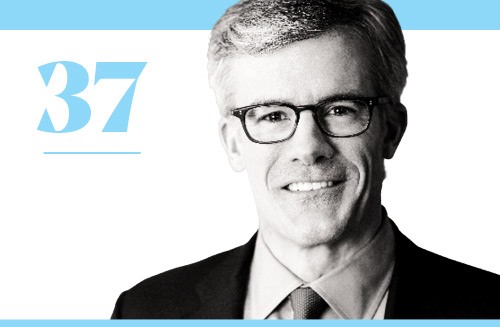 Tim Buckley
Money Man
TEA LEAVES: With Robinhood, meme stocks and impact investing blowing up the financial world, Vanguard bought Just Invest, a tech-y asset manager that allows for much more client customization than previous Vanguard offerings. QUOTABLE: "Wise investments in technology are an important equalizer, enabling us to democratize valuable investment capabilities and products," company chair and CEO Buckley said upon announcement of the deal. NEXT UP: Buckley was just named to the board of governors for the Financial Industry Regulatory Authority.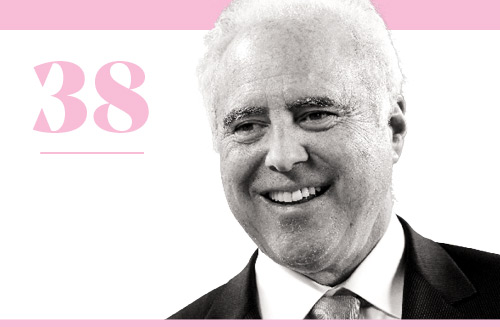 Jeffrey Lurie
The Decider
IT'S SO HARD TO SAY GOODBYE: It's early, but the Eagles owner's tough call to can Doug Pederson and usher in the Nick Sirianni/Jalen Hurts era appears to have been sound. There will be bumps ahead, but that season-opener was fun! BIG PICTURE: Through his Play/Action Pictures documentary company, he was an executive producer for Questlove's acclaimed directorial debut, Summer of Soul. CAUSE AND EFFECT: Lurie continues to fund cutting-edge autism research through the Eagles Autism Challenge; in 2021, he launched a new grant program to fund autism services.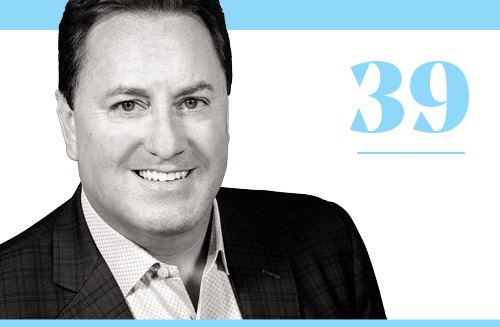 Chris Gheysens
King of the Hoagie Throne
LATEST TRIUMPH: Wawa popped up so often in HBO's Mare of Easttown that when the chain opened a new Delco shop in June, it dubbed the celebration "Mare of Easttown Day." BY THE NUMBERS: As chair of CHOP, Wawa prez/CEO Gheysens oversaw a $25 million gift to its Center for Fetal Diagnosis and Treatment … donated by the Wood family, Wawa's founders. LIFE HACK: Wawa settled a massive data-breach lawsuit in the most hoagie-friendly way imaginable: It agreed to pay most of the $9 million settlement in gift cards.
Abdul-Aliy Muhammad
Most Consistent Disrupter
Philly activists often disappear once a movement they've championed slips from the public eye. For the past five years, Abdul-Aliy Muhammad hasn't escaped our consciousness as they continue to evolve the possibilities of radical, intersectional grassroots organizing at a time when we need it the most. Whether confronting Gayborhood racism and disrupting discrimination within local LGBTQIA health-care systems as co-founder of the Black and Brown Workers Co-Op or exposing Penn Museum's collection of remains of Black Philadelphians, the West Philly native has easily become one of the most consequential activists in the city. ¶ "The leadership of Philadelphia LGBTQ and HIV nonprofits is scrutinized and held accountable because of the selfless organizing efforts of Abdul-Aliy," says longtime community activist Louie Ortiz-Fonseca. ¶ This year, Muhammad, an unapologetically Black nonbinary-queer-poz Muslim, set their sights on confronting how the Penn Museum and city government should repatriate the remains of enslaved Black people and Black Philadelphians, including those killed in the MOVE bombings. Their work around this issue — including a series of news-breaking op-eds for the Inquirer — helped precipitate the resignation of former Health Commissioner Thomas Farley. ¶ "I think the work I'm committed to supports community healing. Fighting for our ancestors to be respectfully returned and buried reaffirms their humanity and ours," says Muhammad. "It also makes it clear that our histories don't belong to institutions — that our communities have the right to explore, correct, and provide counter-narrative to long-believed stories about us." — E.O.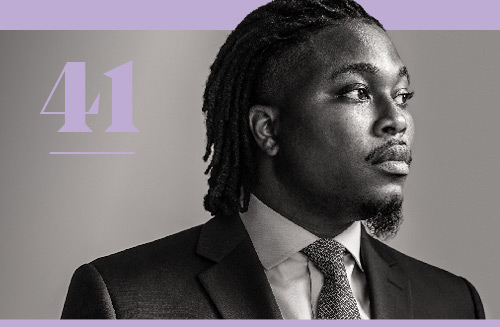 Malcolm Kenyatta
Philly's Most Ambitious Politician
He's only served in Harrisburg for a term and a half, but 31-year-old Malcolm Kenyatta has already got his sights set on the nation's capital. ¶ The millennial state Representative is currently running in a closely watched Democratic primary for U.S. Senate — a crowded one that also includes Lieutenant Governor John Fetterman, U.S. Congressman Conor Lamb and others. Although politicos say it's highly unlikely Kenyatta will be elected as the first Black senator from Pennsylvania (and the nation's first openly LGBTQ senator of color), he's pushing through anyway. ¶ "Our campaign has earned support from voters in every corner of the Commonwealth," argues Kenyatta, the first Black gay man to be elected to our state House. "Even when we go places where folks don't look like me or love like me, people are connected to this crystallizing idea that working people can speak for ourselves." ¶ He's already one of the most recognizable faces in Pennsylvania politics — he has more than 100K Twitter followers, has gone viral for his speeches on the House floor, and makes frequent live guest appearances on MSNBC. It's worth seeing if he'll be able to make history. — E.O.
David Adelman
Money Magician
BY THE BILLIONS: He's CEO of Campus Apartments, which oversees $2 billion in assets; co-founder of FS Investments, which manages $23 billion in assets; head of Darco Capital, which invests in companies that are making — or ready to make — bank, like Gopuff (#16), Wheels Up and more. PASSION PROJECT: Of his Darco Spirits: "What I want to do is upend the alcohol business," which he sees as ripe for entrepreneurial disruption. FAMOUS FRIENDS: He's an investor/board member for Seahawks QB Russell Wilson and wife Ciara's new fashion platform, House of LR&C. HOW DOES HE DO IT all? "It gives me energy to help build businesses and to try to solve problems."
Josh Kopelman
Venture Capital Godfather
BONA FIDES: The VC community speaks of the low-profile First Round Capital founder in hushed tones. "He's perfected the skill of seed-stage investing at scale," says Dean Miller of the Philadelphia Alliance for Capital and Technologies — which gave Kopelman a legend award this year. Miller notes that Kopelman realized before most others that "diverse founder teams make better companies." LOCAL IMPACT: As board chair at the Inquirer, Kopelman drives innovation at Philly's biggest news outlet. GLOBAL IMPACT: "First Round is one of the most important early-stage venture capital companies in the nation," says fellow VC honcho Richard Vague (#26). Getting its backing "is almost the gold standard, the seal of approval."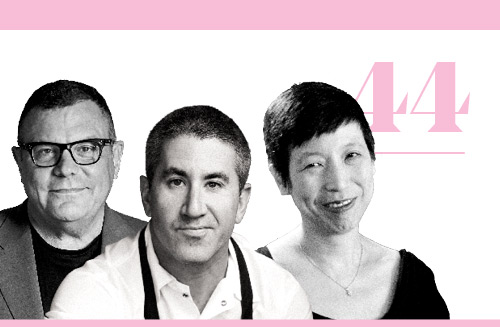 Stephen Starr, Michael Solomonov & Ellen Yin
The Old Guard
KRYPTONITE: For one of the country's greatest restaurant towns, COVID was the existential threat. These restaurateurs, who collectively opened some 30-odd scene-defining spots over the past three decades, did what they do best: innovate, hustle, and persevere. SURVIVAL: The past 20 months left Zahav, the golden child of our scene, for dead. Solomonov and partner Steve Cook built a yurt village outside its doors, offering diners (with AMEX cards) $90 tasting menus. Meanwhile, Yin combatted the rise in anti-Asian hate with her Wonton Project — a dumpling drive whose proceeds benefited Asian Americans United and Asian Americans Advancing Justice. NEXT UP: Even after the past year, Starr managed to become a partner in two new Philly concepts: LMNO, a Fishtown Mexican restaurant, and Bankroll Club, a tech-y sports and entertainment venue in Chestnut's old Boyd Theater.
Omar Tate, Jennifer Zavala & Nok Suntaranon
The New Guard
Chutatip "Nok" Suntaranon came onto the scene in 2019 without apologizing for anything. Her homestyle cooking, served out of a tiny Bella Vista BYOB, was spicy. If you didn't like it? Tough. If you found the dining room too loud? Too bad. Instead of pad Thai and your choice of red or green curry, she carefully shaped chicken dumplings into small blue flowers. She tossed monkfish in turmeric sauce and served hunks of barramundi in a sweet-and-sour water curry. Prices are higher at her Kalaya than at any other Thai restaurant in town, because she knows an unequivocal truth: Guests should pay good money for good products.
Her bet has paid off. Esquire named Kalaya one of America's best new restaurants. Defined Hospitality, the group behind Suraya and Pizzeria Beddia, announced in September plans to build out a second Kalaya in Fishtown. At 160 seats, it will be bigger — which means a bigger platform on which Suntaranon can flex her talents, her swagger, her unapologetic vision.
While the creations that come out of Philly kitchens have never lacked ingenuity, there's been a lot less innovation in how the restaurants themselves are run. So when people like Suntaranon come along, it's special. When Jen Zavala — who went from professional kitchens to an illegal tamale truck to a pop-up birria shop to, soon, her own little taco and tamale shop called Juana Tamale in East Passyunk — starts, you know, doing, the rest of the city takes notice. At Juana Tamale, Zavala plans to take a swing with her business model: $15 an hour to her employees, a 20 percent gratuity charge added to each check (split between back- and front-of-house), health insurance, a month of paid vacation. Daring stuff from a taco shop open just three days a week.
We notice people like chef-writer-poet Omar Tate, who started a GoFundMe to raise money for a community farm/market/cafe called Honeysuckle. After a year of failed negotiations on locations, with community support and sheer grit, Tate and his wife and business partner, Cybille St. Aude-Tate, wrangled together $125,000 — enough to secure a space at 48th and Spruce, where they'll start out small: an affordable micro grocery that sources from the region's Black farmers and its own community farm, with an all-day cafe to boot. Eventually, they'll expand into bigger digs (with help from the Enterprise Center) at 52nd and Market.
In a town that loves food, they've shown new ways to love Philly. And in a year when the goal for most of us was just stasis, they've been taking risks and taking action. The scene and the city are better off as a result. — Alex Tewfik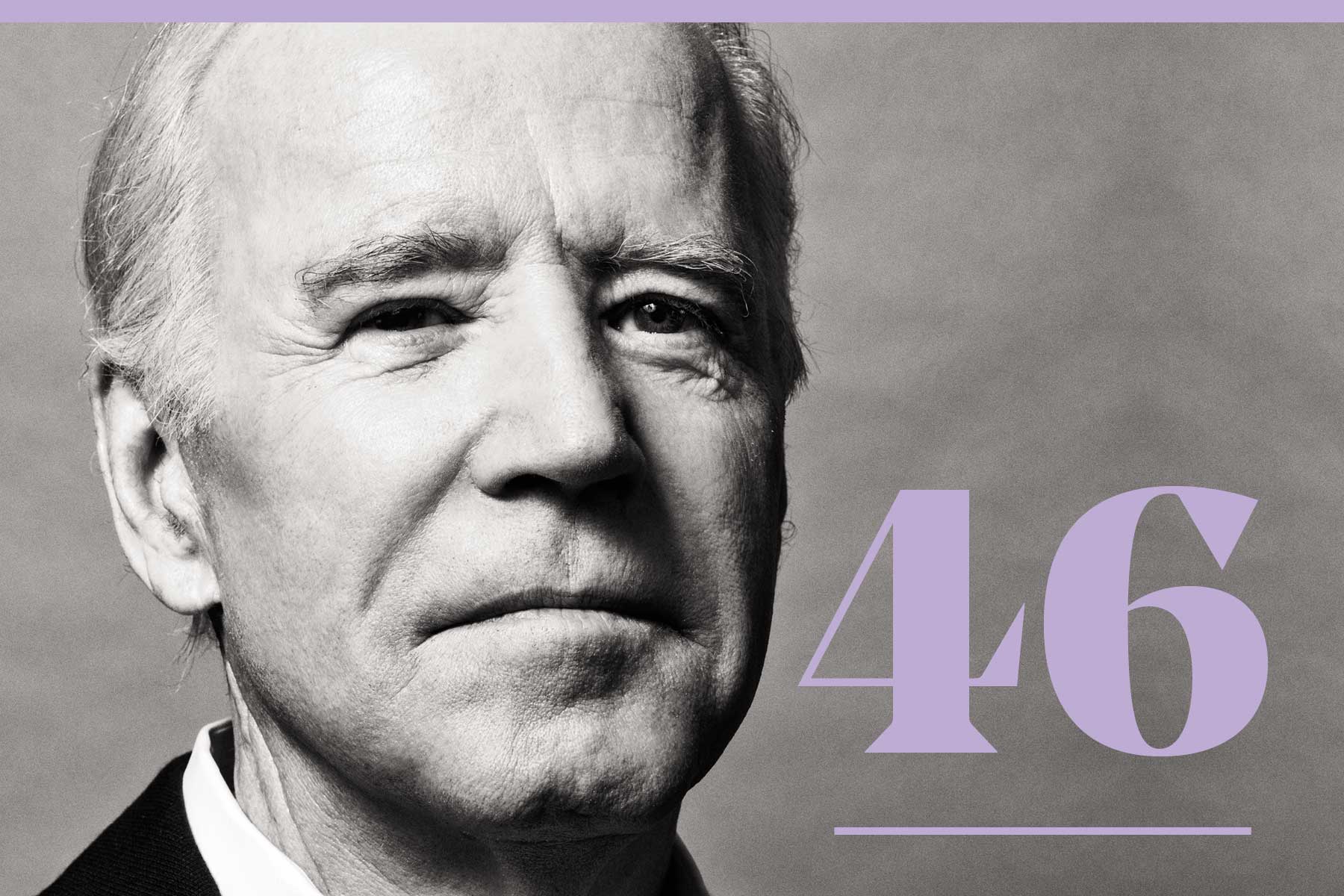 Joe Biden
Commander-in-Promise-Keeping
Going into inauguration day, American's 46th president found himself in debt: Specifically, he owed Philadelphians (suburban Philadelphians, especially) after we helped him clinch his victory.
He might have predicted this all along. He did name our city his official campaign headquarters in 2019, not long after opening the doors of the Penn Biden Center for Diplomacy and Global Engagement with his soon-to-be-German ambassador, Amy Gutmann, a year before that.
But Scranton's son and Wilmington's uncle, who married a doctorate-holding First Lady who grew up just outside our city, kept his promise to "win your hearts, your trust, and your support" when he made sure Philly got $1.4 billion from the American Rescue Plan this spring.
Thanks to that infusion of cash, our arts orgs, libraries and city services got refunded in this year's fiscal budget — and a million Philadelphians got another stimulus check. Promises made, promises kept. — E.O.
Brian Fitzpatrick & Martina White
The Republicans
THE BASICS: Fitzpatrick represents purple Bucks County in the U.S. House. White, an FOP-backed state Rep from deep red Northeast Philly, is the fresh-faced head of the city's once-flagging GOP. POWER POSITIONS: Fitzpatrick co-chairs the House's bipartisan "Problem Solvers Caucus" and, as a member of the Foreign Affairs committee, wants answers about the Afghanistan withdrawal. White recently joined the board at SEPTA; she'll be lobbying Harrisburg for funding. IT AIN'T EASY: Fitzpatrick's PSC introduced an infrastructure compromise that's received bipartisan scorn. White's proposed legislation to let Pennsylvanians recall elected officials had its scope narrowed in committee to only impact … Philadelphia.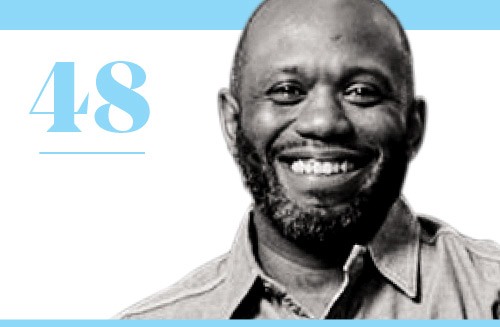 Tayyib Smith
Renaissance Philadelphian
STOCK: Steady. The lifelong city resident's vision to expand diverse real estate collaborations, tech partnerships, and professional network-building remains unmatched. MAN OF MANY PROJECTS: Smith just launched the Collective, a new Black-led hub for real estate developers, investment professionals, and public policy experts. He also recently won a $240,000 Pew Arts & Heritage grant for the 7th Ward Tribute, an endeavor he describes as his "life's work" to pay homage to the profound Black history of the iconic ward.
M. Night Shyamalan
Unbreakable Auteur
FLASHBACK: Thirty years ago, an unknown walked into the office of Greater Philadelphia Film Office boss Sharon Pinkenson, showed her a script, and shared his plans to become a big-time Philly director. "When he left, I said, 'He's it; he's going to make my life and career,'" Pinkenson says. TRUE TO HIS WORD (MOSTLY): Thirteen movies later, Night's latest film, Old — only his second not shot in Philly, along with his 1992 debut; hey, we'll grant the occasional exception — came out in July. NEXT UP: Season 3 of his hit filmed-in-Philly series Servant is due out soon, and per Pinkenson, there's another film in the works, too.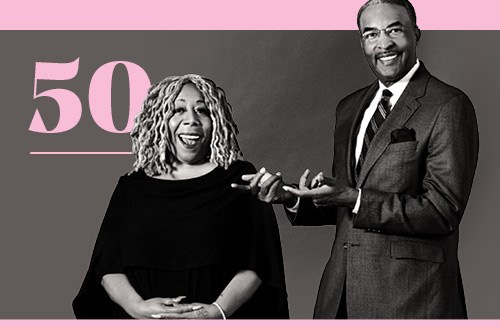 Ukee Washington & Patty Jackson
Broadcasting King and Queen
In Philly, there's only one Ukee and one Patty, both broadcasting legends who have only grown more beloved over the years in an industry that often ruthlessly replaces its talent. ¶ The legendary weekend co-anchor of CBS 3's Eyewitness News, Washington saw his perseverance put to the test in January when a report on racism and sexism at CBS News revealed that now-axed execs reduced the news veteran's talent to "jive talking" and "dancing." ¶ "We all have the power to create change, and we can do it together," the West Philly native said on-air at the time, following a massive #WeStandWithUkee campaign by thousands of his fans. "I do believe we shall overcome. We must." ¶ Such endurance is what has also kept radio personality Patty Jackson going in a nearly 40-year career that's only grown since she became the midday host of 105.3 WDAS-FM. She didn't let the pandemic get in the way of continuing to expand her media brand, whether it was a new hit podcast or hosting her epic "Party in the Park" concert at the Dell Music Center. ¶ "A lot of people listen to me, and they trust me," Jackson says. "I am a mom, an auntie, a stroke survivor, and the type of person you sit next to at a party if you want a good laugh." — E.O.
Keith Leaphart
MCP (Most Connected Philadelphian)
STOCK: Rising. As the founder of social tech company Philanthropi and board chair of the Lenfest Foundation, the physician/philanthropist/entrepreneur is often referred to as "Doctorpreneur" for his crossover appeal in various industries. BOARD BOSS: Leaphart also serves on the boards of the Lenfest Institute for Journalism, the Philadelphia Health Management Corporation, the Inquirer, and Comcast Corporation's external Joint Diversity Advisory Council.
Donald "Guy" Generals
College Commander-in-Chief
STOCK: Rising. The Community College of Philadelphia president has raised the profile of the campus with smart and savvy moves, such as making CCP the first public college in the region to enforce a COVID-19 vaccine mandate for faculty, staff and students. BIG NUMBER: $2.75 million — in federal relief funds Generals used to pay off outstanding account balances for close to 3,500 students.
Bill Golderer
Preacher Man
THE TALK: Jesus said the poor will always be with us, but Golderer, an ordained Presbyterian minister, says that doesn't mean the rest of us should do nothing. BIG STICK: Since 2018, his pulpit has been the United Way of Greater Philadelphia and Southern New Jersey. When COVID struck, it helped raise and distribute $18 million in funds to nonprofits. QUOTABLE: "Bill's passion to infuse change in our community is refreshing," says Chris Woods, former president of AFSCME 1199C, which represents health-care workers across Philadelphia.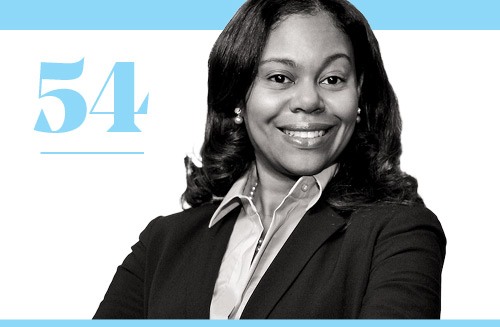 Regina Hairston
Black Business Queen
IMPRESSIVE TRANSITION: Following the abrupt departure of her short-tenured predecessor, the African American Chamber of Commerce president hasn't missed a beat as she's raised the profile of the city's longtime Black business hub with increased corporate partnerships and bolder pandemic relief programs. STEPPING UP: In August, Hairston launched AACC's first cohort pairing Black business owners with CEO mentors as part of its buzzworthy "BuildingBackBlack" initiative.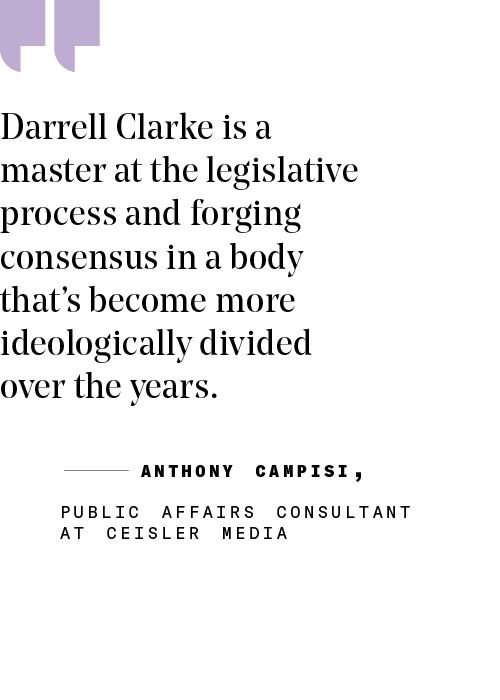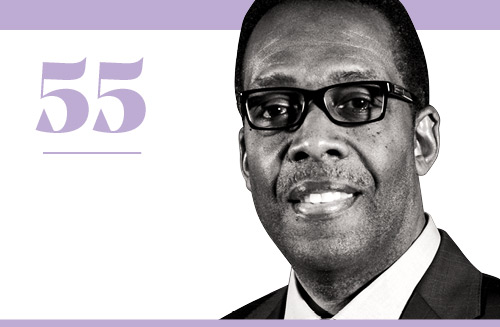 Darrell Clarke
Backroom Dealer (in a Good Way!)
LATEST TRIUMPH: As City Council president, Clarke orbits plenty of legislation, but he's most keen on hyping up the $400 million "neighborhood preservation initiative," which will touch everything from affordable housing to investment in commercial corridors and job creation for Philadelphians of color. TOP SKILL: There's a reason you see so many near-unanimous Council votes. "He's a master at the legislative process and forging consensus in a body that's become more ideologically divided over the years," says Anthony Campisi, public affairs consultant at Ceisler Media. "A unified City Council means a stronger City Council." Power play: While that consensus building often takes place behind closed doors, Clarke stepped to the fore in September to propose a bill that would, much to developers' chagrin, transform Philly's zoning board by giving Council more power over its appointees.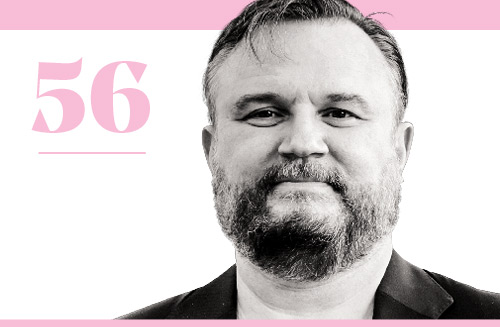 Daryl Morey
Ben Simmons Sales Rep
BIG QUANDARY: Here's the Daryl Morey problem: Ben Simmons has demanded a trade; everyone (Simmons excluded) knows he's overrated; Morey can't accept a low-return trade lest he put his own job at risk. POSSIBLE SOLUTION: Aside from setting fire to every clip of Sixers-Hawks Game 7 and sending frantic DMs to fellow GMs with clips of Ben draining threes in an empty gym? Honestly, we don't know. HIGH STAKES: "Morey's whole legacy is going to come down to what he does with Ben Simmons," says WIP sports-radio host Rhea Hughes.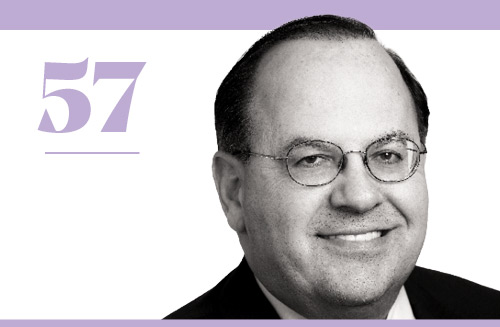 Allan Domb
Councilmember at a Crossroads
POLICY REPORT CARD: Trending down. Domb hasn't kept pace with the bloc of progressive Councilmembers who've had more success turning their ideas into law. Of course, Domb could always do something else that might change his fortunes. … MAYOR WATCH: "As a current City Councilmember, I can only say that I'm exploring all options. But I can say that I do believe leadership is key, and not just in the Mayor's Office, but across the board."
Carl Dranoff
Mr. Luxury
CROWNING ACHIEVEMENT: Dranoff has made it his life's work to bring luxe living to South Broad's Avenue of the Arts. Arthaus, the 47-story building the developer calls his "trophy structure," topped out in February. UP NEXT: Another Ave Arts project, a 28-story apartment building at Broad and Pine. UP NEXT-NEXT: Yet another project on the Avenue, though he's keeping the details close: "I used to say, 'Macy's doesn't tell Gimbels,' but maybe now I have to say, 'Neiman doesn't tell Bloomingdale's.'" WHY THE AVE? "Every city needs a great street. The Avenue of the Arts is ours."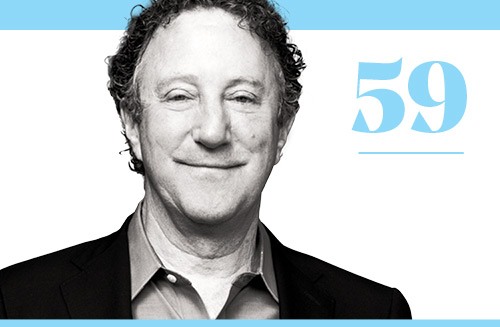 Jim Friedlich
Destroyer of News Deserts
THE WRITE STUFF: The Lenfest Institute for Journalism, which Friedlich heads, is the parent organization of the Philadelphia Inquirer, the largest paper under nonprofit leadership. MR. FRIEDLICH GOES TO WASHINGTON: Friedlich is now advocating for passage of the Local Journalism Sustainability Act, which would provide citizens with tax credits for local media support. QUOTABLE: "Jim is at once smart, compassionate, strategic and forward-thinking — all qualities that make him a force in the ongoing transformation in journalism in Philadelphia, in Pennsylvania and across the country," says Christopher Baxter, executive director and editor-in-chief of Spotlight PA.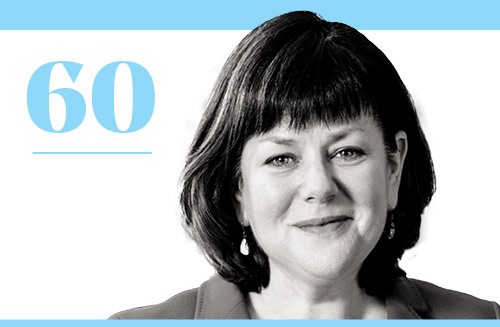 Chellie Cameron
Frequent Flyer
LATEST TRIUMPH: The Philadelphia International Airport CEO was one of the industry's top advocates in Washington this year, eventually bringing $260 million in federal funds back to the city. QUOTABLE: The airport is facing a three-to-five-year recovery from the pandemic, Cameron told a Philadelphia Business Journal panel. The key? "Without the business traveler, what you have are spikes and huge valleys." WHAT'S NEXT: Before the pandemic hit, Cameron was trying to woo a Tokyo route out of Japan Airlines. Fingers crossed.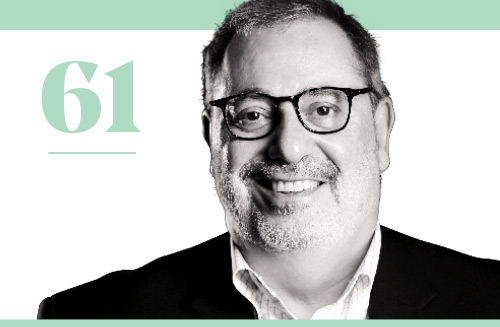 Luis Cortés Jr.
Impact Preacher
PANDEMIC CHALLENGE: The founder, president and CEO of multi-faceted North Philly-based Latino organization Esperanza (it's a college, a charter school, a theater, a policy advocate … ) worked with the city, state and FEMA to bring a clinic to its campus, where 25,000 were vaccinated. LATEST TRIUMPH: Esperanza-owned newspaper Impacto battled COVID misinformation in the underserved Latino community. NORTHERN EXPOSURE: As a member of the Kimmel Center board, he brings the arts center's resident companies to North 5th Street for performances where kids get in for free.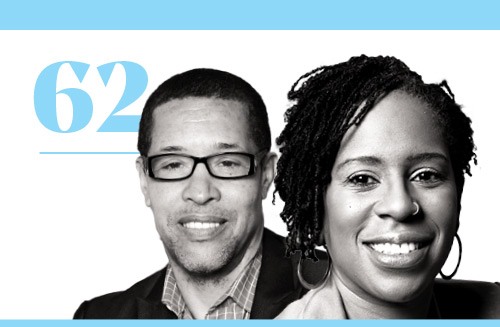 Gregory Reaves & Leslie Smallwood-Lewis
Good-Guy Developers
LATEST (TINY) TRIUMPH: Following last year's Parkway encampment protest, city officials promised to support a 12-unit tiny-house development in West Philly. Reeves and Smallwood-Lewis's firm, Mosaic Development Partners, won the contract. OTHER PROJECTS: Mosaic is one of two developers on the $2.6 billion Navy Yard revitalization. QUOTABLE: "We believe we need to bring new incomes to neighborhoods that haven't had them, because that's what spurs additional commerce," Reaves says. "But we also think that we shouldn't be excluding people who have been there all their lives."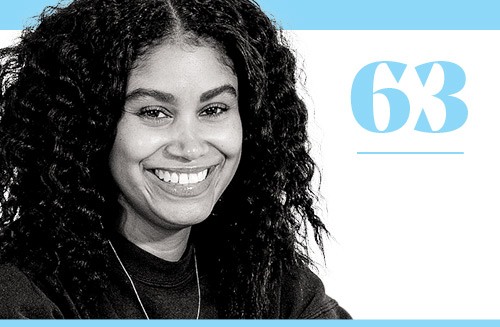 Shannon Maldonado
Taste Shaper
DESIGN CRED: Her artfully curated Queen Village boutique Yowie — stocked with an ever-changing collection of work from emerging ceramicists, bold textiles, and her own line of technicolor sweats — was the launch pad to designing interior spaces like boutique hotels (the Deacon, and then Dye House in Providence, Rhode Island) and Ethel's Club in NYC, a social club for people of color. NEXT UP: She's spreading out, with a slew of projects under her belt and in the works: a recent partnership facilitated by American Express, a couch designed for modern furniture brand Dims. LATEST TRIUMPH: Maldonado just signed a lease for a forthcoming retail/studio/hospitality space, expanding her thriving brand and boosting a sagging section of South Street in the process.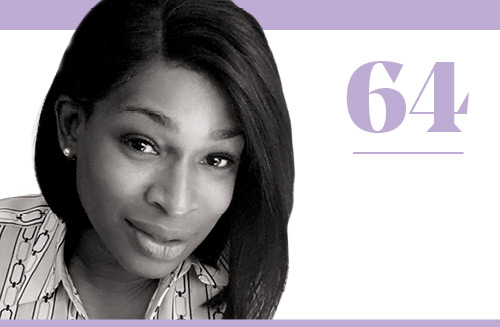 Celena Morrison
Rainbow Connector
RAPID RESPONSE: As executive director of the city's Office of LGBT Affairs, she commissioned a COVID resource guide for the LGBTQ+ community that covered everything from tests and shots to child care and mental health services. BIG VISION: Aggregating sexual orientation and gender identity data for the city's workforce and developing guidelines to support transitioning employees. DON'T ASK HER TO … Head up Philly Pride. "Not that I wouldn't be an amazing person, but do we really want a government office leading those celebrations?"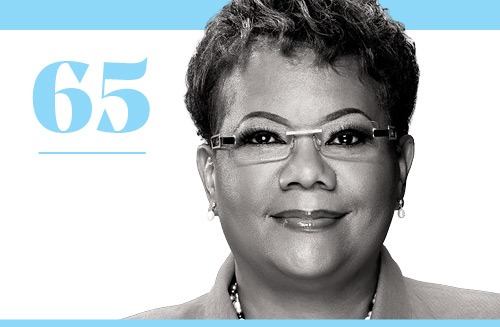 Della Clark
Entrepreneurial Empress
PANDEMIC PIVOT: The Enterprise Center CEO hasn't stopped advocating for small businesses in the city, telling thePhiladelphia Citizen in July that "access to capital is the number one disrupter for small businesses." BIG NUMBER: $50 million — the sum she helped raise for Innovate Capital, a small-business equity fund focused on supporting diverse entrepreneurs in the city.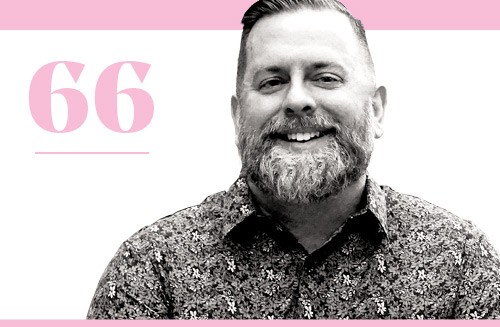 Kory Aversa
Hardest-Working Man in PR
PANDEMIC PIVOT: The Aversa PR & Events CEO hasn't stopped striving to keep many of your favorite restaurants and hot spots (such as Uptown Beer Garden, Inis Nua Theatre, Garces Group, the Philadelphia Zoo and Morgan's Pier) alive, well, and all over your social media feeds. OVERACHIEVER: Since the beginning of the pandemic, Aversa has overseen the media rollout of a massive 70-plus grand openings in Philly, including new favorites like Wonderspaces, Blume Burger, and French Toast Bites at the Cherry Street Pier.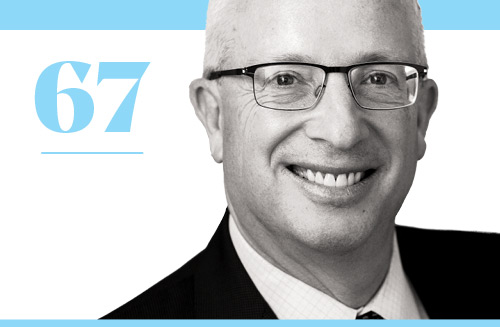 Michael Heller
Legal Eagle
STRONG SUIT: As executive chair and CEO of the Cozen O'Connor law firm, he's juiced the profile — and bottom line — of one of the region's most venerable law firms. GREAT VENTURES: Was an early investor in Beachbody and Valley Forge Casino Resort. BIG SPENDER: A major campaign contributor with a strong interest in who leads the city: "City Council needs to do a better job of being business-friendly." HIGH PRAISE: "Michael has done a wonderful job transforming Cozen O'Connor from a nice regional firm to a national powerhouse," says financier and friend David Adelman (#42).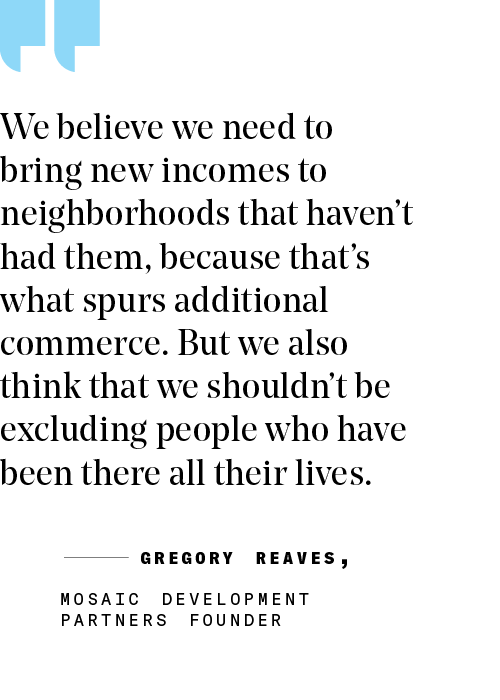 Ira Lubert & Dean Adler
Giant Resurrectors
LATEST TRIUMPH: For 37 years, Fishtown's massive PECO Delaware Generation Station has sat empty, occupied mostly by film crews and vermin. Now, a $30 million renovation by Lubert-Adler Real Estate Funds is expected to bring nearly 260 residences to the former site of the world's largest turbo generator. KA-CHING: In addition to investments across the country, Lubert is teaming up with Bally's to bring a casino to Happy Valley.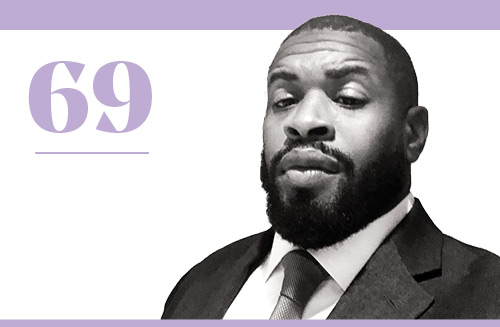 Brandon Evans
Ultimate Political Insider
QUIET STORM: The Florida transplant has been rather low-key in his involvement in some of the city's biggest political races. As returning campaign manager for Larry Krasner, he helped secure a massive landslide, just as he did for Mayor Kenney in 2019. JUGGLING ACT: Not only did Evans manage Krasner and Kenney's campaigns; he's also the political director of controversial activist Shaun King's Real Justice PAC and Grassroots Law Project endeavors.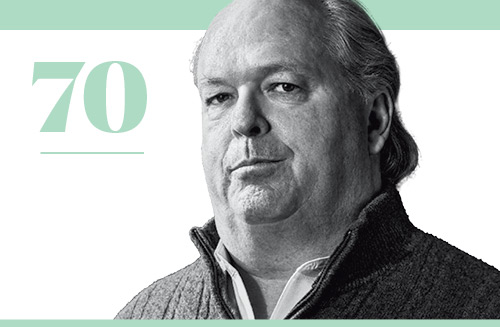 Brian O'Neill
Biotech Baron
CROWNING ACHIEVEMENTS: O'Neill's 33-year, multibillion-dollar real estate portfolio boasts Recovery Centers of America, luxury apartments throughout the 'burbs, and the 1.6 million-square-foot Discovery Labs in King of Prussia. BOLD MOVE: Last year, he entered the cell and gene therapy world with the announcement of the Center for Breakthrough Medicines — a projected $1.1 billion manufacturing hub for advanced end-to-end therapeutics.
Nicolas O'Rourke
Third-Party Wonder
STOCK: Rising. Since coming close in 2019 to becoming just the second third-party candidate to win a Council seat, O'Rourke hasn't disappeared. As the Working Families Party's director of organizing, he's helped to make it a consistent fixture in Philly politics. ALLY IN ACTION: Following rapper DaBaby's homophobic rant this summer, O'Rourke led the effort to remove him from headlining WFP's Can't Wait Live concert at the Mann Center, making it the first live event to drop the artist after the controversy.
Errin Haines
Philly Correspondent
HARDWARE: She recently took home Morgan State University's Vernon Jarrett Medal for Journalistic Excellence for her outstanding reporting on the impact of the coronavirus on Black life in America. MANY HATS: While still serving as editor-at-large for nonprofit news outlet The 19th, Haines is also overseeing the Inquirer's ambitious A More Perfect Union project. NEXT UP: A two-book deal with Simon & Schuster; the first, chronicling the rise of Black women in American politics, is due in 2022.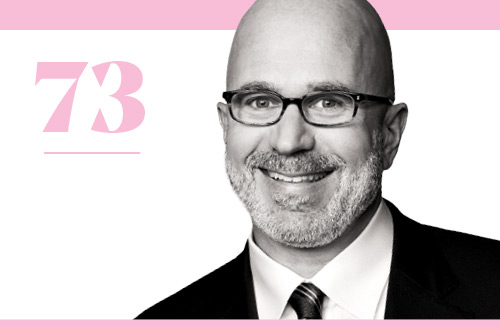 Michael Smerconish
The Middle Man
MEDIA MOGUL: The self-styled centrist preaches from his daily satellite radio show on SiriusXM, a weekly cable show on CNN, and two new podcasts. PRESTIGE GIG: Was tabbed to fill in for a vacationing Chris Cuomo — CNN's highest-rated host — this past summer, a gig he says he was handpicked for by CNN prez Jeff Zucker. QUOTABLE: "I'm not playing to the extremes. I'm trying to lead by example: You don't have to be like all those guys to succeed. And I'm doing just fine."
Ali Perelman
Progressive Disrupter
BY THE NUMBERS: The $300,000 or so Perelman's Philadelphia 3.0 spent backing challenger Jamie Gauthier (#21) in 2019 helped usher in one of Council's most dynamic new members — another example of the PAC's political haymaking. SQUAD GOALS: Get more Philadelphians involved in politics at the ground level, groom a slate of Council candidates for the momentous 2023 primaries, and lead the push around City Council redistricting. WHY COUNCIL DISTRICTS MATTER: "People pay less attention to local government, but you're still talking about elected officials choosing their own voters."
Marc Lamont Hill
Truth Talker
PACKED RÉSUMÉ: Hill owns Uncle Bobbie's bookstore in Germantown, hosts talk show Black News Tonight nightly on BNC, has his own podcast — oh, and he's a media professor at Temple. QUOTABLE: "I see myself primarily as an educator. That takes lots of platforms. What I try to do with all of them is create space for critical dialogue." NEXT UP: Hill dreams of starting up a major book fair in Philly for Black and independent authors.
Jeff Yass
PAC Man
STOCK: Rising. Literally. As co-founder of the Susquehanna International Group, Yass has made his $12 billion fortune trading stock options. video star: Susquehanna was an early investor in TikTok. Now do one of those viral dances! WHITE WHALE: A longtime proponent of private and charter schools, Yass gave more than $12.5 million to his Students First PAC in 2020. OOPS: Yass also gave $21 million in 2020 to the Club for Growth PAC. After candidates supported by the PAC claimed that the 2020 presidential election was stolen, Yass denounced them, saying, "Sometimes politicians deceive their donors."
---
EDITED BY

Bradford Pearson, with Brian Howard and Ernest Owens
CONTRIBUTORS

Laura Brzyski

|

Kate Dailey

|

Lynette Hazelton

|

Sandy Hingston

|

David Murrell

|

Regan Fletcher Stephens

|

Alex Tewfik
PHOTOGRAPHERS

Stuart Goldenberg

|

Colin Lenton