News
Charlie's Is Opening with Roast Pork, Breakfast Sandwiches, and Beer in Pennsport
The all-day sandwich spot is an extension of Pennsport Beer Boutique.
---
Back in March, we told you that the folks behind Pennsport Beer Boutique were planning an expansion. Charlie's Roast Pork, originally conceived as a sports bar, will be an all-day sandwich specialist focusing on house-roasted pork and beef — and it's officially opening the morning of Monday, July 22nd.
Co-owner Heather Tricario tells Foobooz that Charlie's will offer breakfast sandwiches with toppings like ham, scrapple, pork roll, hot peppers, or broccoli rabe in the mornings. For lunch and dinner, they'll serve roast pork and beef sandwiches, cheesesteaks, chicken cutlets, blackened chicken salad, and burgers on rolls from South Philly's Carangi Baking Company. There will also be a kids' menu with child-friendly fare like hot dogs and grilled cheese sandwiches, too.
In terms of beverages, Charlie's and Pennsport Beer Boutique are connected — the sandwich shop is behind the bar — so guests will be able to order beers at the bar to drink in the restaurant, or food from the restaurant to enjoy in the bar or beer garden.
Charlie's Roast Pork is located at 1301 South 3rd Street. Hours to start will be Monday through Thursday from 8 a.m. until 8 p.m., Friday from 8 a.m. until 10 p.m., Saturday from 10 a.m. until 10 p.m., and Sunday from 10 a.m. until 8 p.m., with expanded hours coming this fall. Check out the menu below (click to embiggen).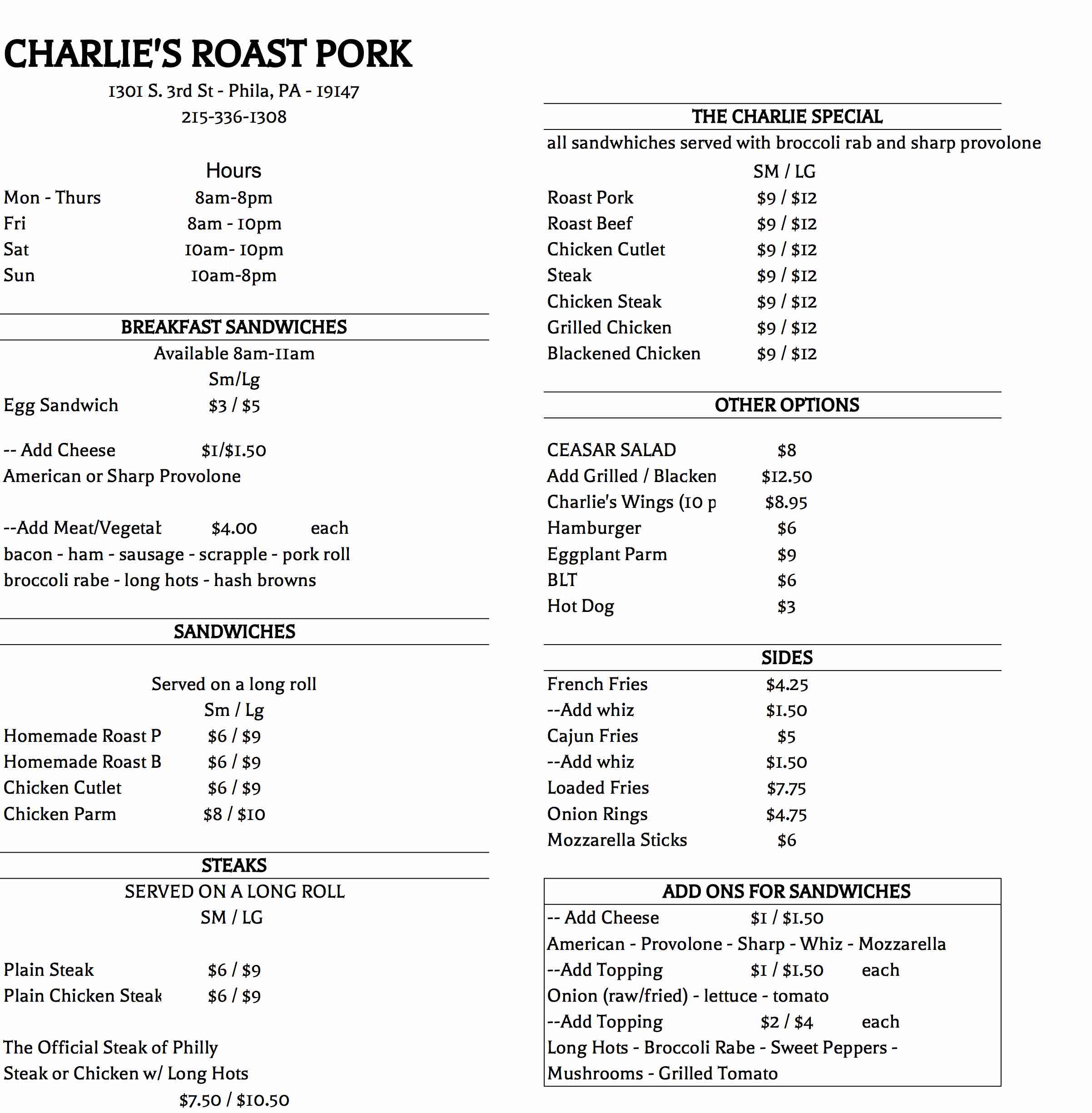 ---
---