Dim Sum House's Giant King Crab Dish Is a Meal of Epic Proportions
It's a stunning 10 pounds of crabmeat, prepared three ways, that serves six to 10 diners — and you get to meet it before you eat it.
---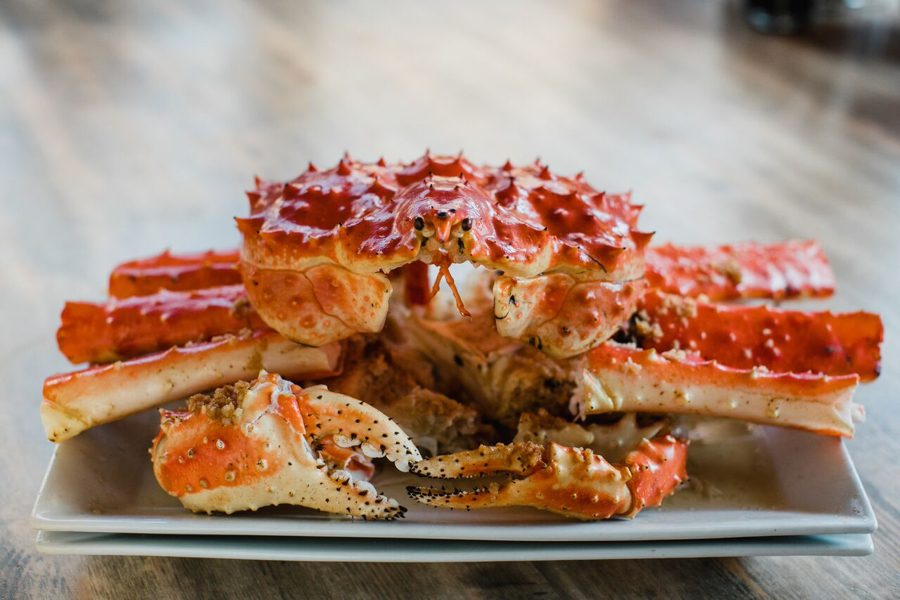 The next time you want to impress someone — or you're looking for an unforgettable dining experience that's perfect for a small group — University City's Dim Sum House has you covered with their new Norway king crab.
But this is way better than the precooked, flash-frozen king crab legs you may have had before. Co-owners Jane Guo and her son Jackson Fu had six 40-gallon fish tanks installed to hold live Maine lobsters, striped bass, and, of course, giant Norwegian king crabs that are the size of a small dog. Their restaurant is the only one in the region offering this style of crab, too.
"These recipes have been passed down through generations of chefs from the southeast coast of China, where seafood is huge," Fu said. In China especially, he said, dim sum is seen as a brunch or daytime dish, so serving a meal with king crab at the center is a way to make a celebratory or business lunch or dinner a little extra special.
This outsized crab offers eight to 10 pounds of meat, although Fu says the ones they've gotten in so far have weighed in closer to 10. And when you order the Norwegian king crab, Fu says, the kitchen is happy to let you meet your meat — that is, the actual crab you'll be eating. From that point, it's 30 minutes max from tank to table.
The kitchen at Dim Sum House prepares this outsized delicacy three different ways. First is a tender, almost souplike egg custard, which has been subtly infused with the crab's briny yet sweet flavor. It's served in the crab's upturned shell.
Next is the knuckle of the crab — the joints where the legs meet the body. These segments are steamed in a mild ginger and scallion broth with a soy-based sauce and feature large, tender pieces of meat that are easy to grab with chopsticks or a fork.
Finally, the crab legs — the star of the show — are lightly battered and flash fried, then given the XO stir fry treatment with flavorful minced pork. Use claw crackers to open then up and then and dig in to the super sweet flesh inside.
Of course, a delicious spectacle like this doesn't come cheap. The Norway king crab goes for $388, which is why it's great for groups. That specific price point, Fu says, also has a special significance in China, as the number eight is considered lucky.
For a smaller group of six, Fu says, the three crab dishes may be all you need for a satisfying meal. For bigger groups of eight or 10, order up a few other dishes to round things out — which shouldn't add too much to the bill, since many of the dim sum classics on the menu are under $10. The kitchen has recently added more than 20 new items, including seafood like ginger-scallion Maine lobster and salt and pepper squid, so there's lots to choose from.
If you're set on the king crab, Fu recommends calling a day or two before your reservation to make sure they'll have one in stock, but they're planning to have two in the tanks at all times. Make your reservation here.
---
---