About
From your first call to the museum to that final craft cocktail at the end of your wedding, you will feel the combined expertise and personalized planning excellence of the Barnes' special events team paired with our passionate Constellation Culinary specialists at every step of the way. Our team provides thoughtful customized planning, menu design, warm hospitality and event execution with keen attention to detail and creativity. We are dedicated to providing best-in-class entertaining experiences for one-of-a-kind weddings!
Services you offer:
A Beautiful Facility, Custom Catering and Memorable Art!
What is your typical process for working with a new client?
From inquiry to execution, we are there every step of the way. We will help create the perfect menu, look, and service plan for your event.
What services are you most excited to offer?
- Micro-Event (Weddings & Social)
- Curated Locally Sourced Menus
- Creation of an Immersive Experience (art, location, experience, culinary)
What makes your business stand apart?
- Location, Location, Location
- World Class Art
- Culinary Expertise | Seasonal, Locally Sourced, Memorable Menus served by people who love food and love events
What do clients have to say about you?
" Working with the Constellation team at the Barnes Foundation is always a flawless event. They provide attention to every detail, from concept to execution, our couples always comment on their exceptional dining experience." – Susan Norcross | The Styled Bride
What items or products you can provide to clients?
State of the Art Facilities | Exhibit Access
World Recognized Architecture | Indoor & Outdoor Spaces
Customized Catering | Locally Sourced Seasonal Menus
In House Customizable AV & Lighting
A Fully Furnished Garden Pavilion
A Turnkey Garden Restaurant for Intimate Events
Stunning Grounds for Photography
Bridal Suite Access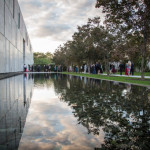 Keywords:
Intimate & Grand Indoor and Outdoor Event Spaces, Guest Capacities: 1-800, Curated & Customized Events, Gallery Access for Guests