Concert Review: Andrew Bird Gets Serious at the Electric Factory
The singer-songwriter leaned heavily on the new material.
---
Opening, as he often does, by picking away at his violin to create beautiful riffs that meander between dissonance and classical music ruminations, Andrew Bird set a mysterious and wondrous tone Monday night at the Electric Factory. His set drew heavily from the brand new
Are You Serious
, but he employed some of his older tricks as well, like talking to himself while singing to the crowd. The most striking example of this was "Left Handed Kisses," a duet (on the album with Fiona Apple) he performed solo. Matters of the heart figured heavily, as on "Bellevue," which he prefaced by saying it was unfinished on the album but had since reached a finer ending.
A master at looping his many instruments — be they guitars, violins, or his singular whistling style — Bird really took flight with older works like "Imitosis" and "Plasticities," creating a vivid pastiche of electronic and acoustic sonic delights. His crack band added further dimensions to these songs.
A startling display of psychedelic rock that runs the gamut from Grateful Dead jam band status to the eccentricities of modern alt rockers like Grizzly Bear, openers Boogarins, from Brazil, were stunning to watch, especially lead guitarist and vocalist Dinho Almeida.
Slideshow below. More photos by Chris Sikich at sikichphotography.com.
---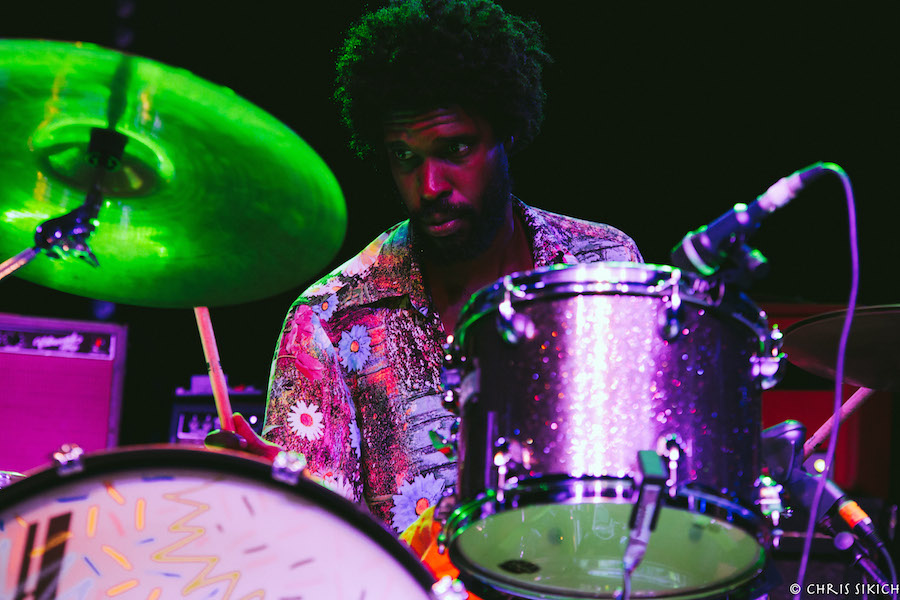 ---
---