REVIEW: Taylor Swift Brings Down-Home Charm to Lincoln Financial Field
---
Last night was my first Taylor Swift concert, and I learned a Taylor Swift concert is many things. There are costume changes—10 by my count, over the course of two and a half hours—and each one will involve sequins or rhinestones or fringe, perhaps leather or thigh-high boots, and almost always an exposed midriff (though never, ever navel). There are Fitbit-like wristbands for each concertgoer that flash and flicker, creating a mesmerizing light show across the crowd. There are surprises, and for anyone attending tonight's second sold-out show, beware of potential spoilers ahead. There is excessive pandering to the hometown, though most of the assembled will consider it bonding, and weirdly, I sort of did, too. And you will become a part of a 50,000-strong group therapy session. There is also music.
Kicking off the concert with a song called "Welcome to New York" as images of Manhattan's skyline flash across the stage seems like a horrible idea when you're in Philadelphia and its football stadium. No one seemed to care. The crowd was what you'd expect–overwhelmingly female, ranging from toddlers to pre-teens to college kids and moms dressed like their daughters, in short-shorts and sundresses. And from that first song to the inevitable finale, "Shake It Off," Swift had them all hooked.
For a massive stadium show, Swift's 1989 tour stage is relatively simple—big screens, big lights, and a long catwalk extending across the field that elevated and rotated. The point is to never distract too much from the centerpiece, Swift herself; a few songs went by before the band was even noticed. She didn't play guitar much, and the few tunes she lifted from her back catalogue, like "Love Story," were recast to fit her current pop sound. If you didn't have the YouTube videos to prove it, you'd never know she was once the darling of country music. As an artist, Swift is a bit of a contradiction—a gifted songwriter, a goofball, model pretty (it's no coincidence she spends most of the show strutting down that runway), yet she pushes hard at every turn to convince you she's not really so different.
That's a hard sell when videos between tunes show interviews with her friends—folks like Lena Dunham, Selena Gomez, and Karlie Kloss—or when she casually mentions the time she was hanging in London with Imogen Heap and was inspired to write a song. But when Swift promised early on there would be surprises, some of those pals helped her deliver. The young pop band Echosmith took the stage to duet their hit, "Cool Kids," and their singer looked a bit in awe watching Swift belt out her chorus. An even bigger jaw-dropper came toward the end of the night, when supermodel Cara Delevingne and Mariska Hargitay emerged for "Style." (For you non-Swifties, both appear in Swift's "Bad Blood" video, and one of the singer's cats is named after Hargitay's character on Law & Order: SVU.) Eagle-eyed fans also caught Swift's mom, Andrea, roaming the crowd, where she stopped for selfies and hugs with nearly everyone who swarmed around her.
Not that Swift needed cameos to help command attention. She's mastered the over-the-shoulder look-back and the coquettish glance, but never holds the pose for too long; during "Trouble," she shot her dancers down with her index finger, blew on the barrel, then cracked a giddy smile. Swift often stood on stage alone, talking with little or no music behind her and pumping up the crowd, with references to her dad watching Eagles games and how Philly is the best and loudest, which is what you expect a girl who once shopped at the King of Prussia Mall to say. But there were also long stretches during which Swift was more self-help guru than superstar, like a Tony Robbins for tweens. Taylor on love: "I want it to be simple for you. I want you to be happy all the time." On music: "Music is a coping mechanism. Music is a best friend." On self-esteem: "You are not someone else's opinion of you who doesn't know you…you are your own definition of beautiful and no one else's."
This is why some people can't stand Taylor Swift—the "aw shucks" looks as a football-stadium full of people scream for her, the "we're all friends here" stuff, the humility that can seem so faux. Set aside cynicism for just a moment, though. Swift isn't speaking to me when she goes all Deep Thoughts by Jack Handey, or maybe not to you, or to a lot of folks. She knows that. Yet she lays it on thick anyway, perhaps hoping there's a kid out there with a homemade "Welcome to Philly Taylor!" sign who really connects with the sentiment. In 2015, that kind of unapologetic treacle, with utter disregard for playing it like a cool kid, is pretty ballsy.
---
Jeff Fusco
Jeff Fusco

Jeff Fusco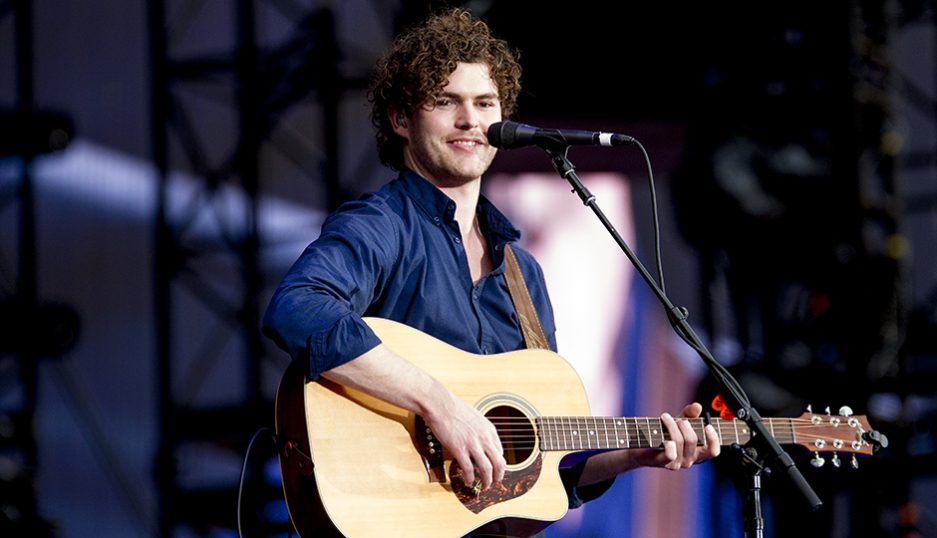 Jeff Fusco
---
Related: A Couple Got Married at the Taylor Swift Concert in Philly on Friday — Then They Met Her!
Related: Awesome Fan Photos from the Taylor Swift Concert in Philadelphia
---