Vote Now for the Best Real Philly Deli Sandwich— (Plus Six Clever & Full of Flavor Combos)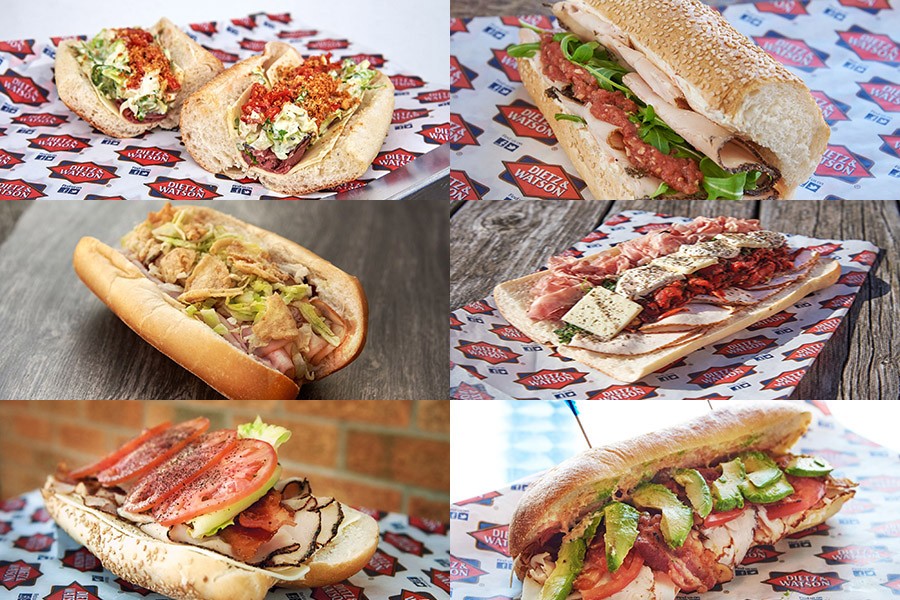 What's in a name? A creative way to sell a whole lot of hoagies! Just ask any of the six delis below—it's worked out well for them. But it's not just their make-you-laugh monikers that impress the masses, each of these six sandwiches are flavor-packed creations full of unconventional and inventive ingredients. What could be more Philly? Good food, good laughs, good delis.
Once you've stopped smiling at these punny-named sammies, full of surprising ingredients, give Dietz & Watson a hand! They need your help in choosing the winner of the next Real Philly Deli Faceoff. Find your all-time favorite Philly deli on the list, cast your vote here and read on to see what makes these sandwich flavor combos so one-of-a-kind:
The Brutus
The flavor combo: A mound of Dietz & Watson Top Round London Broil is topped with Horseradish Cheese and O'Neill's infamous Caesar Salad with Crumbled Croutons, then finished off with roasted red pepper strips. Trust us, these unconventional flavors totally fit together.
Where to find it: O'Neill's Food Market, 347 N. Easton Road, Glenside PA
Backstory: Your boy Brutus is named after the infamous Brutus who knocked off Julius (Brutus has a beef with Caesar, get it?!) The sandwich savants at O'Neill's crafted this combo by combining two of their favorite Philadelphia foods — Dietz & Watson deli products and their very own Caesar salad. Like the guy it's named for—it's a real killer.
The Sante Fe
The flavor combo: The Sante Fe starts off with a generous smear of veggie cream cheese on a seeded roll before being topped by Dietz & Watson Homestyle Black Peppered Turkey, arugula and salsa.
Where to find it: Swarthmore Food Co-Op, 341 Dartmouth Avenue, Swarthmore PA
Backstory: Decades ago, a loyal and sandwich savvy customer offered up a piece of advice to the Swarthmore pros — swap traditional cheese for cream cheese. It stuck and has been a hit ever since. Through the years they've added other alternative ingredients (like replacing tomatoes with salsa) to seal the deal on their signature Sante Fe recipe.
The Smokestack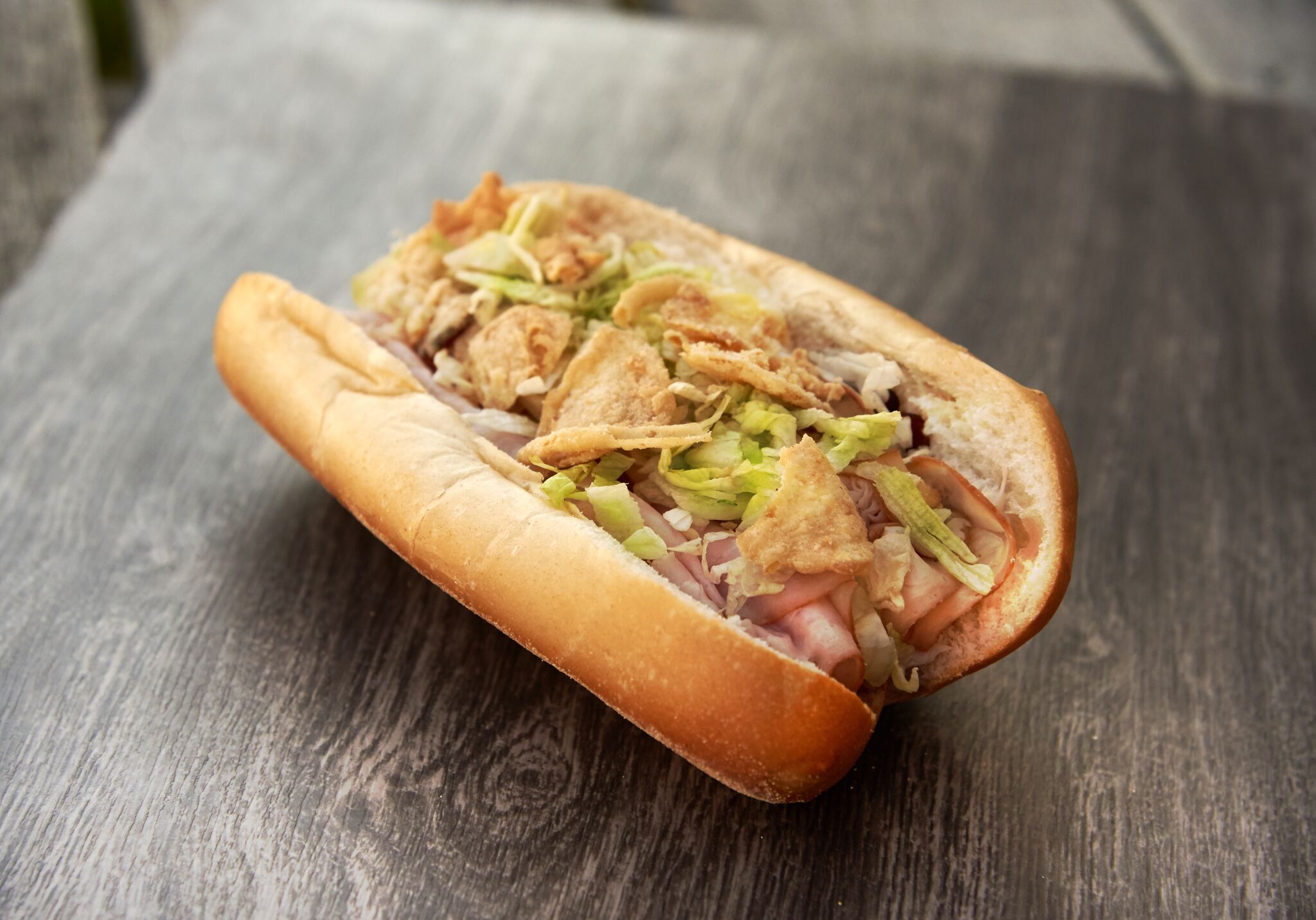 The flavor combo: A hearty serving of Dietz & Watson Smoked Gouda, Black Forest Smoked Turkey, Smoked Tavern Ham and Thick Cut Applewood Smoked Bacon are packed onto a chipotle mayo coated roll. The pièce de résistance is the pile of French fried onions atop the mound of meat and cheese.
Where to find it: Foresta's Market, 1098 West Bridge Street, Phoenixville, PA
Backstory: After winning the 2016 Real Philly Deli contest, the folks at Foresta's knew they needed to step up their game. They strayed from their "Rustic Italian" roots and settled on the Smokestack as their next hit hoagie. The recipe originated from an internal contest they ran, asking each of their employees to try their hand at creating an award-winning sub. After an extensive group taste test, employee, John, took home the trophy, thanks to his tasty concoction that combines a smoky flavor with a little heat.
The Junk Yard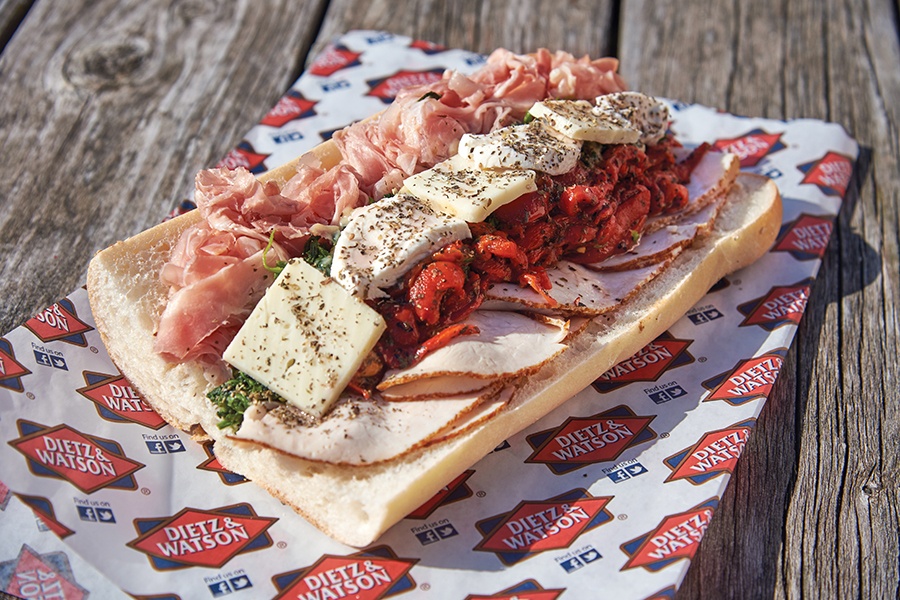 The flavor combo: The recipe is simple — pile up a little bit of everything. "Everything" includes Dietz & Watson Prosciutto, 98% Fat Free Turkey (may as well cut the cals where you can, right?), sautéed spinach, roasted red peppers, and a homemade garlic spread. But that's not all—sharp provolone, fresh mozzarella, olive oil, red wine vinegar and a herb mixture finish it all off.
Where to find it: Sonny's Italian Deli, 250 West Ridge Pike, Limerick, PA
Backstory: Surprisingly enough, The Junk Yard's mash up of ingredients has nothing to do with its name. It was crafted 25 years ago when Sonny's first opened, and actually named for a friend who was the first to whip up the original sub. He owned a junk yard at the time. Over the years, the old recipe's been tweaked and tested to get the sandwich to its high standing today. This hoagie's been honored by the likes of Food Network and The Best of Philly awards.
The Linden Club
The flavor combo: Dietz & Watson Sharp Cheddar and Black Peppered Turkey Breast are added to an Italian seeded roll before being coated in bacon, romaine lettuce, dried tomato and basil pesto olive oil.
Where to find it: Linden Italian Market, 4011 Linden Avenue, Philadelphia PA
Backstory: While most don't automatically think of a turkey club when they hear "Italian-style hoagie," in the case of The Linden Club, it totally works. The traditional mom-and-pop shop wanted to branch out a bit while still staying true to their Italian roots. The solution was pairing an American classic, the club sandwich, with ingredients that evoke Mediterranean meals like dried tomato, basil and pesto. The result is a mouthwatering merger of two types of cuisine.
Hit The Gym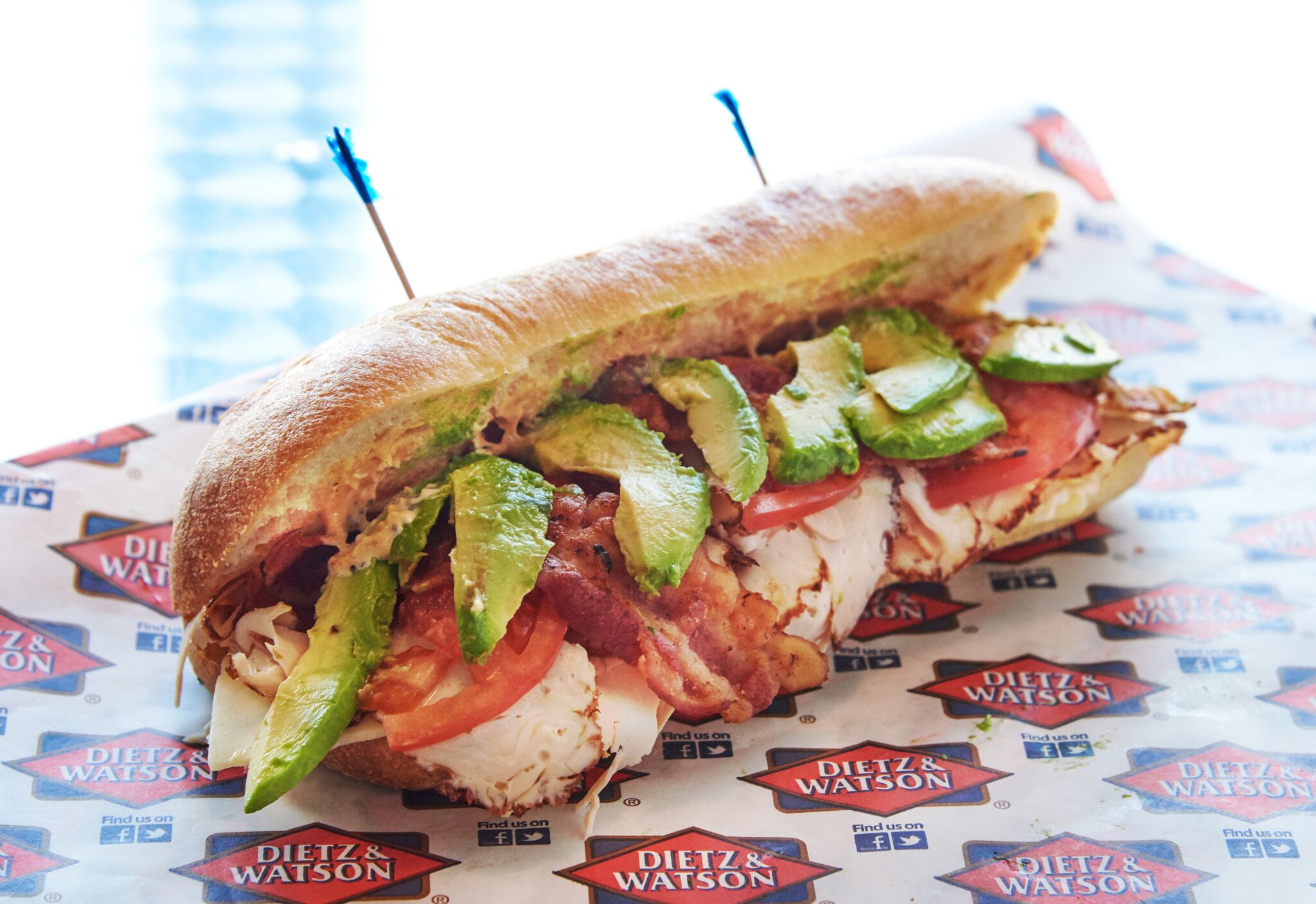 The flavor combo: Dietz & Watson Homestyle Turkey and Garlic Cheddar Cheese sit atop a medley of cranberry mustard and chipotle mayo before being topped by tomatoes, avocado, and bacon chips.
Where to find it: Parkway Corner Deli, 2201 Pennsylvania Avenue, Philadelphia PA
Backstory: The ingredients aren't necessarily what makes this hoagie so unique (although they are inventive!), it's the presentation that gives it major creativity points. This sandwich is cut up into sushi roll-sized portions before being served. Perfect for the on-the-go eater, sharing with friends, sporting events, or hoagie connoisseurs in training (aka kids) this pint-sized sammy packs a flavorful punch.
Find your favorite? To cast your vote in Dietz & Watson's Best Real Philly Deli Sandwich Faceoff of 2018, click here.
This is a paid partnership between Dietz & Watson and Philadelphia Magazine's City/Studio
---