This Philadelphia University Blends Suburban Scenery with City Convenience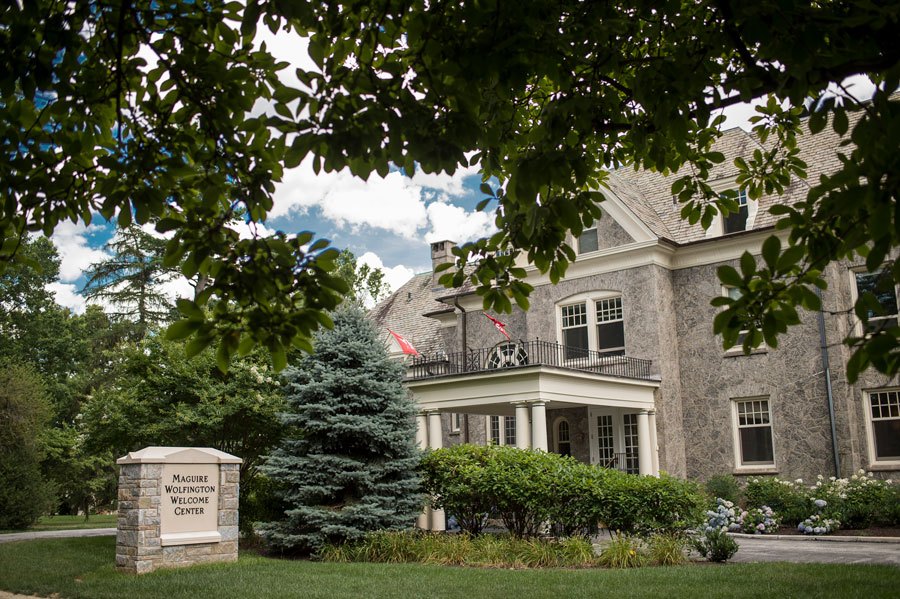 Jake Milligan, recent grad and Carlisle, PA native, had a harder college decision to make than most. Not only did he need to determine the school size, city and campus life he found appealing, he needed to decide on whether to pursue division three basketball or enter into a larger school as a business major.
Thankfully for Milligan, his decision was made easy once he stepped foot on Saint Joseph's University's campus. He was wowed. That was no easy feat for Milligan, who had toured more than eight schools prior to his SJU visit.
It's no wonder—for the past decade Saint Joseph's has been working hard to expand their reach throughout the Bala Cynwyd campus as well as breathe new life into some of Philadelphia and Lower Merion's most historic sites. They've transformed the unoccupied Cardinal's Quarters, once owned and operated by the Archdiocese of Philadelphia into the Welcome Center for Admissions, a stunning first stop for prospective students. They've taken over Episcopal Academy's old campus to build out state-of-the-art baseball and field hockey fields and the Kinney Center of Autism Education and Support. They've even recently expanded to the Barnes Foundation in Merion Station to house student artwork and horticultural efforts. Saint Joe's has built a campus that blends suburban comforts with the convenience of city living—crafting a college experience unlike any other in the area.
Once Milligan saw the impressive newly expanded campus, close proximity to his favorite Philadelphia activities (Eagles' games only a short Uber ride away?!), and discovered just how impressive the business school is, his choice was clear. "Saint Joe's Haub School is AACSB-accredited, which is the highest accreditation that any business school can achieve," says Milligan. "That was a major factor for me when I made my decision."
But perhaps the thing that drew Milligan in most was the people. "How kind people were, the way they held the door, greeted you, welcomed you—it was just so different from any of the other schools that I visited." The business school, excellent location, kind people—it all just aligned.
August of 2015, Milligan moved into his dorm and started his Saint Joe's journey. Once on campus, Milligan decided to become a tour guide and pay forward that warm welcome he received as a teen. He hit the ground running participating in everything from club basketball, different business organizations and the American Marketing association to the milk and cookies club. By his senior year he was so immersed in campus life, he was appointed as the president of his co-ed business fraternity, Delta Sigma Pi.
Off campus Milligan spent his time easily commuting into the city to dine at Philly's best restaurants, take in a show at the Walnut Street Theatre or attend sports games. "There's a great balance of campus life and city life at Saint Joe's" he explains.
As a sophomore, unsure of where he wanted to work and what he wanted to do, Milligan utilized the Saint Joes network to attend an "Explore Day" at PwC, which offer students the chance to visit PwC, meet with the staff, ask questions and participate in a few activities to get a feel for the culture and workload. Milligan was once again wowed by what he saw. "I grew up with pictures in my room of skyscrapers in Philly and New York—the fact that I was now in a skyscraper in Center City Philadelphia, that was a cool feeling."
This August, that dream will become a daily reality for Milligan as he starts his new career at PwC—an opportunity that arose from his SJU experiences. "I say this all the time and I know it sounds cheesy but I'm okay with that—I feel really lucky for all of the opportunities Saint Joe's has given me," says Milligan. "The proximity to the city, the connections to local companies on campus and off has landed me where I am today."
Aside from the business connections and location, Milligan credits his peers with being his biggest driving force towards success. "I've been challenged in the way that I think and how I'm able to convey an opinion," says Milligan. "That is such a valuable lesson and a huge part of becoming an adult—learning how to think for yourself and defend why you feel the way you do to someone else. I feel well prepared and excited to start my next chapter."
Located at the edge of Philadelphia, Saint Joseph's University has the best of both worlds, combining the excitement and adventure of city life with the quiet atmosphere and natural beauty of the Main Line. For more information or to schedule a tour click here.
This is a paid partnership between Saint Joseph's University and Philadelphia Magazine's City/Studio
---