The Face of Individualized Education: Woodlynde School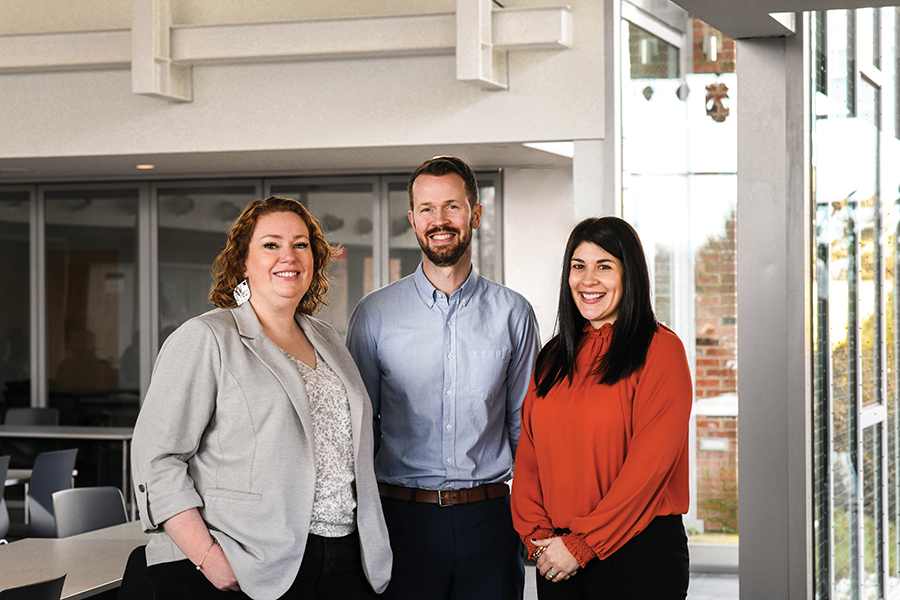 Abraham 'Abe' Prontnicki, MaryBeth 'MB' Spencer and Brittany 'Britt' Smith head the lower, middle and upper schools at Woodlynde School, a K–12 college prep for students with learning differences located in Wayne. For nearly half a century now, Woodlynde has been crafting learning plans rooted in an understanding of a student's individual needs.
Woodlynde was one of the first schools to adopt a structured literacy approach, more specifically the Wilson Reading System®, which relies on systematic engagement with the structure of language to get kids reading rather than trying to impart literacy through osmosis and a love of literature. That commitment to explicit, systematic approaches in all learning is baked into Woodlynde's storied classrooms, where Abe, MB and Britt each got their start. Now, the three are using their classroom experiences to inform the creation of new programs at Woodlynde and laying claim to expertise in reading, math, attention and executive functions (EF).
That last category has gained particular attention, given the success of Woodlynde's EF in Every Classroom initiative. Woodlynde's visionary leaders have created a systematic, explicit solution to honing the EF skills with which students struggle the most: missing assignments, poor planning and time management, and difficulty starting and finishing a task. EF in Every Classroom provides consistent structural supports in every classroom supplemented by skills-building lessons integrated into the day by teachers and Woodlynde's learning specialist team.
It's the kind of program that could only come out of a school committed to giving students the tools they'll need to advocate on their own behalf come college. And many are headed there—Woodlynde boasts a 100 percent college acceptance rate.
For more information: Woodlynde School, 445 Upper Gulph Road, Strafford, PA | 610-687-9660 | woodlynde.org
To learn about the faces of Philadelphia's local busineses, click here.
This is a paid partnership between Woodlynde School and Philadelphia Magazine's City/Studio
---