Reverse Phone Number Lookup – Best Services of 2021
A missed phone call from an unknown number is something many of us experience daily. Often, if we have missed an important call the person trying to reach us will try again later. But in some situations, you might find yourself without a voicemail and wondering who has called. Even more importantly, what exactly did they want to speak about? Whatever the caller's intentions, a Reverse Phone Number Lookup could help you to discover not only the caller's identity but other factors that may affect the actions you take moving forward.
Reverse Phone Number Lookups are a service usually offered on a background check or people finder site. The service uses the unknown number left behind to track down the caller's information. This process provides you a chance to make an informed decision on whether to return the call or block the caller.
This article will identify the top five Reverse Phone Number Lookup services. It will also review each service, giving you all the information you need to choose the Reverse Phone Number Lookup that is best for you.
Top 5 Summary
Spokeo—

Top Choice

Truthfinder—

Runner Up

Peoplefinders—

Large Database

BeenVerified—

Customer Guarantee

Spy Dialer—

Free Lite Version Available
Reverse Phone Number Lookups are a great tool. They can be a great use when avoiding nuisance callers. They can also be used to track down people who you have lost contact with over the years. With such a versatile tool at your fingertips, it is important to only use the best services available to avoid disappointment.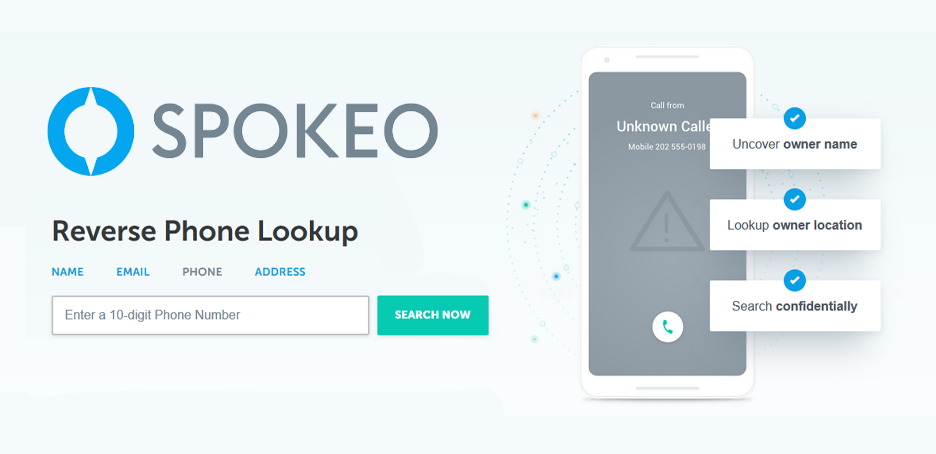 Pros:
Provides a free service to spot telemarketer numbers

The site is easy to use with a quick access search bar

Allows customers to access results in under a minute
Cons:
Only offers limited results without a subscription
Offered by Spokeo, a people search engine founded in 2006 with more than 18 million users, Spokeo's Reverse Phone Lookup is one of the most comprehensive of its kind.
By entering a ten-digit phone number, users can gain access to a variety of identifying factors that include:
the caller's full name

the caller's current address

the caller's phone carrier
Featured on numerous media sites, Spokeo's access to more than 12 billion public records makes it easy for the company to sift through their database and locate information to identify the caller.
New visitors to the Spokeo site have access to a search bar at the top of the page. Using the search bar allows clients to gain an instant report. In the report, clients receive limited information about the phone number that is investigated. This simple set up allows even the least technologically savvy to find the answers they are searching for without any hassle.
A single regular phone report will cost an unsubscribed client only $1.95. Clients who are willing to take advantage of Spokeo's free trial offer will only pay $0.95, giving them a 51% discount if they accept Spokeo's 7-day trial membership.
In addition, Spokeo has compiled a database of telemarketer numbers that is accessible to anyone irrespective of subscription. By selecting one of the many area codes displayed on the page clients will have access to hundreds of phone numbers they can then check against the phone number they have in their possession to check if their caller was a telemarketer.
Spokeo's instant phone reports allow clients to take advantage of one of the fastest Reverse Phone Number Lookups in the industry. From the search now button to the results page, the complete search takes less than a minute.
These near-instantaneous results are only a fraction of what Spokeo has to offer.
A full report on a phone number can also allow the client to learn the caller's estimated income, social accounts and even age.
These results are only available for users who have subscribed to Spokeo's Reverse Phone Number Lookup service, otherwise only an instant report will be available.
Users can gain access to Spokeo's full reports with a membership that costs $19.95 per month or $14.95 if the user chooses the three-month option.
In conclusion, with its fast results, reasonable prices and free telemarketer database access, it should come as no surprise that Spokeo is the top choice for this list.
Pros:
Provides pictures linked to search

Members with a subscription have unlimited searches

Easy to use website
Cons:
A subscription is needed to create a report
Truthfinder is another background check site that offers a Reverse Phone Number Lookup service. Created in 2015 and boasting an A+ rating on the Better Business Bureau, Truthfinder claims access to millions of public records. The site has compiled this information into a database that can provide clients with the identification factors they need to identify unknown or forgotten numbers.
Using its growing database, Truthfinder can utilize a simple phone number to find information such as:
the caller's job and education history

personal websites and blogs linked to the number

the caller's criminal records
With access to not only public records but also the Deep Web, Truthfinder's reports require only a number, the client's name and email address to begin an instant search that costs as little as $4.99 per month. This cost allows clients access to unlimited Reverse Phone Number Lookups with a chance to gain limited information.
Upgrades to a full account will cost $26 for a 3-month subscription.
In addition to providing clients with information to identify unknown numbers or track down the information of old contacts, Truthfinder also promotes itself to be useful at identifying catfishes and cheating partners.
This claim is demonstrated in the company's ability to provide pictures linked to the phone number in question. These pictures allow for quick identification and are an added layer of sophistication in the Reverse Phone Number Lookup field.
The single downside to the advantages that Truthfinder's Reverse Phone Number Lookup offers is the fact that clients must sign up to a subscription before they can access the reports. But with all the information available, the service is well worth the money.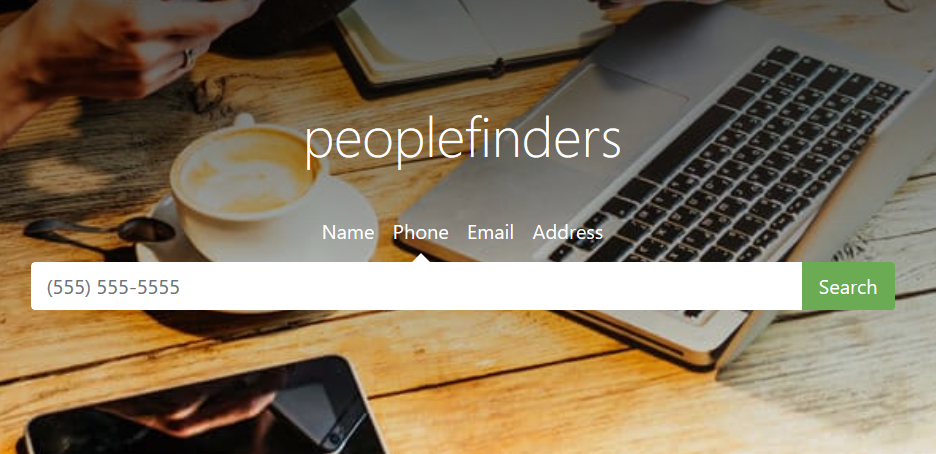 Pros:
Easy to use site

Access to a large public records database that is updated regularly

Provides connection status for old numbers
Cons
A full subscription is slightly more expensive than usual
The Reverse Phone Number Search produced by PeopleFinders promises to provide the client with all the information about any caller they need. Established in 1999, PeopleFinders is one of the oldest background check sites, and as a result of this age, the company has access to one of the largest databases in their field.
With the use of thousands of database sources, PeopleFinders offers users a constantly updating database that currently houses the public records of more than 250 million adults in the United States. PeopleFinders' large and up to date database allows clients seeking to run a Reverse Phone Number Lookup to receive accurate reports that include:
the caller's criminal background

the caller's email address

the caller's phone type
PeopleFinders Reverse Phone Number Lookup service allows clients to search for results from anywhere, a promise proven by the company's mobile app that lets clients who are on the move access the needed information.
The PeopleFinders site is easy to use.  With a quick search bar located at the top of the page that produces results in minutes, the site is novice-friendly.
Reports that include a free membership trial will cost only $0.95. Users who wish to only access the report without being tied into a subscription must pay $9.95 under normal circumstances. PeopleFinders offers several special offers including reduced prices of $3.95 for a full report.
One of the unique features of PeopleFinders' Reverse Phone Number Search is the ability to supply clients with the connection status of the phone numbers being investigated. This information allows clients to check if old numbers are still connected and offers them the information to begin a more thorough search if required.
With their years of experience in creating and maintaining public records, PeopleFinders is the choice for the best database on the list.
Learn more at PeopleFinders.com
BeenVerified
—
Customer Guarantees

Pros:
Offers a 7-day trial membership

One of the only companies that offer clients a satisfaction guarantee

Affordable prices
Cons:
Instant reports are slower than competitors
BeenVerified allows clients the opportunity to utilize a Reverse Phone Number Lookup service used by many of the over 10 million visitors the site hosts per month. Created in 2007, BeenVerified has access to thousands of public record sources that include Social Media accounts, Federal Records and Census Data. Using these sources, the company has created a database containing billions of public records that the company cross-references against phone numbers to provide its clients with information such as:
the caller's criminal records

the caller's spam scores

possible friends and associates of the caller
BeenVerified has run more than 32 million Reverse Phone Number Lookup reports for clients. The service has provided the information needed to verify the identity of strangers met online, identify unknown numbers, and reconnect with old friends.
Used by popular companies such as the popular TV show, MTV Catfish, BeenVerified offers instant reports for as little as $1. These reports are only available with a 7-day trial membership. However, with the wealth of information provided by the company, such restrictions are understandable.
A BeenVerified unlimited plan will cost a client $26.89 per month, allowing them to run dozens of reports per month.
To ease any worry that new customers might have regarding the effectiveness of the Reverse Phone Number Lookup offered by BeenVerified, the company has a satisfaction guarantee that ensures that if the client is not happy with the services, the company will either try to fix the issue or offer a refund.
Spy Dialer
—
Free Lite Version Available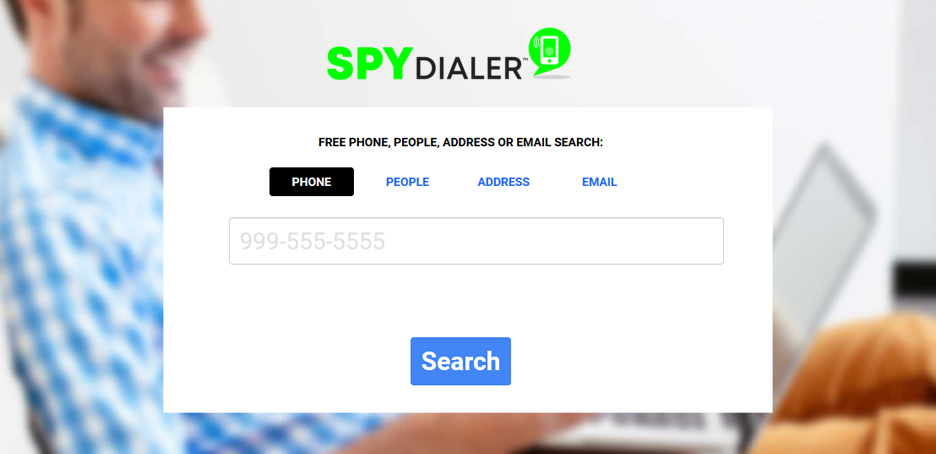 Pros:
The service is free

The service will allow access to numbers that are not published

The website is easy to use
Cons:
The site's pages contain numerous ads

Limited Information
Unlike the other entries on our list, Spy Dialer is one of the only companies that focuses mostly on the Reverse Phone Number Lookup Service. Founded by the licensed private investigator, Robert Scott, Spy Dialer has through the efforts of a dedicated team created a database that houses millions of phone numbers, according to the site's main page.
The main advantage to be found when using Spy Dialer is the fact that their Reverse Phone Number Lookup service is free. With no hidden costs or subscriptions to be tied into, visitors can browse information as and when they want.
The reports gained from Spy Dialer will provide visitors with information, such as:
the caller's full name

the caller's approximate address

length of phone sservice
Using Spy Dialer's Reverse Phone Number Lookup is easy for novice users. The site's main page offers a search bar with four options, selecting phone and then clicking search will immediately gain results. On the report page, visitors are provided with further options for more in-depth information if it is required.
The search itself takes under a minute, and after cross-referencing, the results provided by Spy Dialer proved to be consistently accurate.
Spy Dialer also promises access to numbers that have not been published publicly, giving users a better chance of tracking down the caller in question.
While Spy Dialer does try its best to answer any queries visitors might have, the site also redirects to BeenVerified if the information requested is not part of its database.
The site also hosts ads to help pay for the costs of its platform, but with the free service it provides, this does not detract from the effectiveness of Spy Dialer's approach to Reverse Phone Number Lookups.
What Are The Reasons To Use A Reverse Phone Number Lookup?
As mentioned above, there are numerous reasons why people should take advantage of the resources provided by a Reverse Phone Number Lookup. From tracking down old friends to identifying telemarketers, a Reverse Phone Number Lookup is a tool that can make the ringing of your phone a less anxiety-ridden affair.
One of the main reasons to use a Reverse Phone Number Lookup is to identify an unknown number. Strange phone numbers aren't always due to nefarious reasons. A lost phone or a new landline might leave individuals confused and unwilling to answer the call.
With the details gained from a Reverse Phone Number Lookup, it should be easy to decide to either block the number in question or add it to your contact book.
Reverse Phone Number Lookups can also be used to track down old acquaintances. Using their phone number, you can gain access to their last known location, information on whether the service is still connected or not, and even acquaintances and friends via their social media. This information should make tracking down an old friend much easier than usual.
Even in social settings, a Reverse Phone Number Lookup could be potentially lifesaving. This point is especially true for individuals who take part in online dating. Confirming the information provided by a stranger might be difficult, but with a Reverse Phone Number Lookup, you can confirm the identity of your date and also access any criminal records they might have tried to hide from you.
Telemarketers and nuisance robocalls are another reason to utilize the information that a Reverse Phone Number Lookup can provide. It is often confusing when you have missed a call from an unknown number, and many people will be tempted to return the call. Using a Reverse Phone Number Lookup before giving in to this urge might save you from a frustrating interaction with a cold caller who isn't willing to take 'no' for an answer.
People in relationships can also benefit from using a Reverse Phone Number Lookup if they are suspicious of their partner's activities. Running numbers from a mobile phone or a landline's call history will give you a clear idea of who your partner is conversing with.
These records have helped identify cheating partners and in some cases, catfishes pretending to be someone they are not.
How Does A Reverse Phone Number Lookup Work?
Most Reverse Phone Number Lookup services share the practice of retrieving information, but the amount of information available to the client is dependent on the company that is being used. For example, the services utilized by the police and emergency workers can determine where the point of origin of a call is located. However, the Reverse Phone Number Lookups available to the general public might not be privy to this sort of detailed information.
In general, the accuracy of a Reverse Phone Number Lookup service depends on the database that it is retrieving its information from.
Companies create databases using various sources of public records. With the information gained from these and many other sources, companies can create large databases that will grow over time. These databases reduce the amount of time needed to retrieve information as the programs used by the companies in question have only a single point to search through and cross reference.
When a client provides a company that runs Reverse Phone Number Lookups with a phone number, the program will try to match the phone number to as many pieces of data as possible.
Depending on the client's requirements the company will then create a report that might contain information such as the caller's name, possible address, criminal records and other factors that can be used to identify the caller.
Some databases used by these companies are larger than others, and the information that can be gained from them will reflect this.
Most companies that offer a Reverse Phone Number Lookup can only provide information if the phone number is listed in public records. Other companies can produce information on not only unlisted numbers but, through the use of sources such as the Deep Web might even be able to indicate if a client's phone number is linked to another account. The presence of a phone number on the Deep Web is usually an indication that the client's information has been compromised in some way.
Due to these differences in reports and information sources, it is important to research the company you are working with to not only ensure that you receive the best service for your money but also the best and most accurate information possible.
Where Does The Data Come From?
The database used for Reverse Phone Number Lookup services is usually gathered from public records. This means that the information is available to the general public by law, but this does not make retrieving the information easy.
Businesses and organizations will have their own privacy rules when it comes to the data that they protect. These rules make it difficult for the average client to gain the information needed in a time frame that wouldn't render their query obsolete, which is where Reverse Phone Number Lookups thrive.
The data gathered by companies that run Reverse Phone Number Lookups is taken from several sources.
Personal information such as names, phone numbers and other identifiable factors can be collected from organizations like the DMV. Applications for housing also allow these companies a way to verify the identity of the person in question, linking their information to a single phone number.
Birth dates can be matched to an individual through the use of birth records and statistics that are gathered by these organizations.
Credit header data is another source of information for Reverse Phone Number Lookup services as they will contain current and previous addresses, along with names, social security number and phone numbers.
Court data which includes information on offences, trials, sentences, defendants and plaintiffs are yet another form of public records that is available for the databases used by Reverse Phone Number Lookup companies.
An alternative source of criminal records that these companies can access is State and County records. These forms of criminal records are often more accurate than information gained by using ordinary criminal background searches as the information is kept up to date by the county to which it is assigned.
Organizations might utilize Federal Records to gather information on felonies and sex offenders. If the individual in question has participated in crimes such as terrorism, then these records may be flagged up due to information in the database gained from Homeland Security.
Records of education can be gathered directly from schools and institutions. Thus providing the companies with not only the educational history of the individual in question but also another limited form of personal identification as these records are usually linked to a name and address.
Employment records gathered from past and current places of employment only allow for a small amount of information due to potential liability cases, but the salary and position of an individual are usually accessible information that Reverse Phone Number Lookup companies can store and use.
These are only a few of the sources that these companies will have access to and as such their potential for information gathering is almost limitless.
Pros & Cons Of Reverse Phone Lookup Services
Much like any other service, Reverse Phone Number Lookups have both disadvantages and advantages.
Pros:
Searches that utilize a database are faster – As mentioned, the information gained from a Reverse Phone Number Lookup is created from public records, meaning that in theory, any member of the public should be able to access this information. However, while a simple google search of a mobile number might provide a client with the service provider for that number, additional information is scarce.
Similarly trying to link a phone number to a name could prove extremely difficult and time-consuming as you would need to search through numerous public records to find the information you are looking for. The databases provided by Reverse Phone Number Lookup service can reduce weeks of potential searching down to mere minutes or in some cases, seconds.
Less expensive than other people finder services – In general, a Reverse Phone Number Lookup will cost less than a full background search while providing you with more than enough information to identify the caller. Some of the cheaper prices may range from as little as $2 per search, depending on the company in question.
These prices would allow customers who are on a budget the opportunity to run multiple searches without spending more than they can afford. In addition, most sites allow customers who require a more detailed report the chance to upgrade their package to one that suits their needs.
Reduction of nuisance calls – Reverse Phone Number Lookup services allow clients the chance to identify callers who may be part of a scam, a telemarketer or a robocall creation point. This identification is useful as clients are then able to block the numbers to ensure that they are not contacted again, thus constantly reducing the number of nuisance calls that they will encounter daily.
Easier identification – Oftentimes, strangers, acquaintances or even friends with something to hide might make identification difficult by providing a client with false information.
Used on its own, a fake name or address might not produce the results we are looking for, leading to the client doubting their suspicions. However, in the case of phone numbers, they are usually linked to a single person, and if the person in question is revealed to not be the person the client expects, it could create the foundation for a larger search.
Identification and potential elimination of harassment – One of the main sources of harassment, other than online bullying, remains harassment by phone. Perpetrators will attempt to change their voice and use unfamiliar phone numbers in an effort to remain anonymous. Using a Reverse Phone Number Lookup can not only identify a harasser, but subsequent phone records could be used to build a criminal case against the person in question.
Cons:
Shared phone numbers can affect report accuracy – Some phone companies will reassign a number after the death of a client or an extended period of non-use. This means that a report might potentially locate the wrong individual.
However, as additional identification factors are used in reports, it is very unlikely that any such mistake will not be spotted early in the process.
Conclusion
In conclusion, the use of a Reverse Phone Number Lookup service is invaluable in today's society. With different prices and plans to choose from, the choice to not use this service is one that might put potential clients at a disadvantage.
This post was produced and paid for by Progressively Organic
---