Event Planner: 4 Ways to Make Your Holiday Affair Unforgettable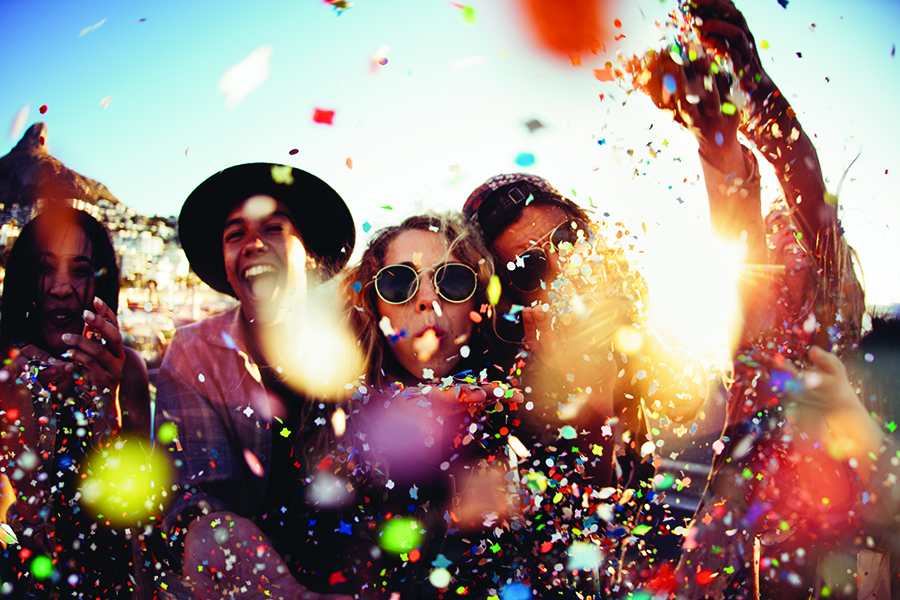 When you attend a party, the goal is to have fun. But when you're planning a party, the goal is to create a lasting memory for your guests. Still, many hosts become too focused on creating Instagrammable moments instead of on the in-moment atmosphere of the party. Fortunately, aesthetics and memories can still be the priorities of a party that is best lived off-screen. However casual or extravagant, intimate or bustling your next bash is, here are some fun, festive and on-trend themes that will definitely impress.
Lean Into All Things Astrology
Incorporating New Age symbols, astrology-inspired design and tarot card decor into your party doesn't just keep guests in the moment—it transports them into a whole new realm. Take a page from the books of big-name brands by throwing zodiac symbols on your invitations, theme your decor around the astrological season, or play games involving star-sign trivia (and watch all the Leos take it way too seriously).
For a bigger leap into the celestial world, invite fortune into your party by hiring tarot readers, psychics or astrologers to give personal readings—it'll be tough for a guest to forget the night when they learned the color of their future spouse's hair or the upcoming planetary conjunction that'll set their career ablaze. However skeptical or certain you and your guests are by all things mystical, everyone's guaranteed to take home more than just a flashy Instagram story—maybe a new perspective, a funny anecdote, or a realization that they really are a Capricorn, huh?
Who's Afraid of Disposable Cameras?
There's some irony in it: While the smartphones in our pockets are akin to professional photography equipment, trends are circling back to more limited mediums for photos. Celebrities post sequences of film photos on their grids, where they live forever sandwiched between Vogue cover shoots. But at a party, disposable cameras do more than just achieve a grainy, vintage look.
Inherently photogenic backdrops still have a place at your party, even with a focus away from social media. Set disposable cameras at various photo spots throughout the night, where guests can pose, shoot selfies or take group photos at their own disposal (pun intended). Where digital photography allows guests the opportunity to dislike an image, worry about appearances or embark on small marathons for the ideal lighting, the quick flash of a disposable camera reflects a more true, unrehearsed memory. Plus, half the fun of these cameras is looking through the developed images later, an intimate glimpse into what everyone else at the party was up to. Sharing with your guests the candids is one sure-fire way to create a lasting impact.
Invite D-I-Y Attitudes Into The Kitchen
Yes, we've all seen the life-sized birthday cakes and wine fountains that decorate Hollywood events, but creating a memorable, stand-out dining experience for your guests doesn't require a luxury budget. All it requires is a touch of D-I-Y and thinking outside the box.
Make the dinner portion of your party interactive by letting guests author their own meals—coached, of course, by chefs representing your favorite plates and cuisines. Delicious tastes are all the more memorable when you've played a fun and educational role in their construction, all while a professional is on hand to ensure everyone ends up with a top-notch meal (and to stop that one friend from burning the place down).
With the same interactive attitude, elevate your party's bar via wine tastings or cocktail-making classes. Guests will be locked into the moment, wearing their best sommelier hats or learning the actual ratios for their manhattans. Allowing guests a controlled access to the behind-the-scenes of your party is a great way to make it feel special, and to promise that everyone leaves with more memories (and recipes) than they came with.
Upgrade Your Nostalgia to "Newstalgia"
Y2K trinkets and themes are everywhere this year; at Coachella, wrapped up in the explosively pink Barbie rollout, and even on red carpets. Implementing the momentum of an era filled with the newborn internet, specific fashion choices, and iconic celebrity moments will unleash that Livin' La Vida Loca freedom into the heart of your party. All it requires is really hearing the era's mantra: Party like it's 1999.
Make your party an immersive throwback experience with choices that evoke that early 2000s magic: have a makeup bar where your guests can smear on that classic Avril Lavigne eyeliner, funnel your Britney-infused playlists through CD players, recreate cultural pillars with MySpace-inspired invitations and decor, or make your guest book a Mean Girls-inspired slam book.
At a "Newstalgia" party, attendees will embrace all the nostalgia of the new millennium and have something to show for it, too—photos as memory tokens and a revamped desire to go rewatch The Real World.
Resource Guide
Finley Catering
Philadelphia
Finley Catering has four venues that can host weddings and other large events. Three of the venues, the Crystal Tea Room, the Ballroom at The Ben and Union Trust are all historical and unique spaces in Philadelphia. The fourth venue, the Ballroom at Ellis Preserve, is also a historic building set in a pastoral locale in Newtown Square, PA. Finley plans to open a fifth venue "The Ivy," which will be located just outside the city. finleycatering.com, 215-627-5100, IG: @finleycatering
The Luxe Body Studio
Conshohocken, PA
The Luxe Body Studio is a luxury wellness center where we focus on your wellness. Our mission is to promote health and wellness to the clients and community we serve. We offer IV hydration therapy and a variety of vitamin injections (e.g. B12, Vitamin D). We also can do your DOT physi-cal if you are a CMV driver. theluxebodystudio.com, 215-709-0369, IG: @_theluxebodystudio
Springfield Country Club
Springfield Township, PA
Award-winning wedding and event venue open to the public featuring innovative cuisine, impec-cable service, gorgeous ballrooms and first-class amenities including an onsite Courtyard Marriott hotel, full-service restaurant and bar, 18-hole golf course and spa. springfieldcc.net, 610-690-7600, IG: @springfieldcountryclub
This is a paid partnership between Philadelphia magazine and Philadelphia Magazine's City/Studio
---