CBD Dog Treats: 5 CBD Soft Chews and Crunchy Treats for Dogs
Does your dog act nervous at the vet's office or when friends come over to visit? Maybe he has some arthritis pain, or perhaps he seems less mobile these days. CBD dog treats can help manage all of these common problems, and more.
CBDfx

Supports Joint Health

Made in America

Veterinarian-Reviewed

60-Day Guarantee
Penelope's Bloom

Full Spectrum CBD

Third-Party Lab Tested

Organic Ingredients

Sweet Potato Flavor
Soul CBD

Soft & Chewy Texture

Tasty Chicken Flavor

With Glucosamine

Non-GMO
Humans have been using CBD for years, and now many top CBD companies have begun creating CBD products specifically for dogs. These infused dog treats and soft chews are a tasty, convenient, no-mess way to give your dog their daily dose of CBD.
CBD is natural, rarely causes side effects, and is well tolerated by most dogs, making it an excellent all-around supplement. But whether you're giving your dog CBD for anxiety, pain relief, or overall wellness, it is important to buy a well-formulated, effective product.
Since there are so many CBD treats and soft chews on the market, we took the time to round up five of the best of the best ones designed to give your dog's health a boost. Keep reading to learn more about our top picks.
Summary of the Best CBD Dog Treats
Benefits of CBD Dog Treats
There may be several benefits to giving your dog CBD treats, like:
Pain relief: If your dog struggles with pain from an old injury, arthritis, or recent surgery, CBD could be an effective, natural pain relief option.
Improved mobility: CBD may reduce inflammation and muscle soreness, helping to improve or preserve your dog's health and mobility. Athletic dogs often benefit from a daily CBD supplement.
Anxiety relief: Dogs who become anxious at the vet, nervous around visitors, or destructive when left home alone are often calmer after being given a CBD dog treat.
Improved cognitive function: Daily CBD treats can help preserve your dog's cognition as they age. Many dogs are better able to focus on training when given CBD.
Better behavior: Many poor behaviors in dogs, such as excessive barking and chewing, are caused by anxiety. CBD can help manage such behaviors.
Best CBD Dog Treats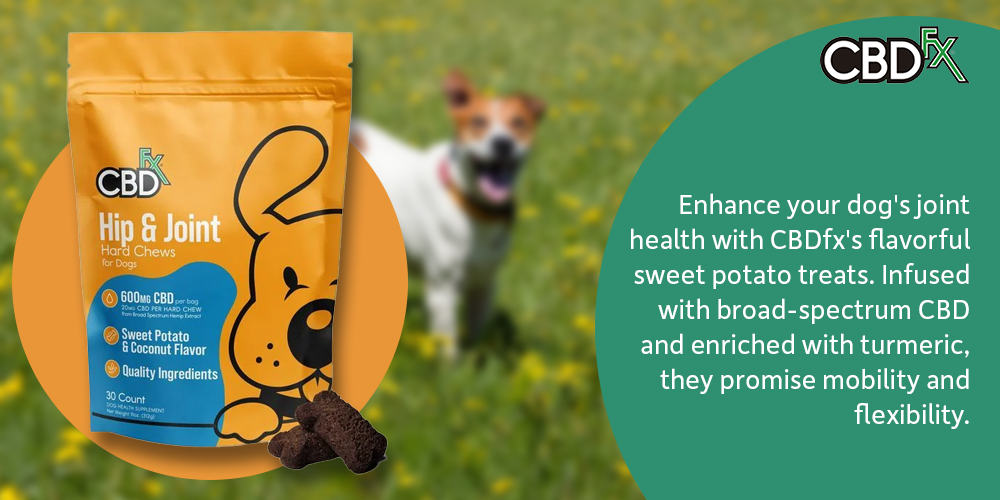 Why We Love Them
If you're looking for CBD dog treats to support joint health in dogs of all ages, give these treats a try. CBDfx CBD Dog Treats Muscle & Joint are specifically formulated to enhance your dog's joint health. They are made with broad spectrum CBD, which means your dog not only gets the benefits of CBD, but also various hemp terpenes and other cannabinoids.
These CBD treats are extra great for your dog's health because they also contain turmeric, a natural, anti-inflammatory ingredient that can help ease joint pain and inflammation. Plus, they are formulated with chondroitin, glucosamine, hyaluronic acid, and MSM, all of which have their own joint-friendly benefits.
CBDfx Dog Treats Muscle & Joint contains only organic, human-grade ingredients, so you know your pup is getting the very best. They have a tasty sweet potato flavor, are vegan, and are even medically reviewed by a veterinarian, giving customers more confidence in their safe, effective formula. CBDfx has these CBD dog treats lab-tested for purity and potency, and you can review the certificate of analysis before purchase.
Customers find their dogs love the flavor of these treats and eat them willingly. Most pet owners report seeing an improvement in their dog's flexibility and mobility after only a few days of regular use.
These treats are popular for dogs with allergies as they do not contain chicken, soy, or other common allergens. And pet parents who follow a vegan diet appreciate that they are made without animal products.
Pros:
Organic, vegan, and soy-free
Formulated with turmeric, glucosamine, chondroitin, and MSM
Good source of antioxidants
Veterinarian-reviewed
Cons:
Only available in one flavor
Specs:
CBD type: Broad spectrum CBD
Size: 30 treats per bag
Strength: 15 mg CBD per dog treat
Flavor(s): Sweet Potato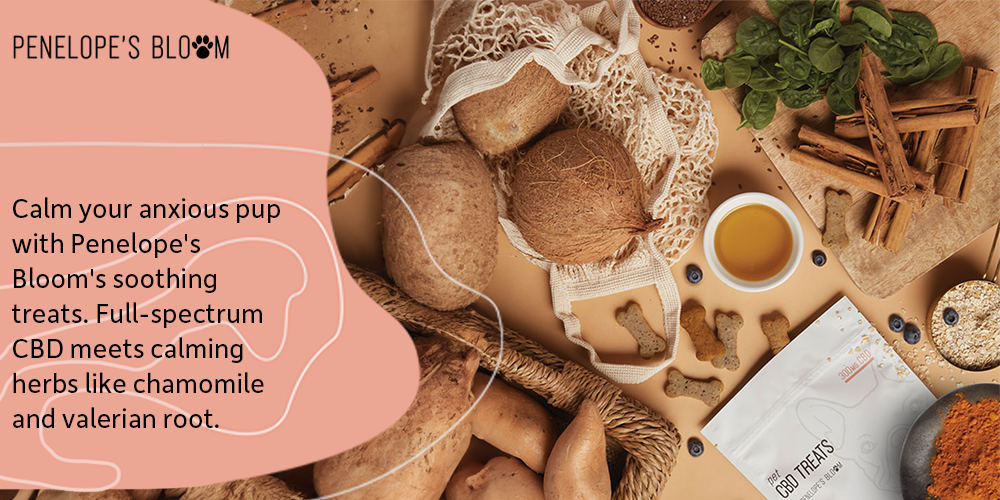 Why We Love Them
Formulated with CBD plus three calming herbs, these CBD treats from Penelope's Bloom are an incredible choice for anxious dogs. The plant-based, all-natural formula gives customers peace of mind.
Penelope's Bloom CBD Dog Treats for Stress + Anxiety can be a real game-changer for anxious pups. They are made with full spectrum CBD for maximum effectiveness and could help calm your dog before vet visits or during stressful situations such as fireworks shows and thunderstorms.
In addition to CBD, these calming treats contain chamomile, passion flower, and valerian root. These herbal ingredients are known for their calming properties. L-theanine, an amino acid, also helps manage anxiety. While the treats smell pleasantly like an oatmeal cookie, they have a sweet potato flavor that appeals to most dogs.
Plus, they're formulated with high-quality, organic ingredients like organic coconut oil, organic oats, organic flaxseed, and more, so you know your pup's getting the best of the best.
Reviewers praise these CBD pet treats for their calming effects. Some pet owners say the treats help their dogs maintain a more regular sleep cycle. Others use the treats to quiet reactive dogs before friends come over to visit. Customers appreciate that the treats are easy to break in half for smaller dogs or others who need a lower dose of CBD.
Pros:
Plant-based, organic ingredients
Contains chamomile, valerian root, and passion flower for calming benefits
Third-party lab tested
Easy to break in half
Cons:
May be too crunchy for dogs with dental problems
Specs:
CBD type: Full spectrum CBD
Size: 30 treats per bag
Strength: 10 mg CBD per dog treat
Flavor(s): Sweet Potato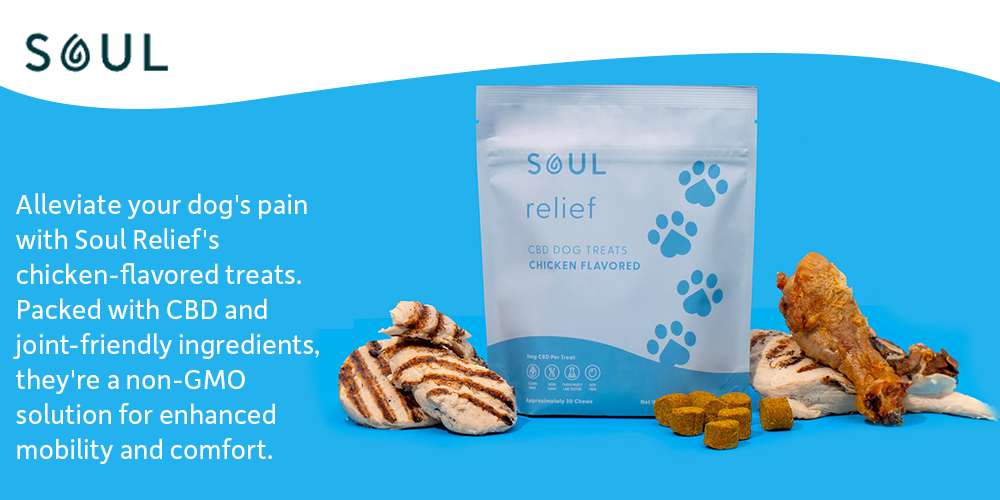 Why We Love Them
Soul Relief CBD Dog Treats are formulated to relieve and manage pain in dogs. They contain CBD plus glucosamine, MSM, chondroitin sulfate, and turmeric. These treats work well for dogs of any size. Small dogs can have one treat, medium dogs can have two treats, and big dogs can have three treats per day.
Soul Relief CBD Dog Treats have a tasty chicken flavor and do not contain any corn or soy. They're also non-GMO, which gives pet parents greater confidence that they're giving their pups a high-quality product.
Soul does have these treats lab tested, and the test results are available on their website. These tests not only confirm the CBD content but also demonstrate that the treats are free from heavy metals and harmful bacteria.
Some customers give their dogs these treats to help manage pain after an injury. Pet owners find their dogs appear more energetic and mobile once the CBD kicks in. Soul CBD Dog Treats are also a common choice for older dogs with joint and muscle pain. Reviewers note that the longer their dog is on these treats, the better they seem to feel.
Soul CBD Dog Treats receive glowing reviews from the owners of multiple breeds including golden retrievers, border collies, and Pomeranians. Customers say even their dogs with poor teeth can eat them, thanks to the soft and chewy texture.
Pros:
All-natural and non-GMO
Enticing chicken flavor
Third-party lab tested for purity and potency
Does not contain corn or soy
Cons:
Bag can be hard to keep closed
Specs:
CBD type: CBD isolate
Size: 30 treats per bag
Strength: 5 mg CBD per dog treat
Flavor(s): Chicken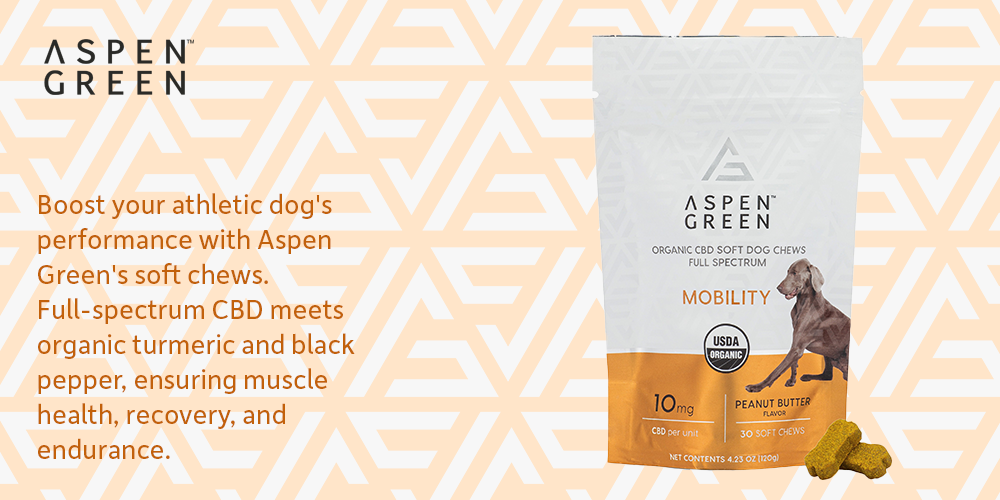 Why We Love Them
Aspen Green Mobility Organic Full Spectrum CBD Soft Dog Chews are an excellent choice for athletic and working dogs. These soft chews are specifically formulated to support muscle health and recovery, improve mobility, and preserve endurance and performance.
Plus, Aspen Green designs these dog treats to reduce periodic joint stiffness and help keep cartilage and connective tissues healthy as your active dog ages.
Aspen Green works with veterinarians to formulate all of their pet products, including these CBD soft chews. They use full spectrum CBD oil for the flavonoid, terpene, and phytonutrient content. Each treat also contains organic turmeric and black pepper, both of which are known for having joint and muscle-related benefits.
You can use these soft chews for dogs of any size, and they're really popular among dogs who compete in agility, do a lot of running, or herd sheep.
Owners say their dogs perform better and don't seem to tire as easily when given these treats regularly. Many customers give these treats as a preventative. In other words, they use the treats to help prevent joint damage, muscle tears, and overall soreness in their athletic and working dogs.
Pros:
Made with turmeric and black pepper
Appropriate for dogs of all sizes
Certified USDA organic
Veterinarian-formulated
Cons:
Not ideal for dog owners with peanut allergies
Specs:
CBD type: Full spectrum CBD
Size: 30 treats per bag, 60 treats per bag
Strength: 10 mg CBD per dog treat
Flavor(s): Peanut Butter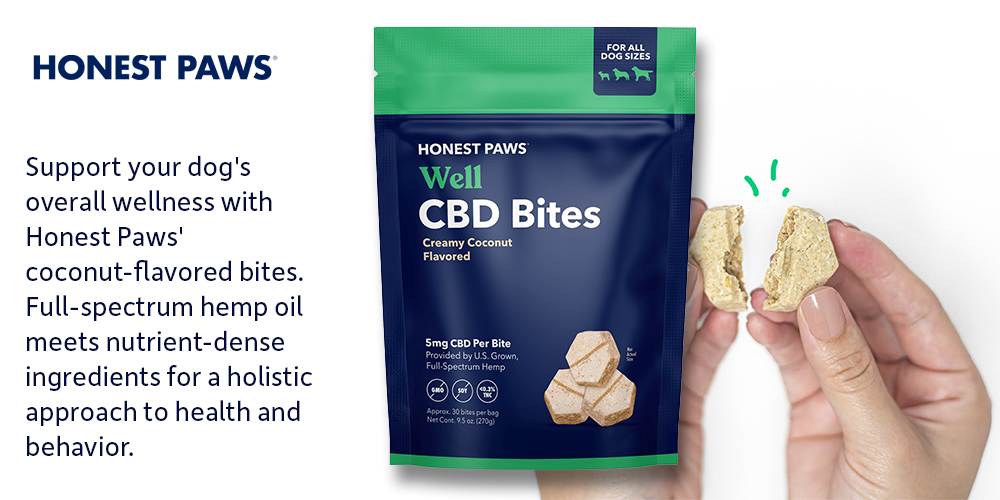 Why We Love Them
CBD can be an excellent supplement for long-term, overall wellness. If you plan on giving your dog CBD for this purpose, Honest Paws Well CBD Bites are a great choice. These CBD treats are formulated to support the immune system, promote a calmer mood, preserve cognitive function, and manage pain.
Honest Paws formulates these CBD pet treats with a variety of nutrient-dense ingredients including MCT oil, dried eggs, organic peanut butter, and organic barley flour. Since they are made with full spectrum hemp oil, your dog also gets the benefits of various terpenes and other compounds from hemp.
Customers report positive changes in their dogs' overall health and wellness after a few days on these CBD treats from Honest Paws. They reportedly work well for dogs with allergies, helping to ease itching and discomfort. Customers also say these treats help keep their older dogs' minds sharp. Some customers give them to younger dogs to help them focus during training or stressful events.
These treats don't contain any artificial flavors and are made with only non-GMO ingredients, making them a good choice for dogs with food sensitivities. You'll find dosing instructions on the bag. Depending on your dog's size, they'll need anywhere from one to three treats per day for maximum benefits.
Pros:
Formulated to support overall wellness
Soft and easy to chew
Made with organic ingredients
Cons:
Some owners find the coconut scent unpleasant
Specs:
CBD type: Full spectrum CBD
Size: 30 treats per bag
Strength: 5 mg CBD per treat
Flavor(s): Coconut
How We Picked The Best CBD Dog Treats
These are not the only good-quality CBD dog treats on the market, but we are confident they are five of the very best brands. Here are the key factors we considered when selecting the best CBD dog treats:
Lab Reports
Every treat recommended here has been tested in a third-party lab. These lab tests measure two things: the amount of cannabinoids in the product and the presence of potential contaminants, such as pesticides and heavy metals. We reviewed the lab reports to ensure each dog CBD treat is pure and potent.
Flavor
Our goal was to feature dog CBD treats in a variety of flavors. We also read plenty of reviews to see which treats owners reported their dogs enjoyed most. Treats with tasty flavors like peanut butter and chicken are often most appealing to dogs, which is why you see those flavors featured so often here.
Reported Results
Many dog CBD treats are formulated for a specific purpose. For example, some are designed to primarily manage joint pain, and others are specifically formulated to ease anxiety.
We read numerous reviews to assess whether dog owners observed the results promised on the package. Did their dogs seem more mobile? Did they notice a reduction in anxiety-induced behaviors like chewing and barking? We also observed changes in our own testers' dogs' behaviors after being given various CBD products.
Ingredients and Ingredient Quality
CBD is the primary active ingredient in these treats, but the other ingredients must be high-quality, too. Many of the treats we selected are made with organic ingredients. We also favored companies that formulate their CBD treats without common allergens like soy and corn.
Company Reputation
Good brands make good products. That's as true with CBD treats as it is with any other pet supplement. We favored brands that include lots of details on their packaging, offer good guarantees to their customers, and offer money-saving programs like Subscribe & Save.
What to Look for in CBD Dog Treats
Since every dog's needs are different, how do you choose the best CBD treats for your pup? We recommend considering the following features and factors as you shop:
Type of CBD
Three types of CBD can be used to make CBD treats. They differ based on the other compounds they contain in conjunction with CBD.
Full Spectrum CBD
Full spectrum CBD is essentially hemp extract. It is typically high in CBD, but it also contains hemp terpenes and traces of other cannabinoids like CBG and THC. These other terpenes and cannabinoids have additional health benefits and might make the CBD more effective, especially when it comes to reducing inflammation and pain.
The only downside to full spectrum CBD for dogs is that you have to be more careful with dosing. Dogs are more sensitive to THC than humans. Eating more full spectrum CBD than recommended can lead to signs of THC toxicity, such as nausea and confusion. If you choose full spectrum CBD treats for dogs, pay close attention to the dosing instructions and keep the bag where your dog can't reach it.
Broad Spectrum CBD
Broad spectrum CBD is essentially hemp extract that has had all traces of THC removed. It still contains other beneficial hemp compounds. Broad spectrum CBD treats for dogs are a great choice for pups who are sensitive to THC, but who need the benefits of terpenes and accessory cannabinoids.
CBD Isolate
CBD isolate is pure CBD. Treats made with pure CBD can still be very effective at relieving pain and anxiety. Some dog owners find their dogs seem less drowsy when given CBD treats made with CBD isolate than ones made with full spectrum or broad spectrum CBD.
CBD Content
Some CBD treats for dogs contain more CBD than others. If your dog is small or only needs mild relief, a lower-dose treat may be ideal. For larger dogs, those with more serious pain, and those who become exceedingly anxious, a higher-dose CBD treat may be a better choice.
If you've already been giving your dog another CBD product, such as CBD oil, then look for a dog treat that contains the same dose of CBD that you're already using. This way, you won't have to give your dog multiple treats.
Treat Texture
Some dogs prefer crunchy treats. If you know this is true of your dog, then look for a CBD dog treat with a crunchy texture. On the other hand, if your dog is older, has dental problems, or has a habit of swallowing treats whole, then chewy CBD treats for dogs are likely a better choice.
Treat Size
For smaller dogs, look for smaller CBD treats. For larger dogs, look for larger CBD treats. This is less important if the treats are soft and easily broken in half. You can always break a larger treat apart and give it to your dog in pieces.
Other Active Ingredients
Some CBD treats are formulated with additional, active ingredients to enhance certain benefits of CBD.
If you're buying CBD treats for dogs with joint pain, you may see some that contain turmeric, hyaluronic acid, glucosamine, and other compounds that are thought to improve joint health and mobility.
If you're buying CBD treats for dogs with anxiety, you may see some brands that contain chamomile, valerian root, or passionflower, which are herbs with calming benefits.
CBD treats with additional active ingredients can be very beneficial for certain dogs. However, you want to make sure the benefits of those other ingredients line up with your dog's specific needs.
Common Allergens
Does your dog have allergies, or do they have symptoms that you suspect are due to allergies? If so, look for CBD treats that are free from common allergens. The most common allergens in dogs are beef, chicken, wheat, and dairy products. Some dogs are also allergic to corn and soy, so the best CBD dog treats are often made without these ingredients, too.
Dosing Instructions
The best CBD dog treats come in detailed packaging that is printed with dosing instructions. Check those instructions and make sure they line up with your needs and your dog's needs. For example, if one CBD treat needs to be given on an empty stomach but you free-feed your dog, that treat may not be the best fit for your lifestyle.
Other Types of CBD Products for Dogs
Owners often find that CBD dog treats are the most convenient way to give their dogs CBD. However, other pet-friendly CBD products may be more suitable in certain situations, like:
CBD Oil
CBD oil is a liquid preparation that contains CBD blended into a carrier oil, which is often hemp seed oil or MCT oil. As with CBD treats, you can find full spectrum CBD oil, broad spectrum CBD oil, and CBD oil made with CBD isolate.
You can administer CBD oil to your dog either by dripping the oil onto their food or by syringing it directly into their mouth. You may prefer CBD oil to CBD dog treats if your dog is really picky and turns up their nose to most treats. CBD oil may also be a better choice for dogs on very soft or liquid diets due to dental or digestive ailments.
The downside to CBD oil is that it can be messy. You may drip a little on the floor while dosing your dog. While most dogs don't mind CBD oil, some do not like the flavor.
CBD Balm
CBD balm is a topical CBD product. You apply it to your dog's skin, and the CBD is absorbed through the skin into the underlying tissues. CBD balm can be a good alternative to CBD oil and treats if your dog turns up their nose at all oral CBD products. It's a great choice for arthritis and joint pain since you can apply it directly to the sore areas.
CBD balm is easier to use on short-haired dogs than long-haired dogs, of course. If your dog is squirmy, you may have a hard time rubbing it in thoroughly.
CBD Capsules
CBD capsules are essentially gel capsules filled with CBD oil. They are a good choice for dogs who don't particularly like CBD treats or liquid CBD oil. You can hide the capsule in a soft dog treat or in some wet dog food. Most dogs will swallow it without even noticing.
One small downside to CBD capsules is that you cannot divide them. This makes it harder to customize your dog's dose. Some dogs may also spit them out or eat around them.
FAQs
Is CBD safe for dogs?
CBD is generally safe for dogs as long as you select a good-quality product. Make sure the CBD you're using is made by a reputable company, and also check that it has been lab-tested and found free from contaminants such as bacteria, heavy metals, and pesticide residues.
Only give your dog a CBD product made specifically for pets. Those made for humans may contain ingredients that dogs should not have. Human-grade CBD products sometimes contain too much THC to be safe for dogs, too.
If you are giving your dog a full spectrum CBD product that contains THC, make sure you follow dosing instructions closely. THC can cause unpleasant side effects in dogs who take too much, and it may only take an extra treat or two to bring your dog over that limit.
How do CBD dog treats work?
CBD is thought to work by interacting with various receptors throughout the body. When it binds to these cannabinoid receptors, it has a variety of effects that include pain relief, reduced inflammation, and reduced anxiety.
How much CBD should I give my dog?
Some dogs are more sensitive to CBD than others, so it may take a little trial and error to find out how much CBD to give your pup. A common guideline is to start by giving 0.2 mg CBD per pound of your dog's weight. For a 10-pound dog, this would equate to 2 mg CBD per day. For a 50-pound dog, it would equate to 10 mg CBD per day.
See how your dog reacts to this initial dose of CBD. If you do not see a reduction in stress, pain, anxiety, or inflammation within a few days, try increasing the dose.
You can also reference the dosing instructions on your CBD treat package for more specific recommendations.
What happens if my dog has too much CBD?
If your dog consumes too much CBD, they may appear very tired and lethargic. Some dogs also become nauseous or show signs of dry mouth, such as drinking excess water. Thankfully, these symptoms will pass once the CBD wears off.
If your dog eats too much of a CBD product containing THC, they may develop a condition known as cannabis toxicosis. Symptoms include urinary incontinence, head bobbing, lethargy, stumbling, and a low heart rate. Some dogs may twitch. If you think your dog may have cannabis toxicosis, take them to the veterinarian. Most dogs recover fully, but they often need a vet's care.
Why won't my dog eat CBD dog treats?
Some dogs do not like the hemp flavor in certain CBD dog treats. If your dog is turning up their nose at their CBD treats, there are a couple of things you can try.
First, try crumbling the treat into some wet dog food. If that does not work, look for a CBD dog treat made with CBD isolate, rather than broad spectrum or full spectrum CBD oil. CBD isolate is nearly flavorless. Therefore, dogs who don't like the hemp taste of a full spectrum product will usually eat a product made with CBD isolate.
Also, look for treats in a flavor you already know your dog enjoys. For example, if he loves peanut butter, a CBD treat with a peanut butter flavor may be more appealing to him. Also note that dogs with dental problems, older dogs, and those with small mouths often prefer chewy treats to crunchy ones.
Can you give your dog human CBD products?
No, it is not a wise idea to give your dog CBD products intended for humans. These products often contain more CBD than is safe for a dog to consume. They may also contain more THC than a dog should have. Plus, some human CBD oils may contain added herbal or natural remedies that are safe and effective for people, but not for dogs. Only give your dog CBD products that are specifically formulated for dogs.
How long does CBD take to work?
When you give your dog an oral CBD product, the CBD has to be absorbed through the digestive tract and into the bloodstream before it starts working. So, you may not see the effects for up to an hour after your dog eats the treat.
If you're giving your dog CBD for arthritis or joint pain, keep in mind that the effects tend to build over time. You may only notice a slight reduction in joint pain and related symptoms after one day. But, if you keep giving your dog their CBD every day, you should notice a greater improvement in symptoms over time.
Conclusion
CBD is an effective, natural remedy for dogs who struggle with anxiety, chronic pain, arthritis, or even a degenerative joint disorder. It can also help keep younger, active dogs limber and healthy for years to come. The best CBD dog treats are made with safe, beneficial ingredients that dogs love. We recommend reading more about the products recommended here and ordering the one that best fits your dog's needs. Your furry companion deserves relief, and CBD treats can provide it in a tasty, palatable form.
Related content:
This post was produced and paid for by Originated Media
---